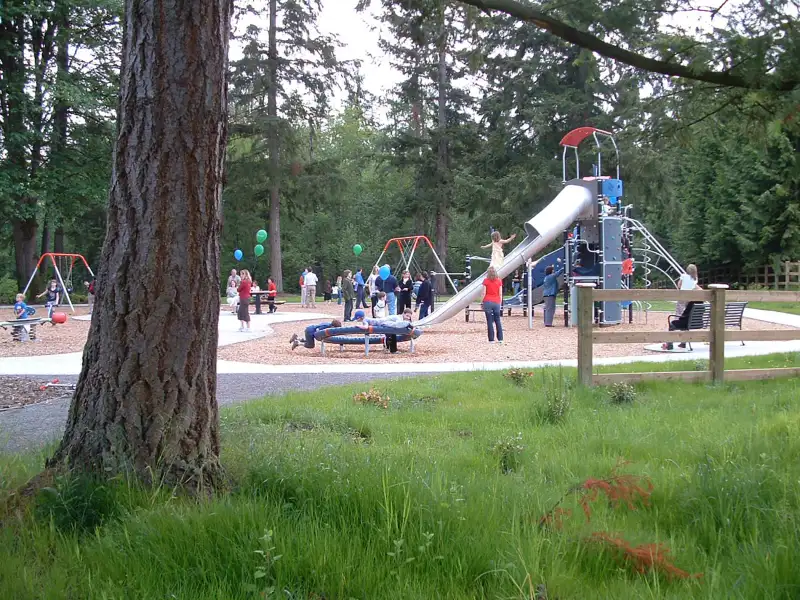 Courtesy of the Town of Sammamish
| | |
| --- | --- |
| AT A GLANCE | |
| Population | 50,248 |
| Median Home Price | $802,275 |
| Property Tax | $7,179 |
| Unemployment rate | 4.3% |
| Commute time | 28 minutes |
Until recently, Sammamish was probably best described as an enclave of leafy neighborhoods rather than a city in its own right. Located about 20 miles from Seattle, the city sits on the east side of the seven-mile-long Lake Sammamish and wasn't incorporated until 1999.
While Sammamish still lacks a proper "Main Street," it ranks high because of its superb schools, proximity to major employers. and gobs of green space. The city is also making steady progress in creating a true sense of place. Sammamish Commons, which hosts farmer's markets, outdoor concerts, and Shakespeare theater, is a community hub. From here, residents can walk to the library, city hall, and brand new, 60,000-square-foot aquatic and community center that hosts youth camps, community events, and fitness classes for people of all ages.
Several new residential-meets-retail developments are in the works, promising to bring more restaurants and shops to the community. For now, most residents head to Redmond, just to the north, or Issaquah, just to the south. This is also true for work: There are no major private employers in Sammamish, but the campuses of Costco, Microsoft and Swedish Medical are only a short commute.
Home prices throughout the Seattle area have appreciated at a breakneck pace in recent years, and Sammamish has seen its share of gains. Even so, prices are still affordable, relatively speaking, with nice three-bedrooms starting around $500,000.
"What's unique is we straddle two school districts, Lake Washington and Issaquah," says Rick Franz, a real estate broker and Sammamish resident since 1989. "Some buyers want to shop for houses in one district, while others insist on being in the other."