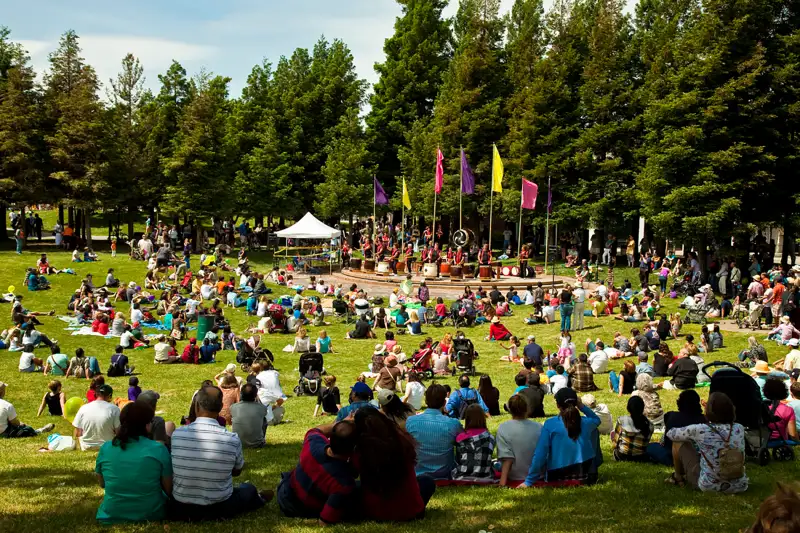 Tony Yau—© ty328 Photography
| | |
| --- | --- |
| AT A GLANCE | |
| Population | 78,465 |
| Median Home Price | $875,000 |
| Property Tax | $8,273 |
| Unemployment rate | 4.9% |
| Commute time | 30 minutes |
In many ways, San Ramon is Northern California's answer to Irvine, with its manicured cul-de-sac neighborhoods, plethora of parks, and stellar schools—most earn a rating of 10 out of 10 on Great Schools. It has many in-town job options, including the corporate headquarters for Chevron and 24-Hour Fitness, San Ramon Medical Center, and Roundhouse, a major conference center. It's also a relatively easy commute to Oakland (about 25 miles), San Francisco (35 miles) and San Jose (40 miles), putting it at the epicenter of job growth throughout the Bay Area.
Meanwhile, San Ramon is making major strides in transforming itself from a quintessential suburb to a case study in smart redevelopment. In early 2016, old office space was razed to make way for City Center Bishop Ranch, which will include shops, restaurants, residential units and a one-acre piazza. Acclaimed architect Renzo Piano, whose work includes the new Whitney Museum in New York City and California Academy of Sciences in San Francisco, is overseeing the project, slated for completion in 2018.
In the meantime, the city's 43-acre Central Park is a gathering spot for outdoor movie nights, farmers' markets and opera in the park. The San Ramon Community Center, City Hall, and library are all within walking distance of the evolving city center.
The big knock against San Ramon is, not surprisingly, home prices. Anyone relocating from most other parts of the country will suffer sticker shock. Still, given the $1 million medians in other desirable parts of the Bay Area, an $825,000 median may seem like a bargain.