Here's How Much Your Summer Internship Will Really Cost You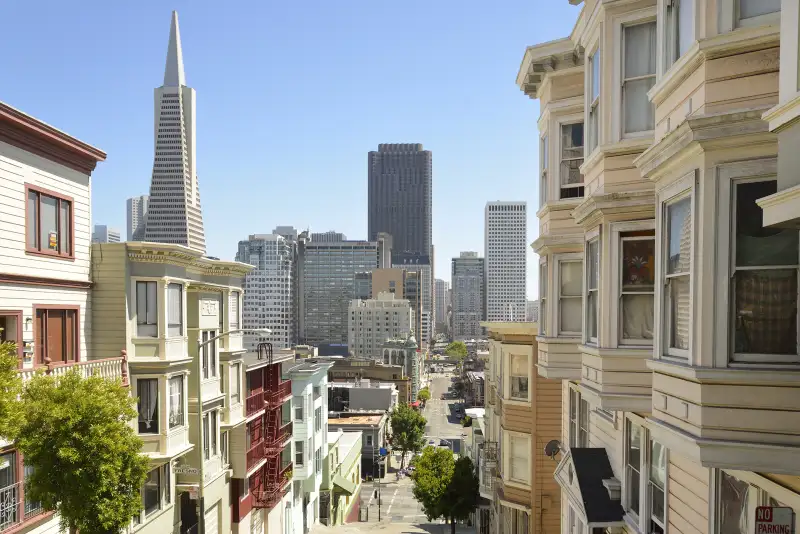 Christian Heeb—Getty Images/AWL Images
Congratulations! You've landed an awesome internship in [insert major metropolitan area of your choice here].
But getting that internship is only half the battle. After you've decided where you'll spend your summer, you have to figure out how you're going to pay for it. Have an extra $6,000 lying around?
It's hardly surprising that interns, even the paid ones, won't walk away with much pocket change when they return to school. But can interns actually end up in the red?
Kenneth Tsang, research associate at the National Association of Colleges and Employers (NACE), says that intern wages have stagnated despite the economic recovery, much like wages elsewhere.
"When you adjust for inflation, this year's rate is actually 72 cents [an hour] less than it was seven years ago," Tsang says. "Interns aren't getting paid anything!"
Typically, computer science majors get about $20 an hour in a paid internship, liberal arts majors about $15. Let's split the difference and say you make about $17 an hour, or $680 a week before taxes. If your internship runs for 10 weeks, that's $6,800. Nice, right?
Well, after crunching some numbers from Numbeo, an online database of user-contributed information about the cost of living in various cities, we found that on average, for the top five cities where interns say they want to work, the cost of living during an internship is about $6,200.
Remember, that $6,800 you'll earn during your paid internship doesn't include the various taxes that come out of your paycheck each pay period. Realistically, you'll be taking home something closer to $5,400, according to the ADP Research Institute's Paycheck Calculator.
How can you make it work?
We wondered, too. So we've broken down the most significant costs of spending a summer interning away from home and calculated, roughly, how much they would cost over a three-month internship. We've also included some tips on how to control your costs. Here's a brief look at the $5,800 or so minimum you might spend to add a few lines to your résumé.
Tuition: $500+ (If you're unpaid.)
Legally, unpaid internships require you to enroll for course credit, meaning you are literally paying to work. And unfortunately, unpaid internships tend to offer trainees fewer skills than paid ones, according to NACE.
If you decide to take an unpaid internship, you can expect your course fees to run at least a few hundred dollars and possibly several thousand.
For example, at the University of Virginia, a one-credit internship course costs about $450 for in-state students and $1,400 for out-of-staters.
At the University of Texas Austin, interns can enroll in a university extension course and have their internship count for three credits, for a cost of about $550, says Robert Vega, director of the Liberal Arts Career Services Center at the university. (A one-credit "extension" course costs $360.) This compares to a regular course's $1,500 price tag for Texas residents or $6,000 for non-residents.
To control your costs, check the price of summer tuition at your school or see if you can bundle an internship course in with your fall or spring semesters to avoid paying an extra semester's worth of tuition.
Relocation: $750
In the excitement of accepting a summer internship, you might forget about one important cost factor: getting there.
If you already live in a major metropolitan area, you may not have to book a flight to some far-off city. But if you do, consider that the average cost of domestic airfare in the U.S. is $370, according to the Department of Transportation. That increases to $380 if you're going to San Francisco and $430 if you're heading to a New York area airport.
What's more, these estimates don't include extras like baggage fees, and it's unlikely you'll make it through a whole summer with just a carry on.
Once you've got an offer in hand, it doesn't hurt to ask your employer's HR department if it can help cover your relocation costs, suggests Kim Link, associate director of the Internship Center at the University of Virginia.
Housing: $3,500
Housing is likely to be the most expensive part of your working summer if you're away from home.
The good news is that about half of all internship employers offer a housing stipend, Tsang says. If your employer doesn't, consider a dorm at a nearby college.
Most colleges offer summer housing to interns, even if they don't go to that school. Student dorms have a number of advantages. You'll have a a built-in community of people your age who are probably interning too. Dorms usually have some kind of security in place, which may help put your parents' minds at ease. Plus dorms often include meal plans. The catch is that you usually have to pay the full cost up front.
At New York University, the cheapest rate for dorm housing gets you into a non-airconditioned double or triple for $195 a week, not including the cost of a meal plan, which is required (the cheapest plan costs $140 per week). For typical 10-week summer internship, you'd be looking at a room and board bill of $3,350.
At Columbia University in New York, a double room for the full summer session (13 to 14 weeks) costs $3,403 plus a $50 non-refundable application fee.

While those are only two examples of what dorms cost in a metropolitan area, the rates are pretty comparable across the country. If a dorm doesn't appeal to you, there's always the option of subletting an apartment (landing an apartment with a three-month lease is like finding a $10 flight to San Francisco).
Numbeo estimates that the rent per person in a shared three-bedroom apartment in Manhattan runs about $1,960 a month. That's almost $4,000 for two months, or about $600 more than it would cost to live in a dorm for two months plus.
Often, people looking for short-term leases can find listings through Facebook groups or sites like Craigslist, though it's important to know the risks, including in an assortment of scams that could make your summer even more expensive.
Transportation: $360
It's tough to minimize your transportation costs in a big city. Aside from walking, it's obviously most cost-efficient to use public transportation instead of cabs or an Uber (the minimum fare for an Uber in New York is $7, whereas a subway ride costs under $3).
A monthly subway pass in New York City costs about $117. If you take a round-trip taxi ride once a month, figure on another $33 (assuming no surcharges or toll fees), according to Numbeo.
In some places you could potentially bike to work every day (it's cheap and eco-friendly) as long as you don't mind wiping a little sweat off your brow when you reach the office elevator.

NEWSLETTER: COLLEGE_PLANNERSign up for COLLEGE_PLANNER and more View Sample
Food: $1,200

Only about 16% of employees say they get free snacks at work, so don't bank on being able to hoard a bunch of food from your office (just ask the Yelp employee who couldn't afford her groceries in San Francisco).
Even if your snacks are on the house, you'll still need to do some grocery shopping. According to Numbeo's data, your monthly bill could run about $400, which doesn't include any dining out.
So, boring as it may seem, try to make a budget for the summer and stick to it. Compare local supermarket prices and shop accordingly (for example, shoppers on average may spend 20% more at Whole Foods than at Trader Joe's). Fortunately, there are dozens of easy ways to save money on groceries, including using coupons and skipping the deli, which can cut your bill by 25%.
Alexandra Mondalek is a reporter for Money. Before graduating from college, she had two summer internships in New York City and one in Detroit.