Here Are the 28 Things High School Seniors Should Do Between Now and Going to College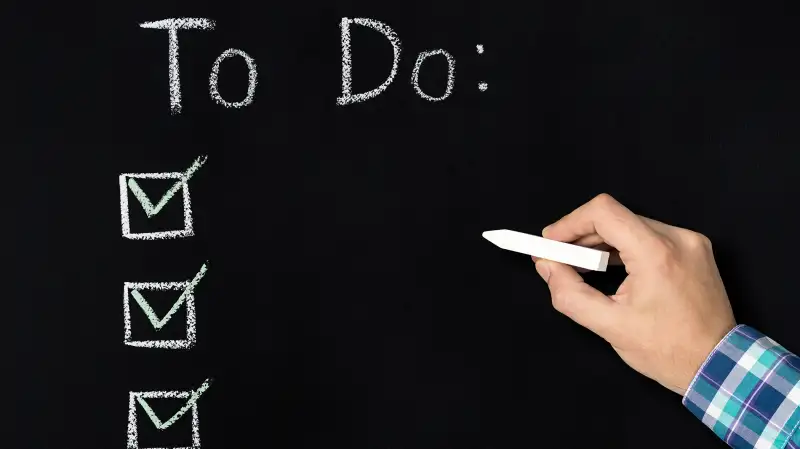 High school seniors: You can finally relax. May 1, the national deadline for seniors to commit to a college, means an end to the stresses of application essays, tests and fear of rejection.
But don't overdo the celebrations. You now face a surprisingly long list of bureaucratic tasks before you actually move to campus in the fall. In order to make sure you have, say, a dorm room, health insurance, and good classes, you'll need to fill out a lot of forms, and the deadlines start in May and June.
"Students think that college is just going to rain down on them. They think that everything is just going to happen," says Harlan Cohen, author of The Naked Roommate. But it can take a lot of work over the summer to make your transition to college life successful.
High school and college counselors urge every high school senior to tick off all the relevant boxes in the following checklist:
In May ...
1. Don't goof off. Colleges can and will rescind their admissions offer if you flunk your last semester high school courses, notes Kristina L. Dooley, an independent college counselor in Hudson, Ohio.
2. Celebrate responsibly. Getting busted for—or even just being photographed participating in—underage drinking, drugs, or other mischief could cost you your college acceptance.
3. Follow up on APs. Make sure any AP test scores are sent to your college.
4. Sign in at your new college. Get your online college student ID and password.
5. Learn your privacy rights. Now that you're 18, you have a right to keep your information private—even from your parents—thanks to a law called the Family Educational Rights and Privacy Act, or FERPA. But you have to decide how much privacy you really want. Do you want all the billing and payment information to go to you? Or do your parents need to be able to access that? You'll need to fill out a FERPA waiver if you want your parents to be able to access any of your college information.
6. Check your email. Email may not be your preferred mode of communication, but colleges use emails to relay important information like upcoming deadlines. So start checking your new college email address several times a week, advises Patrick O'Connor, associate dean of college counseling at Cranbrook Kingswood Upper School in Bloomfield Hills, Mich.
7. Figure out your housing. To increase your odds of getting a compatible roomie, fill out any roommate survey you're offered. Choose a dorm contract, and send a deposit to make sure you have reserved a room.
8. Finalize your financial aid. Some schools require you to send in a form showing which grants and loans you are accepting. Also make sure you know the exact renewal terms for any "merit" aid. Some grants may require you to major in certain subjects or maintain a certain grade point average, explains Danielle da Silva, director of college counseling at Beaver Country Day School in Newton, Mass.
9. Ask about placement tests. Find out if your school requires you to take any placement tests. Many schools require them for English and math, for example. Make sure to register. Take time to study for them as well, so that you can place out of remedial or low-level courses unless you really need them.
10. Sign up for orientation. Plan to attend as many orientation events as you can. This is your chance to prep for your college experience. The more people you meet now, the more comfortable you'll be on campus in the fall, Cohen says.
11. Make your travel arrangements. If you're traveling far to college, you'll need to figure out how you'll be getting there and whether you'll need a hotel room the night before move-in day, etc. The sooner you make your reservations, the cheaper they'll usually be.
12. Line up a campus job. Call the college and ask what you need to do to apply for an on-campus part-time job.
13. Write your thank-yous. Want to be really classy? Send handwritten thank-you notes to everybody who helped you get into college, such as the teachers who wrote you recommendations.
In June ...
14. Arrange for your transcript. Make arrangements to send your final high school transcript to your college.
15. Nail down your student loan. If you are taking out a student loan, you need to go through the required student loan counseling session and file the paperwork, including signing a master promissory note.
16. See the doctor. Colleges typically require evidence of immunization and a clean bill of health from a doctor, so download the school's health forms and make an appointment with your doctor.
17. Consider collecting some credits. If you want to earn a few cheap college credits or place out of introductory courses, check out your local community college to see if any of its summer offerings fit your needs. If you don't see anything you like, and you think you can study on your own, investigate CLEP tests. But before you commit to either, call the college department for the subject you're trying to get credit for to see if those courses or tests will be accepted.
18. Call the coach. If you're playing a fall sport, you'll need to check with your coach about the summer practice schedule.
In July ...
19. Check out clubs. Start researching clubs or activities on campus that sound fun to you, and email one or two students who are involved in them to find out how to join. Research shows that students who are deeply involved in at least one extracurricular activity have more fun in college and also seem to graduate into better jobs.
20. Get to know your roommate(s). Start communicating with your new roommate(s) about who's bringing what so you can save money on dorm furnishings. There's no need to become best buddies now, though, Cohen says. You'll have plenty of time when you get to college. (Here's a list of things you definitely shouldn't bring.)
21. Reserve your sports tickets. Some schools' football or other sports events tickets sell out quickly, so if you think you might want to cheer on your new college teams, check the athletics department website to see what you need to do to get tickets.
22. Do your summer reading. Some colleges or departments have summer assignments ahead of classes, so start working on those now.
23. Look at your health coverage. Check out your family's health insurance plan to see if your college's campus health clinic is in-network, or if any doctors or hospitals near the college are in-network. If so, you might be able to save some money by declining the college's health insurance plan. If not, you may want to purchase it.
24. Plan your payments. Tuition payments generally start coming due in July or August, so take time now to research your payment options and figure out how to make the payments on time, suggests da Silva. Instead of having to pay the bill in one lump sum, you might be able to sign up for a monthly payment plan, for example.
25. Shop, but not too much. Most colleges have recommended shopping lists, but it can pay to wait until you arrive on campus to see what you really need. Before spending a lot on a new laptop, for example, check out the school's computers. Most schools have computers students can use for free. If you're going to school in a different climate, plan to do most of your clothes shopping after you've seen what the locals wear. Hold off on buying textbooks in case you don't get into the classes you want or your professors change the syllabus. (Here's a list of questions to ask before you buy a lot of pre-college stuff.)
26. Open a bank account. If you don't already have an account at a bank that's easily accessible from your college, now's the time to open one. You'll need to make sure you can get cash, pay bills, and have access to emergency funds. (Here's advice on the best banking options for college students.)
27. Get ready for registration. Find out when and how you register for fall classes. At many schools, the best or most popular professors' classes fill up quickly, so try to choose and register for classes as soon as possible.
28. Enjoy some family time. Make sure to spend some time with your family this summer, since you will be leaving home. Also, make an appointment with your parents to discuss your and their expectations for what you'll be doing in college so they won't go nuts if you change your major, say, or decide not to play a sport, Cohen advises.