Two-Year Degrees From These 19 Colleges Could Earn You $75,000 a Year — or More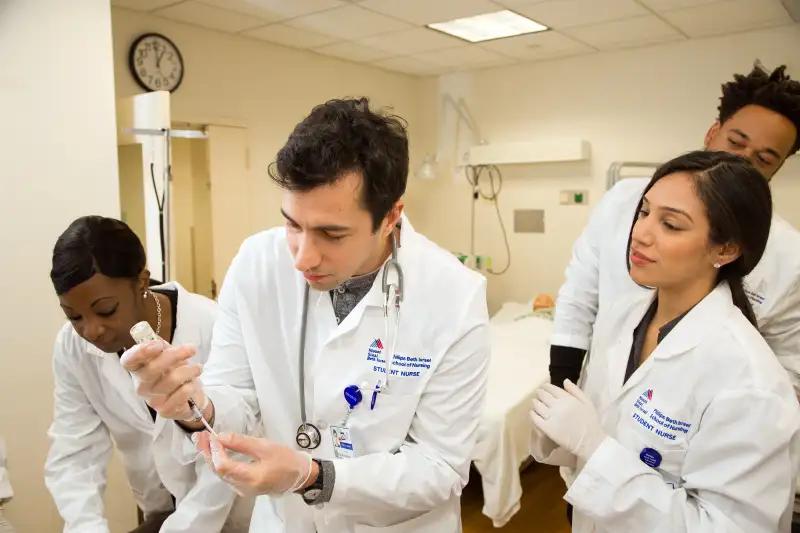 Eric A. Wessman—Phillips School of Nursing at Mount Sinai Beth Israel
You don't need to spend four years getting a bachelor's degree from a costly university in order to make a living. If you choose a college carefully, you can cut your time in school in half and still earn an impressive paycheck.
That's according to PayScale's 2018-2019 College Salary Report, which came out Tuesday. Researchers scrutinized survey responses from 3.2 million people over the past decade to identify the most financially rewarding colleges in the U.S. — including 19 two-year schools where graduates have mid-career earnings of at least $75,000.
The Helene Fuld College of Nursing, located in New York, is No. 1 on that list. It was ranked first last year, too, and for good reason.
The median early career salary, based on alumni who had three years of experience in their job fields, is $68,100. The median mid-career pay, after 20 years of experience, is $90,500.
The list is largely dominated by private schools, which Lydia Frank, PayScale's vice president of content strategy, partially attributes to their tight-knit alumni networks. Because private colleges tend to be smaller than their public counterparts, students are typically able to form closer relationships.
And they use those connections to get lucrative jobs.
"Private colleges really foster that community after graduation," Frank says.
A number of the top two-year schools are focused on nursing. Frank says that's no surprise, given the wealth of opportunities in the STEM and health care fields. Nearly half of the 100 gigs on U.S. News and World Report's Best Jobs list this year were related to health care.
Of course, each profession — and person — is different. But in general, Frank says that if you're pursuing a career where having a four-year degree won't give you a huge advantage, you might want to consider a two-year school.
Not only can you "absolutely earn a decent salary with an associate's degree," she says, but the reduced cost could also potentially decrease your student loan debt.
"It's hard when you're 18 years old to even think that far ahead, but I think it's important," Frank says. "'I really do need to think about how much I'm borrowing right now, because I'm borrowing from my future self.'"