The 10 Smartest Lessons About Life, Money and Career We Heard in Graduation Speeches This Year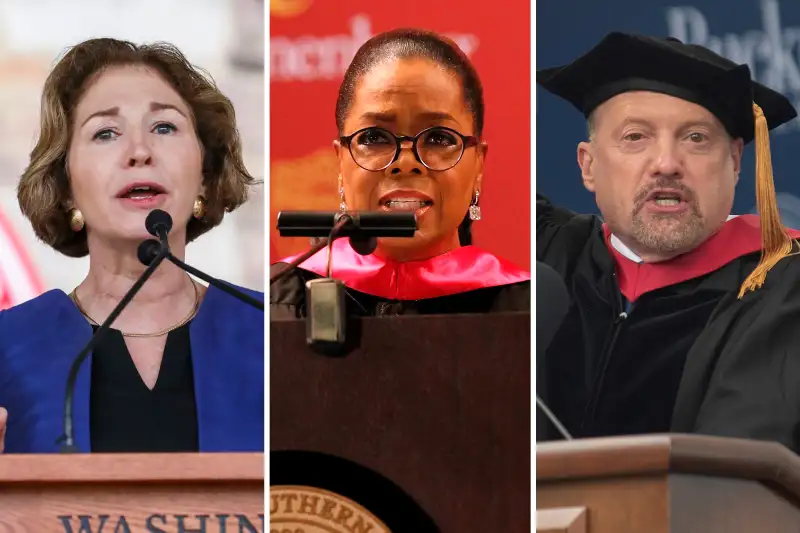 (left to right) Joe Angeles—Washington University; Leon Bennett—Getty Images; Emily Paine—Bucknell University
The 2018 graduation season is finally wrapping up for colleges and high schools across the country, and even if you didn't get a diploma, hopefully you're walking away with some solid life lessons.
Over the past month, a slew of high-profile commencement speakers have dispensed valuable pieces of advice they gleaned from their own careers. Chance the Rapper, President Donald Trump, and Apple CEO Tim Cook were among the leaders who took the stage to talk to new graduates about money, jobs and the meaning of success.
Weren't paying attention in class? We've got you covered. Here's a round-up of the 10 smartest tips we heard this year:
Oprah Winfrey: Aim High
While speaking at the University of Southern California's Annenberg School for Communication and Journalism last month, the so-called "Queen of All Media" told students they should always be looking for lessons in the workplace. Winfrey added that graduates should strive to become so skilled in their fields that their "talent cannot be dismissed."
Then, for good measure, she gave some specific life guidance:
Anne-Marie Slaughter: Make an Impact
Slaughter, the president and CEO of a think tank called New America, acknowledged that Washington University graduates were entering the world during a turbulent time. But she said that amid, the uncertainty, it's time to "renew our economy and the social infrastructure that supports it" so all Americans can thrive.
Slaughter then outlined the next steps for graduates hoping to do just that — and make money:
Chadwick Boseman: Find Your Purpose
The Black Panther star made headlines last month for doing the "Wakanda Forever" salute at Howard University, but his speech was profound, too. Boseman, a Howard alumnus himself, told graduates that they won't regret taking a harder, longer path to success.
He also gave them a pep talk for their job hunt:
Jim Cramer: Value Your Network
The host of MSNBC's Mad Money with Jim Cramer took the audience at Bucknell University's ceremony through his own post-grad experiences, telling the crowd about his homelessness, a false arrest and struggle to find a job. He urged graduates to be better than he was at navigating challenges, telling them that "it's OK to fail, but it is not OK to quit."
He also mentioned the importance of relying on the friendships forged in college:
Jesmyn Ward: Persist
Ward, an author who has won two National Book Awards, centered her Tulane University address around the definition of success. She explained that she thought going to college would help her break a family tradition of working unglamorous jobs, but she eventually had to learn a hard lesson: that "real success requires step after step after step after step."
As such, Ward told the crowd to persist:
Donald Trump: Full Speed Ahead
The president's speech at the U.S. Naval Academy was, of course, political, but it also included a callback to his days as a real estate mogul. After repeatedly thanking the graduates for their service, Trump told them to strive for excellence using a naval phrase businessmen have adopted.
He explained:
Chance the Rapper: Outperform Your Idols
The hiphop star spent much of his May address at Dillard University talking about fellow musicians Michael Jackson and Beyoncé Knowles, explaining that Beyoncé is such an impressive performer because Jackson set the stage for her to be great. Chance told graduates that they have a responsibility to surpass their role models because "greatness can never be stagnant."
He acknowledged that prospect may seem scary, but he said it's necessary:
Ronan Farrow: Trust Your Principles
At Loyola Marymount University, Farrow detailed all the career obstacles he had to overcome while helping uncover the widespread sex abuse allegations against Hollywood producer Harvey Weinstein last year. Farrow told graduates that, at some point, they'll probably end up doubting themselves.
But there's a way to work through it, he says:
Tim Cook: Take the First Steps
The Apple CEO was reassuring in his commencement speech at Duke University, telling graduates that their lives will fall into place if they just listen to each other and stand out of the crowd. Cook, who graduated from Duke's Fuqua School of Business in 1988, also said they should "act with decency and kindness, even when no one is looking."
He added:
Jimmy Fallon: Stick With Family (Plans)
The comedian surprised attendees at Marjory Stoneman Douglas High School's commencement ceremony by turning up to deliver an address to graduates. He praised the student activists for starting a gun control movement after 17 people were killed there in February. Fallon told the graduates to persevere, make good choices and take care of themselves.
And then, at the end of his speech, Fallon shared a clutch money-saving tip: