UFC Star Conor McGregor Says He's Retiring. Here's How He Went from Making $100 Per Fight to $100 Million Per Year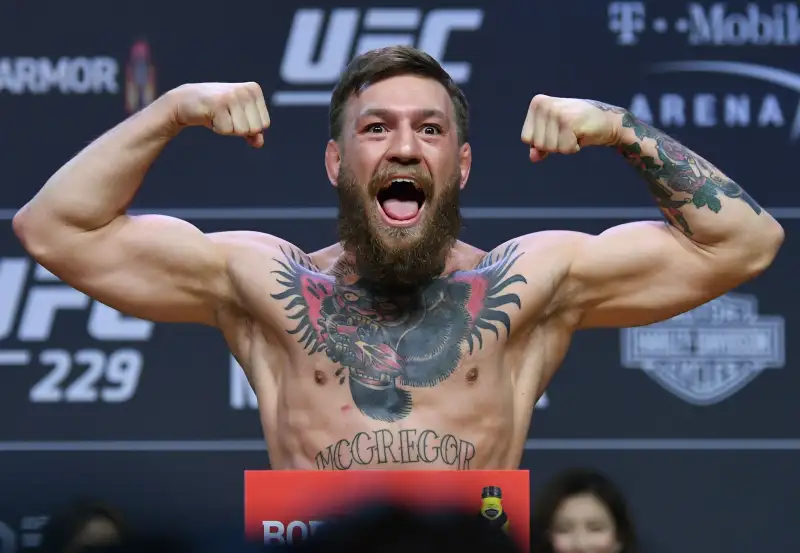 Josh Hedges/Zuffa LLC—Zuffa LLC via Getty Images
Conor McGregor, the brash Irish mixed-martial arts fighter whose fame and showmanship transcended the sport he helped spread worldwide, said he was retiring in a message on Twitter today.
If McGregor retires for good — and there is plenty of skepticism on the matter — he will walk away as the richest MMA fighter in history and one of the world's highest-paid athletes period over the past few years.
After McGregor announced his retirement on social media, it was reported that the famous fighter was under investigation in Ireland after a woman accused him of sexual assaulting in a Dublin hotel last December. McGregor was arrested in January but hasn't been charged with a crime, according to the New York Times, and a spokesperson for McGregor said his announced retirement is unrelated to the assault accusations.
Some people think that Conor McGregor's retirement announcement is basically a negotiating tactic, as well as an advertising pitch for the whiskey brand he just launched, Proper Whiskey.
Just this past week, 30-year-old Conor McGregor appeared on "The Tonight Show" with Jimmy Fallon and said that he was in the middle of talks with the UFC (Ultimate Fighting Championship) league for a fight in July. "The fight game is a mad game," McGregor said, with plenty of politics and dickering over contracts and revenue shares. But he assured fans, "I am in shape, and I am ready."
The skepticism over Conor McGregor's retirement announcement also stems from the fact that in 2016 he also casually said he was retiring.
That announcement turned out to not be true. McGregor fought in a UFC match a few months later, and he has had two more UFC fights after that, including an October 2018 loss in the Octagon to Khabib Nurmagomedov. And let's not forget about the incredibly hyped Floyd Mayweather vs. Conor McGregor match in the boxing ring, which was fought in August 2017 and grossed an estimated $275 million for Mayweather and $85 million for McGregor.
As for McGregor's latest retirement announcement, "it's not clear if McGregor is once again embroiled in heated negotiations with the UFC over his next fight but all signs seem to point in that direction," MMA News reported.
If McGregor is truly retiring, he should have more than enough money. During one recent 12-month period, Conor "The Notorious" McGregor made an estimated $99 million, according to Forbes. That made him the fourth highest-paid athlete in the world (after Floyd Mayweather, Lionel Messi, and Cristiano Ronaldo), and the world's 12th highest paid celebrity overall.
Conor McGregor's net worth is currently estimated at $110 million, according to CelebrityNetWorth.com.
Conor McGregor's Rise From Plumber to $100 Million Fighter
As Conor McGregor said this past week on "The Tonight Show," six years ago he was working as a plumber's apprentice in Ireland while training and fighting in low-level matches that paid little. For several years in his early and mid-20s, McGregor earned maybe 100 euros per fight (a little over $100), and he was collecting welfare payments to get by.
"His annual earnings for that five-year period was something like €1,500 a year!" McGregor's trainer, John Kavanaugh, told the Independent in 2016. "There was no money and I was running out of ideas. The UFC was a closed shop. There were no opportunities and he had one foot out the door."
The UFC signed Conor McGregor up for his first match with the company in 2013, and his rise to become the biggest and richest UFC fighter was remarkably quick. He was crowned the UFC featherweight champion and named "Fighter of the Year" in 2015.
As UFC revenues soared, so did the earnings of its highest-profile fighters. McGregor made an estimated $10 million in 2015 and somewhere between $20 million to $40 million in 2016, according to Forbes. Then came McGregor's switch to an even bigger stage in the 2017 boxing match against Floyd Mayweather, when McGregor made somewhere between $85 million to $100 million.
In 2018, Conor McGregor had only a single fight, the October 6 UFC main event against Khabib Nurmagomedov. It was the third biggest pay-per-vew event in history, and McGregor earned a flat $3 million for the fight plus an undisclosed portion of pay-per-view sales. Prior to the fight, UFC President Dana White said McGregor could make upwards of $100 million for that single match.
While it's unclear exactly how much money Conor McGregor has made fighting before his retirement announcement, his gross career earnings easily top $200 million.
Conor McGregor Whiskey, Clothing Lines, Endorsements
In addition to Conor McGregor's earnings as a fighter, he is an active entrepreneur with multiple sponsorship deals and his own whiskey and fashion brands.
Among McGregor's endorsement deals are multi-million-dollar sponsorships with brands like Monster Energy and Reebok, plus partnerships over the years with Burger King, Beats by Dre, Anheuser-Busch, and others.
Known for wearing tight high-end suits that are sometimes stylish and sometimes outrageous — the pin stripes he wore at a press event leading to the Mayweather fight spelled out "F*** You" over and over — McGregor launched the August McGregor fashion line with designer David August in late 2018. McGregor's Proper No. 12 Irish Whiskey launched in 2019 and is now sold in Ireland, the U.S., U.K., and Australia.
UFC President Dana White said that McGregor's successful endeavors outside the ring make it understandable that the famed fighter truly does want to retire. "He has the money to retire and his whiskey is KILLIN it. If I was him, I would retire, too," White said of McGregor in a recent text message, according to ESPN's Brett Okamoto. "He's retiring from fighting. Not from working. The whiskey will keep him busy, and I'm sure he has other things he's working on."
How Conor McGregor Spends His Millions
What does Conor McGregor do with all the money he makes? Unsurprisingly, McGregor spends a lot money on clothing — along with multiple homes and luxury cars.
McGregor has over 30 million Instagram followers, and his feed has plenty of photos of him behind the wheels of Lamborghinis and BMWs.
McGregor is also a family man. He and his longtime girlfriend, Dee Devlin, have two children, 2-year-old Conor Jr. and daughter Croia, born near the start of 2019.
McGregor and his family live in what he calls his "Mac Mansions," in Dublin and Las Vegas. McGregor also owns a villa in Marbella, Spain, with a pool and Mediterranean views that he purchased for about $1.75 million in 2018.
McGregor often says that he'll never forget where he comes from, and the support he's received from his family. Conor's father Tony McGregor said that after his son became a rich and successful fighter, he paid off their mortgage and bought BMWs for his mom, dad, and sister.