Every Major Airline's Coronavirus Change and Cancellation Policy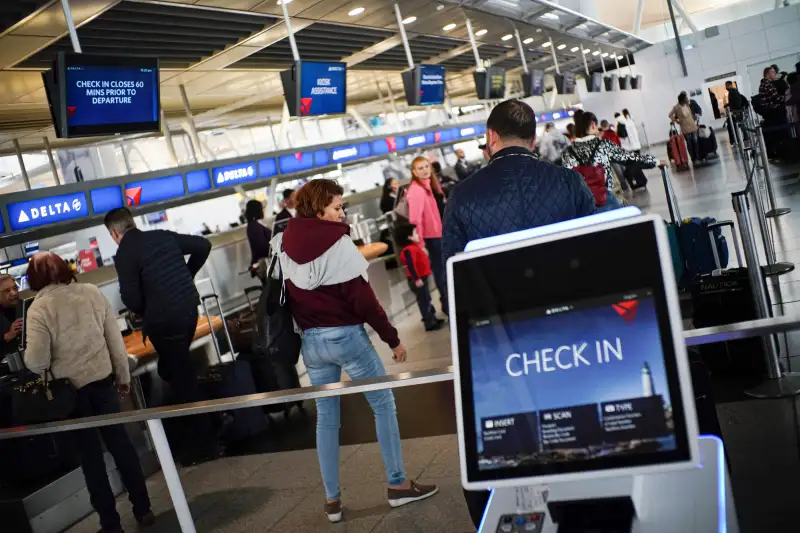 VIEW press—Corbis via Getty Images
Major U.S. airlines are waiving their usual flight change fees amid international travel restrictions and widespread fear over the coronavirus, otherwise known as COVID-19.
Normally, airlines charge fees of up to $200 when a customer changes a flight. But the spread of the coronavirus — which has caused plunges in the stock market and hit the travel industry particularly hard — is causing airlines to drop their usual fees and allow customers to change flights for free.
Southwest Airlines CEO Gary Kelly appeared on CNBC in early March and compared the current travel climate to that of post-9/11, when there was a huge decline in travel because people were scared to fly. "9/11 wasn't an economically driven issue for travel," Kelly said. "It was more fear, quite frankly, and I think that that's really what's manifested this time."
Airlines first responded to the decline in airfare booking by offering incredibly cheap flight prices (think: airfare deals to Hawaii for under $100), while also waiving fees and allowing customers to change tickets for free. After President Trump announced bans on foreign travelers arriving into the U.S. from Europe, airlines have announced severe cuts in flights — with the biggest decreases in international routes.
Bear in mind that each airline's coronavirus change and cancellation policy is different. Not all tickets can be changed or cancelled for free, and in most cases refunds are not available. When the airlines first introduced special policies to address coronavirus concerns, they were generally only allowing fee waivers on tickets purchased very recently — typically by the end of February or later, when coronavirus concerns began peaking.
Starting on Monday, March 9, the airlines have been expanding the policy, to allow passengers who purchased their tickets earlier to change flights with no fees. You shouldn't expect to cancel your tickets and get a refund, assuming you purchased standard nonrefundable tickets. Instead, most airlines will let you change flights for free, or cancel tickets and then be able to use their value toward a new flight sometime in the future.
However, the airline must give you a refund if it cancels your flight. That prospect has become increasingly more likely, as airlines cancel more and more flights — especially international routes.
Also, as of Monday, March 16, airlines have been asking customers to only contact their overwhelmed customer service hotlines if they are scheduled for departure within the next 72 hours. All other passengers should wait or try to make flight changes online, the airlines say.
Here's what we know about coronavirus-related change fees and cancellation policies from the major domestic airlines:
Coronavirus Flight Cancellation Policies
Anyone with Alaska Airlines' tickets purchased between February 27 and March 31 can change or cancel flights prior to the scheduled departure date without any fees. For tickets purchased prior to February 27, Alaska Airlines' passengers face no change or cancellation penalties on all flights departing by April 30.
Customers can either rebook a new flight right away or cancel and later use the value of the unused ticket on a future flight, which must be completed by February 28, 2021. As is standard with airlines, if you change the flight and the new itinerary costs more than the original ticket, you'll have to pay the price difference.
If you purchase an American Airlines flight anytime from March 1 to March 31, the airline will allow you to make one itinerary change with no fee, provided you make the change before the original flight date. American also says that it will waive change fees on all departures for travel now through April 30, even if tickets were purchased before March 1.
Delta's coronavirus policy has changed and gotten more generous over time. Originally it allowed travelers to make one flight change or cancel the ticket and get a credit for the unused value — which must be used for another Delta flight within one year of the original purchase date. The airline has since said that tickets can be changed for new flights departing in the next two years:
"Tickets normally expire one year after purchase, but we're providing waived change fees and greater flexibility to travel through May 31, 2022, for customers who:
have upcoming travel already booked in April or May 2020 as of April 3, 2020
have existing eCredits or canceled travel from flights in March, April or May 2020"
Delta also said it would allow passengers free changes on international and domestic flights for all tickets purchased between March 1 and May 31, though the new flights must take place within one year of the purchase date.
Frontier Airlines' customers who purchased tickets prior to March 10, for travel by April 30, can make one itinerary change with no fee. Tickets purchased between March 10 and March 31 can also be changed with no fees, and the new tickets must be changed within 90 days of the cancellation, with flights completed by the end of November 2020.
If you have purchased Hawaiian Airlines tickets between March 1 and March 31, the airline will let you change the flight with no fees. The fee will be waived only for one change per ticket (more itinerary changes will be subject to the usual fees), and travelers must change the flight at least 24 hours before their originally scheduled departure.
JetBlue first waived change and cancellation fees for flights booked from February 27 to March 5, for departures completed by June 1, and then extended the policy by waiving change and cancellation fees for flights booked from March 6 to March 31, for travel anytime between now and September 8, 2020. JetBlue will also waive change fees if you are scheduled to travel now through April 30, regardless of when the ticket was purchased. As with other airlines, you won't get a refund if you cancel a nonrefundable JetBlue ticket. Instead, after you cancel you'll have a credit with the airline, which can be used on a future JetBlue flight.
Southwest Airlines never has change fees. You can always change Southwest flights without paying a fee, though you'll have to pay the difference between your original ticket and the new itinerary (if there is a price difference). In other words, the other airlines' coronavirus change fee policies are basically matching the way Southwest does business all the time. Southwest also allows all customers bring two checked bags for free, while all other domestic carriers charge bag fees.
On March 10, Spirit Airlines announced its official coronavirus policy on its website. Customers who must alter their travel plans due to coronavirus "are eligible to make a one-time free modification (fare difference applies)" with the airline. Passengers also "have the option to receive a reservation credit for the full value of their reservation," Spirit explains, and "this reservation credit can be used for up to 6 months to book any flight currently available."
Previously, Spirit had released a statement to the media that said: "Since late January, we've been offering flexible travel options to our Guests who reach out with concerns about the COVID-19 coronavirus. We will continue to monitor the situation, comply with federal and international requirements, and follow the Centers for Disease Control and Prevention (CDC) guidelines."
Travelers with United Airlines tickets purchased between March 3 and March 31 can change flights with no fees. If your ticket was purchased before March 3, you may also change the flight without penalty if it was scheduled for departure by April 30. You can either change to a new flight immediately, or cancel and hang on to a credit. At first, the credit was valid for travel within one year from the original purchase date. United has since become more generous, and electronic certificates issued on or after April 1 are valid for 24 months.
More from Money:
Every Major Hotel Chain's Coronavirus Cancellation and Refund Policy
Coronavirus and Travel Insurance: Everything You Need to Know
Mortgage Rates Just Hit an All-Time Low. Nearly 22 Million Homeowners Could Benefit