China's First-Ever Costco Just Had to Close Early Because of Massive Crowds and Rotisserie Chicken Fights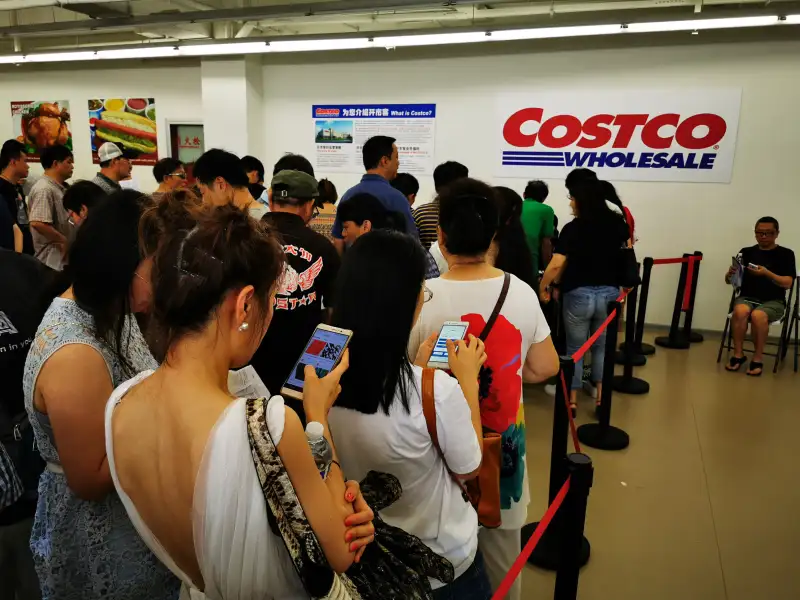 If you think your Costco is crowded, just wait until you hear about the madhouse at China's first Costco store, which opened in a Shanghai suburb this week.
Local reports say that store aisles were so gridlocked it was nearly impossible to push a shopping cart. The wait to pay was 30 minutes long even though 22 checkout counters were open, and there was a three-hour wait just to park your car.
Oh, and at one point, a shoving match erupted as customers battled to get their hands on the famous (and famously inexpensive) Costco rotisserie chicken.
The crowds were so out of hand that Costco decided to shut the store down by early afternoon of opening day (Tuesday, August 27).
"Due to overcrowding in the market, and in order to provide you with a better shopping experience, Costco will temporarily close on the afternoon of Aug 27. Please avoid coming," a message sent via the official Costco app stated.
Costco customers already in the store were allowed to continue shopping until they were ready to check out. But Costco stopped letting new customers in.
Tuesday's grand opening caused chaos throughout the entire neighborhood. For much of the day, cars lined up bumper to bumper for a quarter-mile outside the new Costco. A school in the area sent out a special alert to families too: "Please expect the student dismissal this afternoon to be severely delayed due to the grand opening of Costco Supermarket," the message stated, according to Reuters.
Costco is off to a very strong start in China where many other foreign retailers have failed. Grocery stores in particular have struggled in China: Supermarket chains such as Metro (from Germany), Carrefour (France), and Tesco (Great Britain) have all bailed out or sold their fledgling operations in China recently.
"China has proved a brutal battleground for overseas food retailers in recent years, with many failing to understand consumer habits and tastes and facing strong competition from local companies," the Agence France-Presse explained this week.
The low-price warehouse retail model seems to be faring better in China. Sam's Club, the membership warehouse shopping chain owned by Walmart, now operates about two dozen stores in China, with plans for 40 stores to be opened by 2020.
One reason that Chinese shoppers may be flooding into low-cost warehouse stores like Costco and Sam's Club is that the ongoing U.S.-China trade has caused prices for some goods to rise in China. That means shoppers are extra eager to save wherever they can — including cheap rotisserie chickens.
Officials say that China's first and only Costco store will be open with normal business hours on Wednesday.