Cristiano Ronaldo Is Worth a Staggering $400 Million. Here's How the Soccer Star Spends His Millions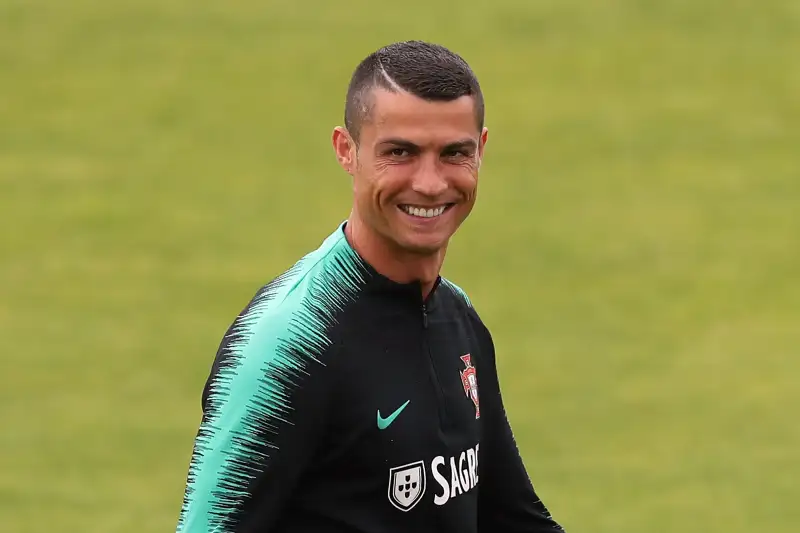 Pedro Fiúza - NurPhoto/Getty Images
Cristiano Ronaldo is not only one of the most famous soccer players in the world, he's also one of the richest.
The 33-year-old soccer star, who is a forward on Spain's Real Madrid team and also plays for Portugal's national team, has a massive net worth of around $400 million — and was considered the highest-paid athlete in the world for the last two years until boxer Floyd Mayweather dethroned him this year. Ronaldo is now the third-highest paid athlete thanks to his $61 million salary and bonuses as well as the $47 million in he earns in endorsements, according to Forbes.
Ronaldo made waves in July when he announced he was leaving Real Madrid to transfer to Italian Club Juventus, which is reportedly paying him $131.5 million for a four-year deal. The deal breaks the previous Series A league record set by the team two years ago when Juventus paid $99 million to Italian Club Napoli for the player Gonzalo Higuain, according to the Associated Press.
Just before his first match of the 2018 World Cup, Ronaldo was reportedly fined $21.8 million for tax evasion, according to Spanish newspaper El Mundo, and there is some speculation that the hefty fines imposed on him by Spain may be part of the reason he is leaving Real Madrid for the Italian club team. Living in Italy could benefit Ronaldo because "a new law caps tax on income generated from abroad at 100,000 euros ($117,000) per year for residents who have paid their taxes in other countries for at least nine of the last 10 years," the Associated Press reported.
And Ronaldo isn't just rich. He's also quite popular, maintaining more than 322 million social media followers, with 129 million followers on Instagram, 122 million on Facebook and almost 74 million followers on Twitter. He recently shared a photo on Instagram showing his Portugal team on their way to Russia for the 2018 World Cup.
Here's what we know about how Ronaldo makes and spends his millions:
Soccer star
While he is now one of the richest athletes in the world, Ronaldo didn't always have money. He was born and raised in Madeira, Portugal, but moved to Lisbon when he was 11 to attend a prestigious sports academy, he wrote in an essay last year for The Players' Tribune. At the time, he recalled getting homesick regularly, but his parents could only afford to visit him every four months. He said playing soccer was the only outlet he had to keep himself from feeling lonely.
"Football kept me going," he wrote.
Ronaldo kicked off his professional soccer career when he was 17 and signed with Manchester United, a team he said had always dreamt of playing for, and ended up winning numerous championship trophies for his team. Over the course of his career, Ronaldo has won dozens of awards and broken dozens of records — with some people saying he is the greatest soccer player of all time. He has won FIFA's Player of the Year award five times, and is tied with Lionel Messi for receiving the honor five times. Ronaldo was on the winning team when Portugal won the European Championship in 2016, but he has not won a World Cup championship yet. He's also scored 450 goals with Real Madrid alone, the most ever for a single player on that team.
Carlos Rodrigues—Getty Images
In 2017, Ronaldo made $93 million from his soccer salary and endorsement deals, Forbes reported. Ronaldo's current contract with Real Madrid is for $50 million a year through 2021. And if Portugal wins the 2018 World Cup, the Associated Press reports that the team will get $38 million in prize money from FIFA, though it's unclear how much each player gets.
Ronaldo's endorsement deals
Ronaldo is one of the few athletes who has a lifetime contract with Nike — Michael Jordan and LeBron James are the only other two athletes with the same deal — worth around $1 billion, which he signed in 2016.
He has so many endorsement deals and sponsorships — Tag Heuer, Herbalife, KFC, EA Sports, American Tourister to name a few — that it's nearly impossible to keep track of all of them, according to Forbes. One of Ronaldo's most unusual partnerships is with Egyptian Steel, a steel company trying to gain market share in Egypt.
The Real Madrid player has his own clothing line called CR7 (his Real Madrid jersey number is 7), which includes everything from underwear and fragrances to kids clothing. He even has hotels branded under his CR7 Line through the Pestano Lifestyle Hotels company. Forbes reports that Ronaldo also has plans to open restaurants in Brazil.
And aside from his endorsements and sponsorship deals, he also has a free smartphone app called Cristiano Ronaldo: Kick'n'Run, as well as a selfie app that allows you to photoshop Ronaldo into your photos. He even has his own museum in his home country of Portugal called the Museu CR7.
Forbes estimated Ronaldo's social media presence generates some $176 million value for his sponsors.
Ronaldo's need for speed and luxury
Ronaldo likes to splurge a little as well — the soccer star has a serious car collection. He owns a Maserati and a Lamborghini Aventador, which is valued at around $300,000. He used to own a $320,000 Ferrari which he crashed in 2009, Business Insider reported. Not to mention his $3 million Bugatti. In addition to those high-end luxury cars, he also reportedly has an Aston Martin, a Rolls-Royce and a Bentley in his collection.
He also owns numerous houses, including a $5.6 million villa in Madrid. In 2015, he paid $18.5 million for an apartment in Trump Tower in New York City, which resulted in 7,000 fans signing a petition asking him to move out last year.
Ronaldo has a big family — he's the father of four children. He has an 7-year-old son, Cristiano, Jr., and twins Mateo and Eva Marie, who just turned a year old. He also has a 6-month-old daughter named Alana with his current girlfriend, Georgina Rodriguez. Before Rodriguez, Ronaldo dated model Irina Shayk, who is now engaged to Bradley Cooper, for five years.
Gualter Fatia - Getty Images P
Ronaldo's charitable side
The world-famous soccer player doesn't make just money — he donates it, too.
Ronaldo is involved with a slew of charities including the child refugee organization Save the Children, as well as BeThe1Donor.com, which helps raise awareness for people to donate blood, according to ESPN. He's also donated towards fighting adolescent cancer in Portugal, and once paid for a 10-year-old fan's brain surgery, according to Business Insider.