Unlimited Free Booze! Tropical Cruise Includes Alcohol, No Extra Charge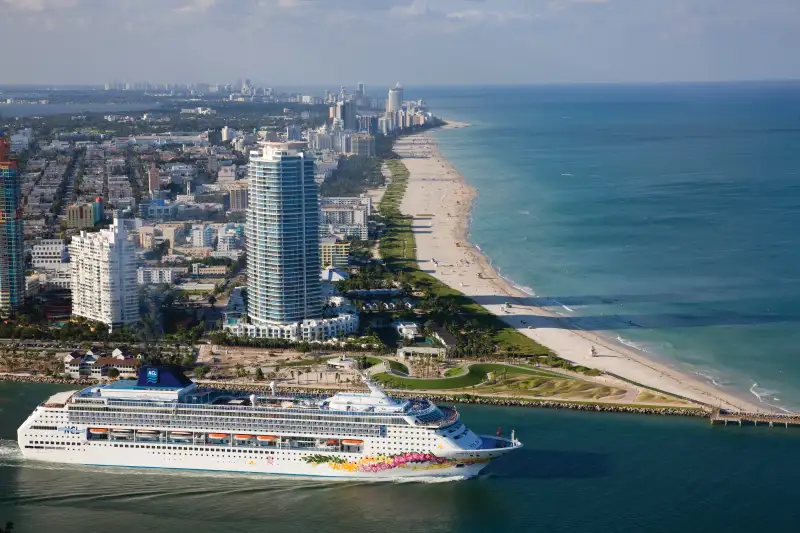 Norwegian Cruise Line sure does seem to want to woo heavy drinkers aboard its ships. Or at least passengers who don't want to have to pause and think about the cost of each and every beverage they're consuming.
Last summer, the company introduced an all-you-can-drink beverage option on a limited-time basis, in which passengers could partake in unlimited beer, wine, and spirits for a flat few hundred bucks extra. This week, the company introduced a new all-inclusive cruising package, in which all passengers aboard certain Norwegian Sky departures can enjoy unlimited alcohol at no extra charge. The new policy takes effect starting in January 2016, only on Sky three- and four-day sailings from Miami to the Bahamas.
Normally, cruise prices cover only the cost of a cabin, buffet meals, and some entertainment, and guests are charged extra for most beverages. Cruises attract people who want to relax and cut loose, so alcohol tends to be a huge revenue stream for operators.
What can happen, however, is that newcomers and experienced cruisers alike get turned off by the idea of getting nickel-and-dimed—at exorbitant, sports arena-type prices, mind you—for each drink they have. So it's easy to see the appeal of Norwegian's new policy, which is truly more in line with the original pitch for cruising as a mode of vacation: that of a hassle-free, all-inclusive, value-laden experience in which customers could board ships and never have to touch their wallets or worry about much of anything.
While at this time it's only limited to one ship and short cruises, Norwegian's more all-inclusive pricing structure will "strongly differentiate us from our competitors," explained Norwegian president and COO Andy Stuart. He expects the change to appeal in particular to the all-important pool of people who have never been on cruises: "The three- and four-day market is an important market for us and is a market we introduce a lot of new people to cruising, and we're excited about the prospects of going all-inclusive."
Let's not be naïve, however, and think that Norwegian would simply throw free booze into the package without upping the price of cruising. Stuart admitted, vaguely, that Norwegian is increasing prices "a bit" on these all-inclusive sailings. What does that mean exactly?
Answering that question with any degree of precision is more difficult than one might hope because cruise pricing in general is so muddled. How much you pay varies based on when you book, choice of cabin and extras, how you book (broker or directly?), availability, the season and exact dates when you're traveling, choice of destination and ship, and so on.
For some indication of how much extra Norwegian is charging for its drinks-included Norwegian Sky cruises, we looked at rates in December 2015 and January 2016—immediately before and after the pricing change goes into effect. Four-day cruises from Miami to the Bahamas in early December are currently starting at a rate of $209 per person (not including port charges, taxes, and other extras), based on prices listed at Norwegian's website. The cheapest rate in January, on the same ship with the same itinerary, starts at $339.
That's a difference of $130, or $32.50 per day for a four-day cruise. Considering how pricey booze is on cruises—maybe $6 for a beer, $9 per glass of wine—it will be easy for many cruisers to come away feeling that the new pricing offers better value. But what if you're traveling with children or adults who are content with a single glass of wine at dinner, or who don't drink at all? If, on average, everyone in your party wouldn't otherwise be compiling a bar tab of $130 or more during the course of the cruise, you'd probably be better offer sticking with a cruise with more traditional a la carte pricing.
That equation is oversimplifying things because, as mentioned above, cruise pricing is a moving target that's impossible to nail down. Norwegian hinted that all-inclusive cruises could prove so popular that they'll drive prices higher, which would change the math on which pricing model represents the best value for the individual cruiser. "We expect that this will increase demand, which—as you know—will drive bookings and ultimately price," a company PR spokesperson said to Cruise Critic.