This School Will Teach You Today's Hottest Job Skills — With NO Tuition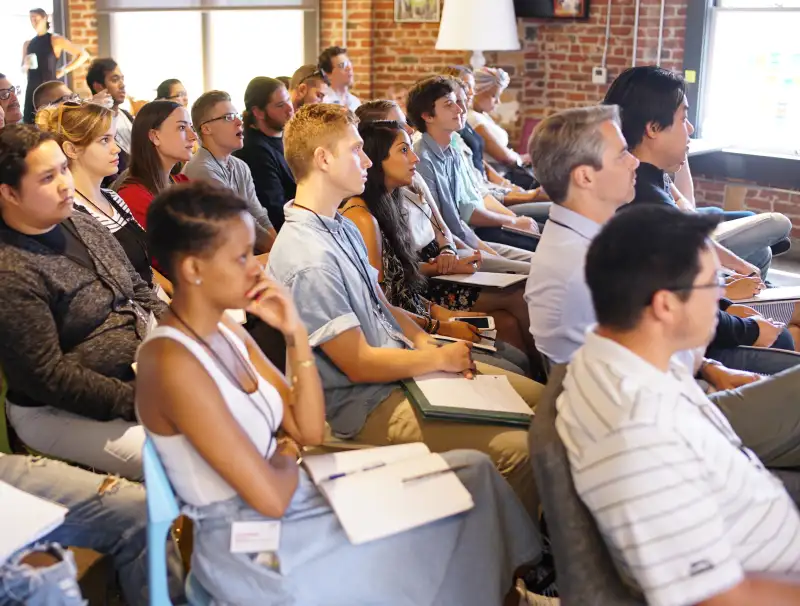 Want to get your foot in the door at some of Silicon Valley's hottest companies, with valuable data analytics skills in hand?
That's the promise a new alternative higher education provider is making to its students. And it's committing to do that with zero upfront costs for students.
The school, MissionU, launched in September in San Francisco with a one-year program in data analytics and business intelligence. Its founders want to build a new pathway that can launch young people into meaningful, well-paying careers, with a program that is neither as expensive nor as long a bachelor's degree, says co-founder Mike Adams.
And the school is banking—literally, thanks to an unusual financial model—on the idea that companies will increasingly hire based on applicants' demonstrable skills, not their credentials.
Accelerated skills-based programs have taken off in recent years, from the well-known coding boot camp industry to employer-sponsored training. Ryan Craig, who's writing a book on the rise of these new postsecondary education options, counts about 300 programs focused on specific skills—usually technical—needed to get today's jobs. (Craig's company, University Ventures, invests in education startups, including MissionU.)
Yet MissionU is unusual, its founders say, because it's one of the few available programs targeted to "career starters" and designed to be a true alternative to a two- or four-year degree, rather than a complement. While the majority of students in the first cohort have some experience with traditional higher education, only a few have earned bachelor's degrees.
The school has another factor setting it apart: It's one of several new programs that uses an "income-share model," with participants agreeing to pay a percentage of their earnings for a set period after completing the program, instead of paying at the start. In the case of MissionU, bills doesn't kick in until students find a job paying a minimum of $50,000 a year, at which point they have to pay 15% of their income for three years. The agreement ends seven years after graduation—whether a student has made their three years of payments or not.
The new skills-based education providers do face some criticism. For one thing, the quality ranges dramatically, says Clare McCann, deputy director for federal higher education policy at New America, and they're not held to the same regulations or accreditation requirements as colleges.
Nor, she adds, do they come with the same consumer protections as traditional colleges. There's no requirement that they publish enrollment data or completion rates, for example, and no oversight of the information they do publish.
Plus, since these non-credential programs are so new, their long-term effects on careers and earnings is unclear. "That may give you short-term success without the long-term earnings gain you would have gotten through a bachelor's degree," McCann says.
Classes 5 Days a Week
About 80% of MissionU is online, via live virtual classes five days a week. But the program also wanted to replicate the kind of relationship building and networking that happens on college campuses, and so participants have to live near San Francisco to attend regular meet-ups, company tours, and guest speaker events.
MissionU's curriculum is largely focused on technical and business skills, with a side of soft skills and interpersonal development. For the data analytics sessions, students start with basic Excel functions and advance to Python and SQL, two programming languages used to communicate with databases. They'll use those skills to analyze and find patterns in massive data sets, ultimately helping drive business decisions. In one project, for example, students analyzed data from a company's marketing team that tracked users through two different website versions to determine which was more effective.
In the program's iLab, meanwhile, instructors teach emotional intelligence in a class modeled after a popular Stanford University Graduate School of Business course.
Coursework is intense, says Daniel Paskoff, a 27-year-old former teacher who's one of MissionU's first crop of students, and is hoping that data analytics expertise will allow him to work in education in a different way.
"I've learned more in the last three months than I did in my four-year college degree," he says. Everyone at MissionU is motivated, and wants to take advantage of the opportunity, he says—something that wasn't always the case during his classes at SUNY-New Paltz.
Job Placement Is Key
Students considering an alternative education program should find out where previous participants are working and how much they're earning, experts say. For these programs, the definition of success is pretty simple: Getting a job where you use your new skills.
That's why close collaboration with hiring employers is a key characteristic of the best boot camps. MissionU says its curriculum was developed with input from more than a dozen company partners, a list of trendy businesses that ranges from Birchbox to Warby Parker. Some of those partners also have reserved exclusive internships for program participants.
Of course, a solid job placement rate is essential to MissionU's long-term success. With traditional higher education, students pay tuition upfront, but there's no guarantee that they'll graduate or find a good job when they do. But with income-share programs, schools don't get paid until students graduate and get jobs, so the schools' business interests should be more aligned with their students' interests.
Nearly everyone at MissionU talks about the high cost of college and burden of student debt: CEO Adam Braun says he wanted to start the company after seeing his wife struggle to pay back debt; co-founder Adams borrowed nearly six figures to pay for his education. Paskoff, the current student, is almost finished paying off his own bachelor's degree debt; he says he'd never want his own children to have to borrow like he did.
If you're able to work part-time to cover living expenses for the year, you can finish MissionU without taking out a loan. But for graduates who do land solid jobs, the school isn't exactly low cost—even if it cuts the financial risk.
A graduate who snags a job earning $60,000—a high salary for a recent grad, but in line with beginning data analyst pay, according to Glassdoor—would pay MissionU $9,000 in a year. Multiply that by three (assuming your salary doesn't change dramatically), and you'd pay $27,000 for the program.
Paskoff, who's working part-time and used some savings to afford relocating to San Francisco, isn't worried about paying a large sum if he earns a big paycheck. He can afford it then, he figures. "For MissionU to make money off me, I have to make money first," he says. "It's a win-win."
Questions Remain
It's too soon to say how MissionU's students will fare on the job market—the first cohort wraps up next summer; the school's second San Francisco cohort will begin in January, and a third is scheduled for May.
The school will launch in new cities in 2018 and add new subject areas in 2019, with an eventual goal of serving thousands of students. And that's where even CEO Braun admits that things could be more challenging.
Braun says he is constantly thinking about how MissionU can maintain its personal touch and "exceptional outcomes" while serving more students. For backers and skeptics alike, the answer will determine whether MissionU is a passing fad or a precursor to new way of delivering higher education.