Where to Find the Best Back to School Deals Right Now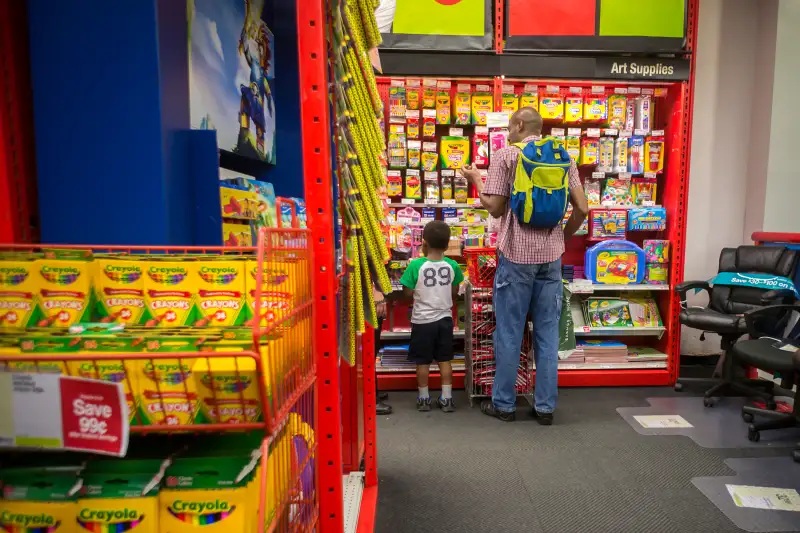 Richard B. Levine—Newscom
Back-to-school shopping season is already in full swing. Or at least the back-to-school promotional deals are. The circulars from this week's Sunday newspapers were full of retailers pushing back-to-school merchandise in the hopes of beating the competition to families' limited school supply dollars.
As for shoppers themselves, there seems to be no rush to stock up for a school year that isn't starting for a few weeks. In a new survey conducted by Deloitte, 38% of parents said back-to-school shopping is less important than it's been in the past because they tend to stock up on needed supplies throughout the year. What's more, 31% say they'll complete back-to-school shopping after the school year begins, up 5% over last year.
More parents are also reusing last year's school supplies to save money: 39% said they'll do so in 2015, up from just 26% in 2011. That may partly explain how families expect to scale back on overall back-to-school spending this year. According to National Retail Federation data, the average family with a child in grades K-12 will spend $630 this season, down 6% from a year ago. The number of families that will shop last minute—a week or two before the first day—rose too, from 25% to 30%.
Perhaps parents are catching on to how back-to-school sales stretch on for weeks, sometimes even months, so there's no need to hurry. Shoppers can also count on some of the best back-to-school sales popping up at the last minute, with big discounts on all manner of school supplies appearing during Labor Day sales.
All that said, now is a great time to pick and choose select bargains. Bear in mind that not every "sale" is worth your while. Target, for instance, is promoting a "Temp Price Cut" on 70-page Mead notebooks that normally cost $1. The "special" sale brings the price down to 99¢, for a discount of … a whopping single penny. We found the deals from the six retailers below far more enticing.
Apple: In addition to its usual back-to-school discounts of $20 to $200 off laptops, tablets, and desktops, Apple is also including an instant credit for a pair of Beats headphones at no extra charge with certain purchases. A long list of terms and conditions apply that specify which purchases include the free set of headphones (basically, MacBooks and iMacs) and who is eligible for the discounts (college students and educators). The discounts are in effect right now online and at Apple Stores; the free headphones offer is valid now in Apple Stores but is available for online purchases only from August 6 to September 18.
CVS: Among other deals, many Sharpie, Bic, and Papermate pens are available on a buy-one-get-one-50%-off basis at CVS locations.
Office Depot: In addition to the usual coupons and sales on electronics and classic school supplies, Office Depot is offering 20% to 50% off cleaning supplies—parents are often asked to supply hand sanitizers and tissues for classrooms—and a special promotion knocks an extra $20 off qualifying online purchases of at least $125, and $40 off purchases of $250 or more.
Staples: The sub-$1 deals will probably grab your attention first. One-subject notebooks, pencil sharpeners, and a 12-pack of erasers are each priced at just 25¢, while a 100-pack of index cards is 47¢, a 12-pack of #2 pencils is 68¢, and a 10-pack of Crayola markers is 97¢. Tons of other sale items amount to roughly 50% off list prices, while various coupons offer things like 25% back in store rewards for all in-store purchases and a ream of multipurpose paper for only 1¢.
Walgreens: The Deal of the Week is 10¢ for two-pocket paper folders. Two-packs of Sharpies and various other school supplies are on sale for 99¢, while notebooks and Crayola art supplies are priced at buy-one-get-one-50%-off and backpacks are buy-one-get-one-free. In most cases, a Walgreens loyalty card is required for discounts.
Walmart: Among Walmart's best back-to-school deals are school uniforms starting at just just $4.47 apiece and bulk-discount bundles of, say, three boxes of 12 Bic pens each for $4.53.