The Best St. Patrick's Day and March Madness Food Deals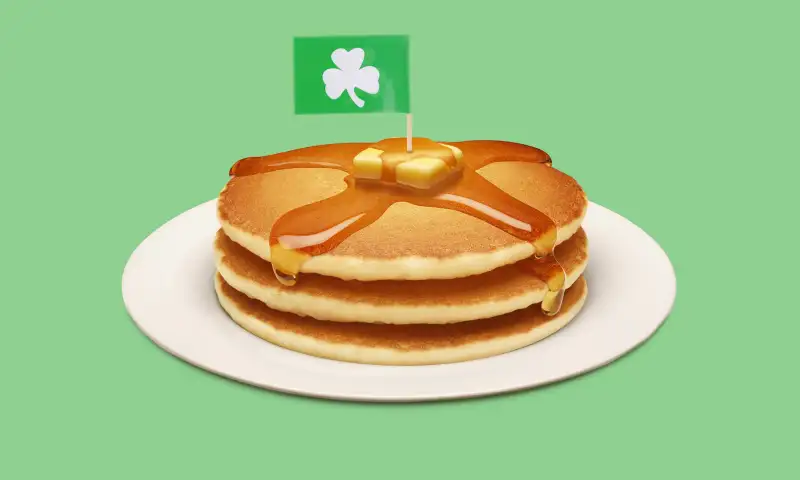 Photo illustration by Money
It's quite a hectic time for food freebies and special restaurant deals—and that's a very good thing for consumers! This week, which kicked off with Pi Day promotions and $3.14 pizzas, and then free Dairy Queen ice cream, continues on with a wide range of deals for St. Patrick's Day and the March Madness college basketball tournament. Here's where to score.
Bruegger's Bagels: On Wednesday and Thursday—March 16 and 17—Bruegger's is selling green bagels, and customers can download a coupon from the company website for $2 off a bagel bundle, which consists of 13 bagels and two tubs of cream cheese.
Read next: The 5 Best Drinking Cities for Thirsty Travelers
California Tortilla: With any purchases on St. Patrick's Day, customers get a free order of green tortilla chips and a "pot of liquid gold" queso for dipping.
Domino's: Now through March 20, place an order online with Domino's and all pizzas are priced at 50% off the normal menu rates.
Friendly's: Print out the linked coupon or simply show it to a server on a mobile device for 50% off mint ice cream sandwiches, Fribbles, and sundaes now through March 24, in honor of St. Patrick's Day.
IHOP: A short stack of pancakes costs just $1 all day on St. Patrick's Day.
Papa Murphy's: Order online and use the coupon code SAVE50 for 50% off take-and-bake pizzas, now through March 28. [UPDATE: Papa Murphy's says that this promotion is only available in a select few locations and asked us to remove it to avoid upsetting customers.]
Rita's: Rather than celebrating St. Patrick's Day or March Madness, Rita's is offering free Italian ices for everyone on Sunday, March 20, to welcome in the first day of spring.
Read next: 10 Supposedly Irish Things That Aren't Remotely Irish
7-Eleven: This weekend, the convenience store chain will be hosting BYO Cup Day on Friday and Saturday (March 18-19), when customers can fill any vessel within reason—like a sand pail or teapot—with Slurpee, at the flat price of $1.50.
Sonic Drive-In: All milk shakes are half-price on St. Patrick's Day. All-American and chili cheese hot dogs are just $1 on Wednesday, March 16, too.