Desi Linden Lost the Boston Marathon by Two Seconds Before She Conquered it 7 Years Later. Here's the Mindset That Could Help Her Win the New York Race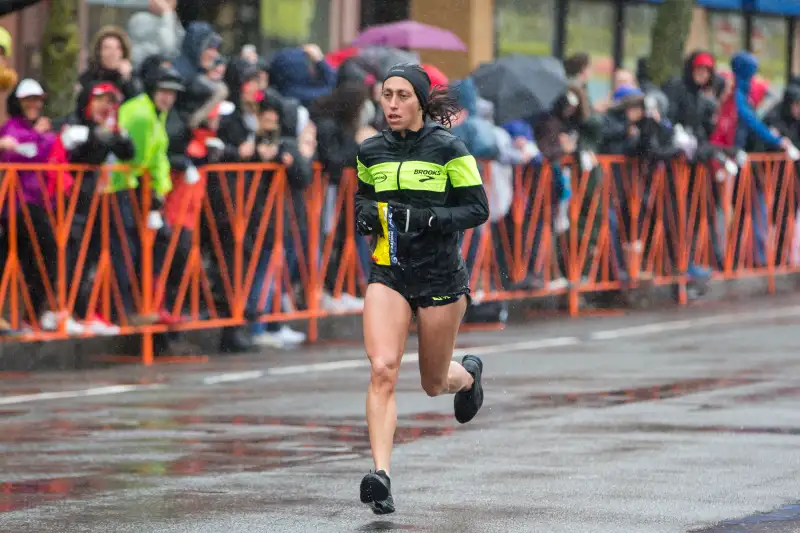 Desiree Linden was just two seconds short of her dream.
The elite marathoner saw the 2011 Boston Marathon as an opportunity to emerge as a star on the competitive scene. But, after 26.2 miles of running at her fastest marathon pace to date, she crossed the finish line just two seconds after that year's champion.
Seven years later, and after nine more marathons, a stress fracture, and multiple second-place finishes, Linden got her revenge. Fighting through heavy rain and winds, the two-time Olympic marathoner became the first American woman to win the coveted Boston Marathon title in more than three decades this April, spurring a nationwide victory tour and, more importantly for the 35-year-old, a fulfilled dream.
Linden credits her win with a simple, albeit onerous, philosophy: Keep showing up. (It's a phrase she uses so often, in fact, that she filed to trademark it with the U.S. Patent & Trademark Office.) On Sunday, Nov. 4, Linden will show up to the New York City Marathon for the second time in her career, this time taking on the course with a marathon title in her back pocket. And she'll toe the line with a competitive field that includes reigning New York City Marathon champion Shalane Flanagan, three-time New York City Marathon winner Mary Keitany, and 2018 London Marathon champion Vivian Cheruiyot.
But worrying about the competition could hinder your growth and mentality, says Linden.
"Sometimes results are out of our hands," Linden tells Money. "You might feel like you're not getting the success you want or the results you want, but it's not really in your control. If five people show up who are just better than me, I can't be disappointed that I didn't win. But I still can love the work and improve myself."
Learning to Let Go
Linden, who lives and trains in Michigan, had a result-oriented mentality early in her career — making her second-place finish in Boston and in a number of other major marathons all the more consuming. In the lead-up to the 2011 race, she imagined herself as the Boston Marathon champion — and crossing that finish line in second place was the first time in months when that dream no longer felt like a reality. In 2017, she led the pack of the Boston Marathon for half the race until she faded and finished in fourth place. That disappointing result was hard to get over.
"I felt like maybe I missed my window of opportunity," Linden says. "It became this haunting thing."
But still, in the back of her head, Linden felt so close to her goal. She re-focused on her work — and she started to enjoy running again.
But even in the first few miles of the 2018 Boston Marathon, Linden felt like it just wasn't her day. So she slowed her pace to help Flanagan, who was also vying for the title, catch back up to the lead pack after taking a quick bathroom break. Then Linden blocked the wind for Molly Huddle, another American who Linden will race again Sunday. In helping out her competitors and taking the pressure off herself, Linden began to soar — and crossed the finish line first with no other runner in sight.
As for how she spent her $150,000 prize for winning in Boston? Linden struggled to find something fun to treat herself with. She bought "stupidly expensive shoes," then thought, "I don't actually see myself wearing these," and sent them back.
"If I weren't savvy with money, I would get a stupid car," Linden says. "That's the worst investment ever."
Embracing New Challenges and Opportunities
Now, Linden feels ready to take more risks. Over the last several months, she has changed her training to implement more strength workouts and she left her long-time running team. Instead of feeling pressure to now win New York, she feels a sense of relief. She now has the freedom to experiment with her training and racing, potentially elevating her to a higher level or falling flat on her face. The 2020 Olympic Marathon trials aren't too far away, and if Linden qualifies, she'll become the first American woman to represent the U.S. in the marathon at three Olympic Games.
"I can keep doing the same and do really well, or I can try to change it just a little bit and maybe find another level," Linden says. "It might go the exact opposite direction, but I have the ability now to risk that and to try to strive for that one more step up."
But she will always make sure her hobbies and side hustles aren't ones that could result in injury. Linden, her husband, and two other athletes manage the coffee subscription brand Linden & True. She has more than 30 bottles of whiskey — a number of which are engraved by the maker or signed by the master distiller. "Whiskey has never injured me — yet," she jokes.