Disney Theme Park Admission Is About to Cross the $100 Threshold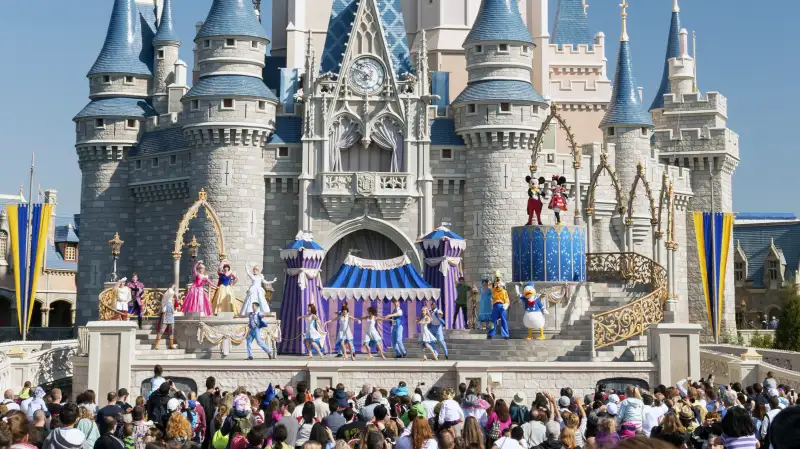 Five years ago, the price of a one-day adult ticket to Walt Disney World's Magic Kingdom was $79. Toward the end of the summer of 2010, prices were raised, to $82. From there, prices went on a tear. Sometime in the first half of the years listed below—before the peak summer season was under way—Disney raised prices as follows:
Here we are in early 2015, and, like clockwork, another theme park admission price hike appears to be in the works. The ThemeParkInsider blog and the Orlando Sentinel have both cited inside sources that indicate price increases will be announced as soon as Sunday, February 22. This time, the price of a one-day adult admission to the Magic Kingdom is expected to cross the $100 mark—it'll hit $105, to be exact, taxes not included.
As has become custom, single-day prices at EPCOT and Disney's other theme parks will likely be a few dollars cheaper, and prices for children (ages 3 to 9) will be a few bucks cheaper than those for adults. The prices mentioned are all for entrance at one park on one specific day; "Park Hopper" passes that allow visitors to hit multiple theme parks on the same day cost extra—and this option is all but guaranteed to cost extra as regular admission prices rise. Likewise, theme park giant Universal Studios will likely raise prices hand in hand with Disney.
As of Friday afternoon, Disney had issued no official comment on the subject of price increases, but given its recent history, at this point it would be more of a shocker if the company decided to forgo a price hike than leap over the $100 watermark. If the one-day Magic Kingdom price hits $105 as fully expected, admissions will have risen $26 (or about 33%) in a quick five years.
It must be noted that consistently strong visitor numbers give Disney and other theme parks good reason to keep jacking up prices. Year after year of price hikes haven't scared the crowds away; in fact, on Christmas Day 2014, Disney parks were temporarily closed to new visitors on both coasts because there were simply too many people. There's even a certain subset of fanatical theme park goers who wish that Disney and Universal would usher in price increases so severe and sudden that they would result in a sharp dropoff in visitors, at least on peak weekends and holidays if not year-round.
Overall, what the steady climb of one-day admissions and the general pricing structures of Disney and Universal do is destroy the spontaneity of a theme park vacation. A single day's admission costs are so extraordinarily high that they basically force families into booking discounted multiple-day tickets in advance to get some semblance of decent value. Countless websites and guidebooks lecture visitors on the necessity of making dinner and "character breakfast" reservations, among other steps, months before heading to Florida. The idea of winging a trip to Orlando's theme parks is widely viewed as foolish, perhaps somewhat by design.
For obvious reasons, this formula works out nicely for the theme park companies. Tourists are steered away from one-day, spur-of-the-moment visits in favor of multi-day vacations, dramatically increasing opportunities that they'll also pay up for pricey lodging, meals, "after hours" cocktail parties and other extras.
It's easy to see how, once you open the door into a theme park vacation, costs can quickly snowball. Sorta like what's happened to theme park admissions prices over the past few years.