Do You Need Trailer Insurance?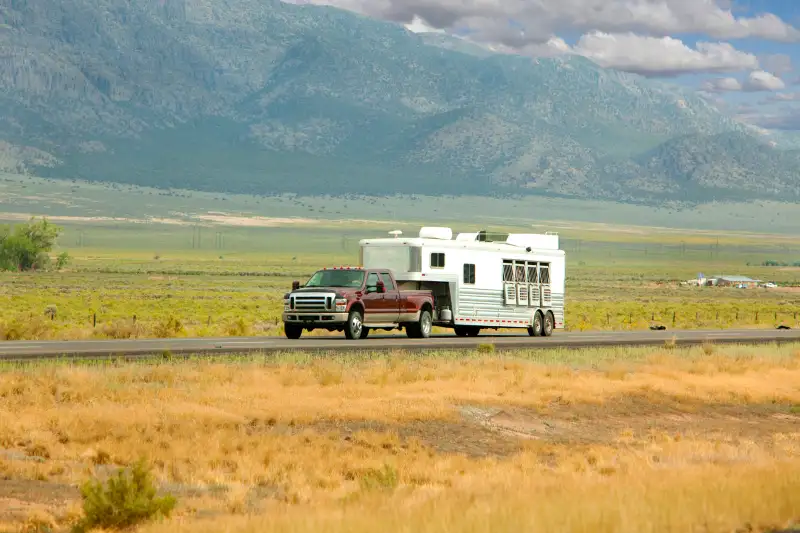 If you're thinking of purchasing a trailer, or have recently bought one, perhaps you're wondering if you need trailer insurance. The answer will most likely be yes.
Trailer insurance covers your trailer when it's damaged due to an accident or natural event, like a storm or flood. It also protects you from financial liability against another party's injury or property damage claims. Read on to learn about trailer insurance, what it covers and how to get it.
What is trailer insurance?
Trailer insurance covers the repair expenses of your trailer when it's involved in an accident or damaged by nature, such as a fallen tree branch. Depending on the circumstances and policy terms, some policies may cover the cost of purchasing a new trailer if the old one is beyond repair. Often, trailer insurance will cover the claims costs of another party in which your trailer is held liable, partially or entirely, for their injuries or property damage.
A trailer insurance policy covers any vehicle that can't power itself and relies on another vehicle to move it from place to place. Whether you use a trailer to haul supplies for work, transport livestock or as a recreational vehicle, you'll want trailer insurance coverage.
Trailer insurance is a separate policy from your personal auto coverage. Most personal auto insurance includes liability on anything up to a specific size towed by an insured vehicle, but this coverage varies by provider and policy terms. You don't want to be caught in a situation where you thought your trailer was insured, only to learn that it isn't after you hit something.
It's always best to contact your insurance provider to ensure your policy's liability coverage extends to your new trailer. If it doesn't, or if you want additional coverage beyond basic liability, you'll want to purchase insurance specifically for your trailer.
What does trailer insurance cover?
Trailer insurance, like auto insurance, comes with different coverage options. What you need depends on your specific trailer and how you plan to use it.
Types of coverage for trailers
There are three main types of coverage for trailers: Liability, collision, and comprehensive coverage.
Liability coverage
Liability is the bare minimum insurance coverage you want for your trailer. Liability insurance covers the percentage of damage your trailer is responsible for against another person or property.
For example, when your insurance provider deems you're 100% liable for an accident, they'll pay 100% of the other party's claims up to your coverage amount. But if you're only held accountable for 60% of the accident, your insurance pays 60% of the other person's claims. (The opposing insurance company would therefore pay 40%.)
Without liability insurance, you'll be on the hook for any out-of-pocket costs to repair property damaged by your trailer. When you cannot cover those costs, the other party can sue you to access your assets to pay the expenses.
Even if you leave the trailer on blocks on your property, you should still get liability coverage. Accidents happen, such as the trailer falling off the blocks and landing on someone's foot. Without liability coverage, you would be personally responsible for their medical bills.
Collision insurance
Collision insurance pays for repairing any physical damage to your trailer when no other party is involved. Say you back your trailer into another parked car. While your liability coverage will cover the repairs to the other vehicle, your collision policy will cover your own repairs.
Comprehensive coverage
Comprehensive insurance covers damages to your trailer unrelated to an accident such as theft, vandalism, fire and damage from natural causes.
Additional coverage
Liability, collision, and comprehensive coverage only cover the trailer itself, not what's in it. Therefore, consider a replacement cost add-on to your policy, which will protect your belongings inside the trailer.
Roadside assistance: Many insurance companies offer this service when you get a flat tire, run out of gas or experience some other mechanical failure. Look carefully at your current auto policy to see if this service is automatically included or listed as an option.
Total loss replacement: Your insurer may decide that replacing your trailer is more cost-effective than repairing it. Policy terms and conditions apply, and you're still responsible for any existing loan balance on the replaced trailer. To determine if you need total loss replacement, calculate if you owe more on the trailer than it is worth and whether you have enough cash for a down payment on a new one.
Replacement costs/personal effects: This type of insurance policy covers the contents of your trailer, and it's especially important when hauling expensive items like tools or cars. Keep a list of items typically in your trailer and their value in case the trailer is stolen.
Vacation liability: Those who use trailers for vacation or part-time living will want to consider adding vacation liability insurance. This policy add-on works just like homeowner's insurance when your trailer is parked at a campground, providing coverage when someone is injured in your trailer or if your trailer damages someone else's property.
Full-timer's liability: Some owners live in their trailer full-time. Like vacation liability, full-timer's liability also functions like homeowner's insurance. You don't need vacation liability coverage if you have full-timer's liability insurance.
Commercial trailer insurance: Some trailers, like concessions trailers, utility trailers and flatbeds, are used primarily for work. Commercial trailer insurance, like commercial auto insurance, is a business policy rather than a personal one. It provides coverage for your trailer when your employees tow it with a company vehicle.
Personal umbrella policy: This insurance covers you when you're sued for damages greater than your liability amount. For example, your liability cap could be $50,000, but the other party sues you for $60,000 worth of damages or medical bills. Without an umbrella policy, you're responsible for paying the extra $10,000.
Talk with an insurance agent about how you plan to use your trailer before deciding what type of insurance you need.
What trailers are covered under insurance?
Most trailer insurance policies will cover all trailer types, but share your specific kind of trailer with your insurance agent to ensure you get proper coverage.
Here are a few of the most popular trailers covered under trailer insurance.
Conventional trailers
Conventional trailers are the most common type of trailers. They include popular recreational trailers, such as travel, boat and snowmobile trailers. Most conventional trailers are between 12 and 40 feet long and utilize a ball-type hitch mounted to the bumper or undercarriage of the towing vehicle.
Pop-up trailers
Pop-up trailers are a popular type of recreational trailer. They have a roof and walls that collapse and fold flat, so they are much easier to haul than full campers.
Truck campers
People often don't think truck campers qualify as trailers since they technically aren't towed behind a vehicle. Instead, they are mounted directly to the vehicle bed. Truck campers tend to be small but often have a sleeping area above the truck's cab. Some even have space for a small kitchen and bathroom.
Fifth-wheel trailers
Fifth-wheel trailers are intended for heavy loads and are often too large for standard-sized pickup trucks. To safely haul a heavy load, the towing vehicle has a plate shaped like a horseshoe on its bed, and the trailer has a kingpin that locks into place. This configuration allows the trailer to rotate on the plate for greater maneuverability. Additionally, fifth-wheel trailers may include long, luxurious travel trailers with extendable living spaces.
Horse trailers
A horse trailer is used to haul horses or other livestock. They range in size, style and materials. Shorter horse trailers may use a conventional ball hookup, while others are a type of fifth-wheel trailer.
Toy haulers
A toy hauler is an enclosed trailer with a ramp and a garage door-style back, originally intended to haul the owner's "toys": motorcycles, ATVs, cars, golf carts and such. They often come with a ramp to make loading easy and function almost as a portable garage. Some toy haulers are actually more like travel trailers, with living space instead of cargo space.
Most toy haulers are fifth-wheel trailers, whether you use yours as an actual toy hauler or as a type of RV.
Cargo or utility trailers
Cargo and utility trailers are often used for commercial purposes, especially in the moving and landscape industries. Cargo trailers are enclosed to protect what's inside from the elements, while a utility trailer has raised sides and an open top. Landscape companies often use these to transport mulch and plants.
Regardless of what you haul with a utility trailer, you must ensure everything is securely strapped down to keep it from flying off as you drive.
How much is trailer insurance?
Like car insurance, the cost of trailer insurance depends on several factors, including but not limited to the following:
Type of trailer
Your location
Your age
Your driving history
Level of coverage you need
Whether you purchase any insurance add-ons like roadside assistance
Fortunately, there are a few ways to make trailer insurance more affordable.
Bundle with other policies. If your auto insurance company offers it, buying trailer insurance through them might be cheaper since you already have a policy. You may see even greater savings if you have homeowners or boat insurance with the same company.
Ask for discounts. You may qualify for a discount if you have a clean driving history or have been a loyal customer. It never hurts to ask your insurance agent about discounts.
Increase your deductible. The deductible is part of a repair bill you pay before the insurance takes over. Generally, the lower your deductible, the higher your annual premiums, and vice versa.
Shop around. Because insurance companies are always looking for new business, they often offer deals. Insurance experts recommend shopping for new insurance yearly to ensure you're still getting the best deal.
Is trailer insurance required by law?
Trailer insurance for personal use typically isn't required by law, but you should double-check with your insurance agent. However, if you took out a loan to purchase your trailer, your bank may require you to take out a specific amount of insurance per the loan terms.
When you use a commercial vehicle and a commercial trailer for work, it may be best to have separate insurance policies for each. You likely have commercial auto insurance for your work vehicle, and that policy may include your commercial trailer. However, many states have laws requiring a commercial trailer to have a specific level of coverage to operate on roads.
To avoid potential fines or penalties, check with your state on commercial trailer insurance compliance regulations. In addition, check your policy to see if your commercial trailer coverage meets your state's requirements.
The owner's name on the trailer's policy should match that of the vehicle's auto policy. For example, when you use your business name to insure your vehicle, set up your trailer insurance similarly. This will make handling insurance issues easier if an accident involves your vehicle and your trailer.
Where can you purchase trailer insurance?
Whether you're looking for travel trailer or utility trailer insurance, you have your pick of many insurance companies. Most personal and commercial auto insurance providers also sell trailer insurance, so you simply need to call your agent and ask.
During the call, an agent will ask you questions about the trailer in order to give you an accurate coverage quote. Have the following information ready:
Trailer make and model
Towing vehicle make and model
The Manufacturer's Suggested Retail Price (MSRP) of the trailer
Trailer's gross weight
Your intended use for the trailer
A list of any attached equipment and their MSRPs
Key takeaways
Trailer insurance protects you from out-of-pocket costs when your trailer is damaged due to an accident, theft, fire, vandalism, or weather-related cause. Depending on the make and model of your trailer, and your intended purposes, you can opt for add-ons to your policy for extra protection.
You can purchase a policy from just about any auto insurance company. Your premium amounts will depend on several factors, including trailer type, location and coverage amount. There are several types of trailers in which you can apply for insurance, including, but not limited to, pop-up, fifth-wheel and utility trailers.
Check with your state's laws about the specific coverages required for your type of trailer.