Don't Bet (But If You Do, Bet on California Chrome)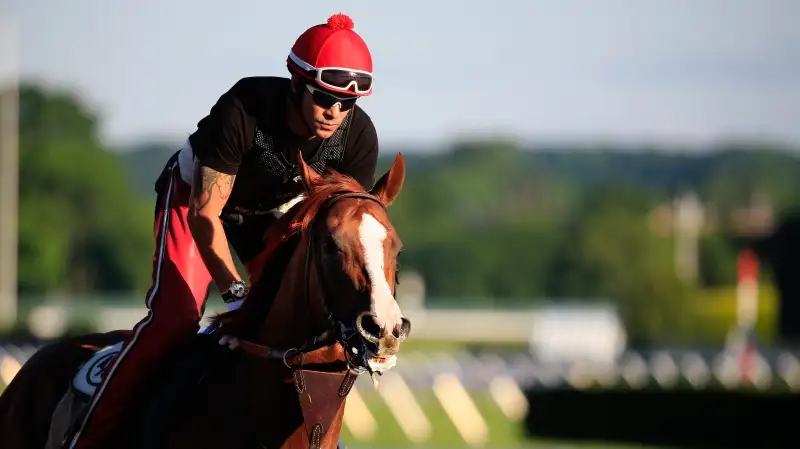 In the movies, the long shot frequently overcomes terrible odds (and often a troubled past) to win the big game or race. In reality, long shots almost never win -- even less often than you think and less often than the odds suggest, for reasons we'll get to. So if you want to minimize your losses during a day at the races, stick with the favorites.
Keep that in mind this Saturday as California Chrome (a 3-5 favorite) vies to win the Belmont Stakes and become the 12th Triple Crown champion -- and first since Affirmed in 1978. Triple Crown winners include War Admiral and Secretariat. The latter, perhaps the greatest racing horse of all-time, won the Belmont by an incredible 31 lengths.
Like California Chrome, Secretariat was the overwhelming favorite to win the Belmont, but that distinction generally does not bode well for potential Triple Crown winners going into the final race. Consider this, from the Edmonton Journal:
The argument against Chrome winning for a third time in five weeks is that it is really hard for horses to run that well for that long. As ESPN's Bill Finley points out, "by the time they get to the Belmont, the Triple Crown hopefuls are not the same horse." It is an exhausting endeavor and the 1.5-mile Belmont is a particularly grueling race.
Still, you're better off betting California Chrome than any of his rivals, according to economists Erik Snowberg and Justin Wolfers. In a recent paper, they showed that betting on the likely winner will give you the best shot to lose the least amount of money. "The rate of return to betting on horses with odds of 100/1 or greater is about -61%, betting randomly yields average returns of -23%, while betting the favorite in every race yields loses of only 5.5%," Snowberg and Wolfers wrote.
Their paper dealt with the favorite-longshot bias – which says that people overestimate the chances of longshots winning and underestimate the favorite's likelihood of victory - and found that, "longshots win even less often than you think they do because you (and almost all people, really) are really bad at perceiving small probabilities," says Snowberg, who teaches at Caltech.
When asked, both economists said that people shouldn't bet. But if you have a little bit of cash burning a hole in your pocket, ignore the fact there hasn't been a Triple Crown winner in 36 years and go with California Chrome.
"Longshots rarely win – even less often than indicated by the odds," says University of Michigan professor Wolfers. "But favorites do, and you'll not only be collecting more often, but in the long run, you'll come a lot closer to breaking even on your bets."