Dunkin' Donuts New Mobile Ordering App Lets You Skip the Line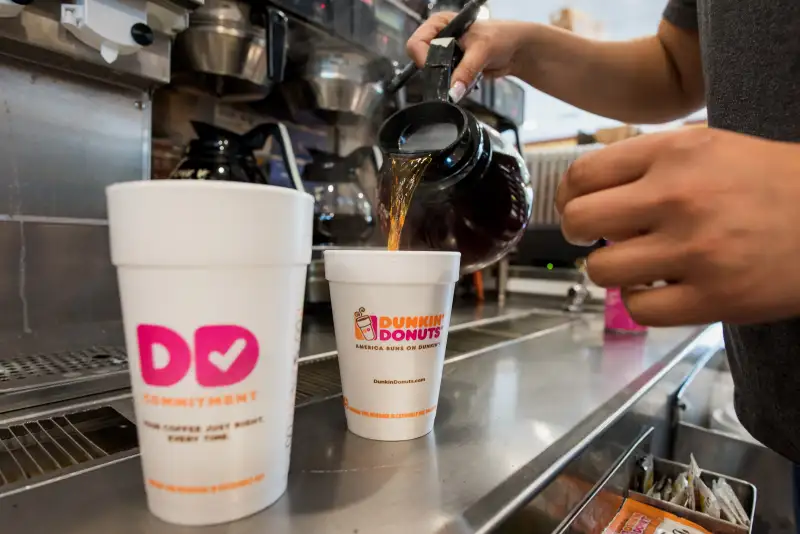 Bloomberg—Bloomberg via Getty Images
Now your morning coffee and donut are just a click away.
On Monday, Dunkin' Donuts will roll out a mobile ordering feature nationwide, allowing DD Perks rewards program members to order before they arrive and skip lines. It also allows cashless payments by taking from members' Dunkin' Donuts cards in the mobile app.
"I think it's going to be a difference maker," Dunkin' Brands CEO Nigel Travis told CNBC. "It's the biggest change to our delivery system."
While Travis said the investment in the new feature, called On-the-Go, has been "pretty low," he said he thinks it will attract new customers to become DD Perks rewards members.
Dunkin' Donut's move is designed to stay competitive with other chains' breakfast offerings. In April, coffee competitor Starbucks revamped its mobile app to create a more personalized experience for the more than 17 million customers that use it. Dunkin' is also trying to challenge Starbucks by expanding a line of espresso-based drinks and testing new donuts, sandwiches and fruit teas in Boston.
Dunkin' might also be trying to capitalize on customers who are dissatisfied with changes to Starbucks' rewards program. Previously, My Starbucks Rewards gave customers one star for each transaction. After they earned 30 stars, participants received Gold Status. As Gold members, they were eligible for a free drink of any type or size after attaining 12 stars. The new system, however, gives customers two stars for every dollar they spend. But now they need 300 stars to become Gold members and 125 to earn a free reward.
Under Dunkin' Donuts loyalty program, customers must spend $40 before receiving their first freebie, compared to the $62.50 needed for My Starbucks Rewards members. In the wake of the changes to Starbucks' program, Dunkin' occasionally passed out $5 gift cards to customers to entice them to switch their loyalty.
Starbucks isn't Dunkin's only competitor in the breakfast space. McDonald's launched a successful all-day breakfast last fall and has been testing new items like the Chicken McGriddle sandwich in certain locations.
"Clearly, there is a lot of competition out there. There are convenience stores, burger chains. They're all jumping in," Travis told CNBC.
And while you're thinking of donuts, don't forget to stop into the chain Friday to celebrate National Donut Day. In honor of the holiday, the chain will give customers one free donut with the purchase of a beverage.