8 Ways Somebody Is Making Money Off Ebola Fears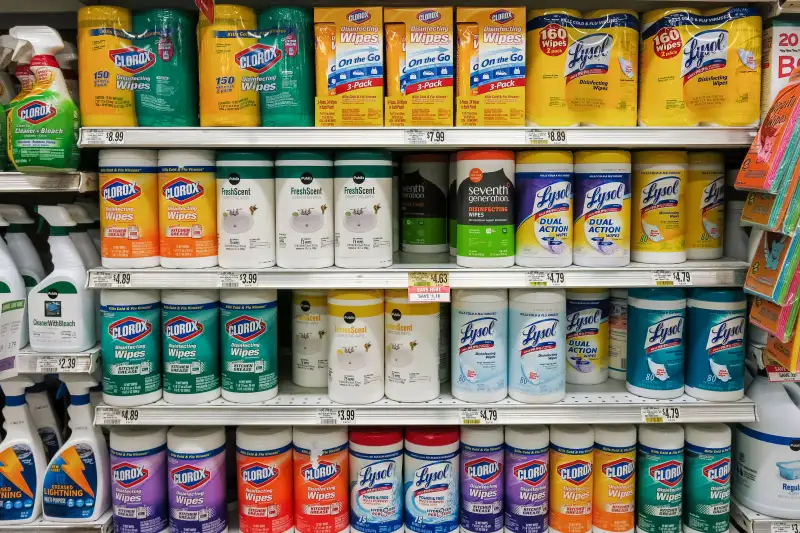 On Monday, the World Health Organization declared that the Ebola outbreak is officially over in Nigeria. Yet fears of the deadly virus continue to grip the world, meaning that sales of Ebola-related products like these are likely to continue being strong.
Anti-Germ Products
Disinfectants, Clorox, Lysol, and hand sanitizer are among the germ-fighting products that have experienced a boost in sales since Ebola fears have hit the U.S. and other nations. In a recent four-week period, for instance, Clorox sales were up 28%. Anecdotally, travelers report that hand sanitizer and other anti-germ products are appearing more often near the checkout areas of airport shops, though that may be partly just because it's flu season.
Protective Gear
After word spread that someone in the U.S. was being treated for Ebola, sales of medical-grade masks, gloves, body suits, and other protective gear made by one Chicago-area firm spiked. The number of phone calls the company handled increased fivefold almost overnight, and sales of face masks jumped by 40%. Sales of a wide variety of infection protection and doomsday prep kits have soared as well. And speculative investors see opportunity in the situation, too. One day in early October, the stock price of Lakeland Industries—which manufactures industrial protective gear worn by professionals who might come into contact with dangerous chemicals and viruses—surged more than 50% (before retreating significantly of late).
Hip-Hop Ebola Masks
Basic polypropylene masks sell for less thanb 10 cents apiece when purchased in bulk. But when you're going to the trouble of protecting yourself from germs with a mask, why not go the extra step and protect yourself in style? That, presumably, is the sales pitch from the rapper Cam'ron, who is selling polypropylene masks for $19.99 each, featuring an image of his likeness on them—oddly, while he's speaking on a pink flip phone. Perhaps even more oddly, the item is only available for preorder at the moment. "Ships 11/7/14," the order page explains. You'll have to hold your breath or (gasp!) use a lame, basic mask until then.
Ebola Halloween Costumes
Thanks to the world's lightning-fast-moving attention span, we're guaranteed that anything that's been buzzing in the news or has achieved meme status in October is bound to pop up in some form as a Halloween costume. Even if it's a subject as grim and deadly serious as Ebola. So it shouldn't come as a surprise that the "hot costume" label has been applied to Ebola-related outfits, including Ebola containment workers, Ebola victims, and Ebola zombies.
Ebola Toys
To be fair to Giant Microbes, the Connecticut-based "Learning & Fun" company has been manufacturing plush toy versions of Bed Bugs, Chickenpox, Dengue Fever, Black Death, and no fewer than three Ebola products long before Ebola sales became trendy. In any event, sales of Giant Microbes' "uniquely contagious" Ebola toys have been off the charts since the virus became a mainstay on cable TV news; the company has been completely sold out for days.
Fake Charity Scams
The Better Business Bureau warned consumers about "a variety of Ebola-related scams and problematic fundraisers" that have popped up in recent days, including crowdfunding ventures that aren't necessarily providing any aid to Ebola victims and sketchy phone solicitations that aren't tied to any genuine, known charities.
Vitamin C
Essential oils and herbal remedies are among the many unproven "cures" that have been suggested as strategies for fighting off Ebola, but of all the groundless theories for protecting oneself, none has gotten more attention than Vitamin C. One opportunistic New York businessman has been selling up to 14,000 packages per day lately of a supplement with 554% of the daily recommended intake of Vitamin C—which he packages under the name Ebola-C.
Science blogs have felt compelled to combat the misinformation, describing one effort to pump up sales of the vitamin as a "particularly irresponsible bit of quackery promotion." In a Los Angeles Times story about purported Ebola "cures," Gerald Weissmann, editor-in-chief of the Federation of American Societies for Experimental Biology and professor of medicine at New York University, said that while Vitamin C is part of a healthy diet and helps build up one's immune system, "there's no evidence it has any effect on infectious disease" when taken in higher doses. What's more, "all this quack stuff takes money and effort away" from legitimate research devoted to coping with Ebola and other health dangers.
Web URLs
In 2008, a forward-thinking entrepreneur named Jon Schultz purchased the Ebola.com URL for $13,500. He's now willing to part with control of the site for a mere $150,000, the Washington Post reported.