The Election Could Be Decided by These 3 Upcoming Economic Reports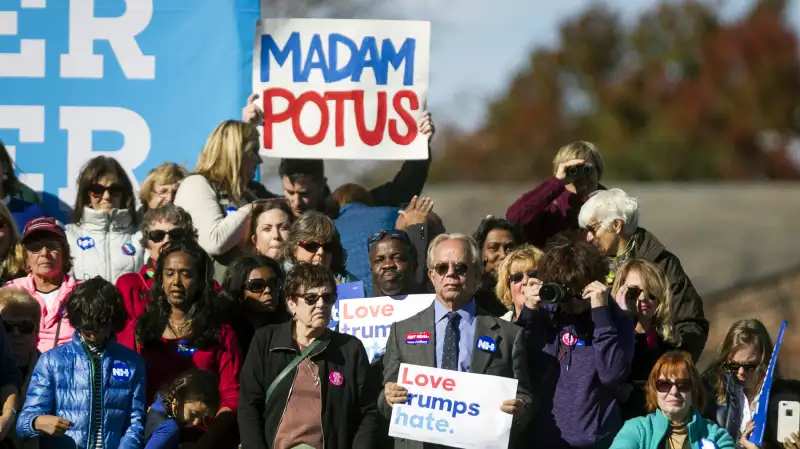 Scott Eisen—Bloomberg via Getty Images
Emails aren't the only things that Hillary Clinton has to worry about with just one week left in the presidential race.
Several key economic reports and developments are due out this week, and any signs that the economic recovery is threatened would be bad news for the Democratic front runner.
After all, a Pew Research Center survey showed that 84% of registered voters say the economy is the no. 1 issue in this election—not terrorism, health care, immigration, or Social Security.
So what are the economic events you need to be mindful of?
Nov. 1-2: Fed Meeting

Tomorrow, the Federal Reserve's policy setting committee will meet to decide whether to raise interest rates. Traditionally, the Fed has been hesitant to change rate policy this close to an election, but recent economic reports may warrant a break from tradition.
This morning, the Commerce Department reported that personal spending rose a stronger-than-expected 0.5% in September, which was the fastest pace of growth since June.
As a result, inflation, as measured by personal consumption expenditures (a favorite tool used by Fed officials), rose 1.2% in September. If you strip out volatile food and energy prices, the so-called core PCE rose 1.7% over the past 12 months, within striking distance of the Fed's 2% target for inflation.
While Wall Street economists believe that lifting, or "normalizing," rates could be good for investor psychology in the long run, households may not be so keen on seeing mortgage rates or auto loans rates rise.
An earlier-than-expected rate hike could sour the electorate's mood with just days to go before the election. That's typically good news for the party out of power, in this case the GOP.
Nov. 4: Jobs Report
A month ago, when the government reported that 156,000 new jobs were created in September, Republican presidential candidate Donald Trump said: "Is that the last jobs report before the election? Because if it is, I should win easily..."
Clearly he was exaggerating. Last month's 156,000 new jobs weren't that far off from the 178,000 the economy has been averaging so far in 2016.
Plus, the September report wasn't the last update before the Nov. 8 vote. On Friday, just four days before the vote, the Labor Department will release the October jobs numbers. Economists believe the economy grew fast enough to have created around 175,000 new positions.
But if the report shows another month like September, Trump can point out that in the past three months, the economy seems to have slowed to where it's incapable of producing more than 160,000 new jobs a month.
To put that in perspective, in 2015 the recovery created 229,000 jobs a month. And in 2014, there were 246,000 new jobs being produced each month.
Nov. 4: Trade Deficit
Normally, trade deficit figures fly under the radar of most Americans. But this is no ordinary year, with Donald Trump bashing the political class over the effectiveness of trade deals made in recent years. In August, the U.S. trade deficit grew 3%, to nearly $41 billion.
At this point, expectations are for a modest improvement in the trade gap based on a reasonably healthy domestic economy last month.
But if the economy falls short, expect Trump to make trade the final economic argument in stating his case for being elected president.