The One Business Advisor President Trump Can't Afford to Lose Is Reportedly 'Disgusted' by Charlottesville Response
Money is not a client of any investment adviser featured on this page. The information provided on this page is for educational purposes only and is not intended as investment advice. Money does not offer advisory services.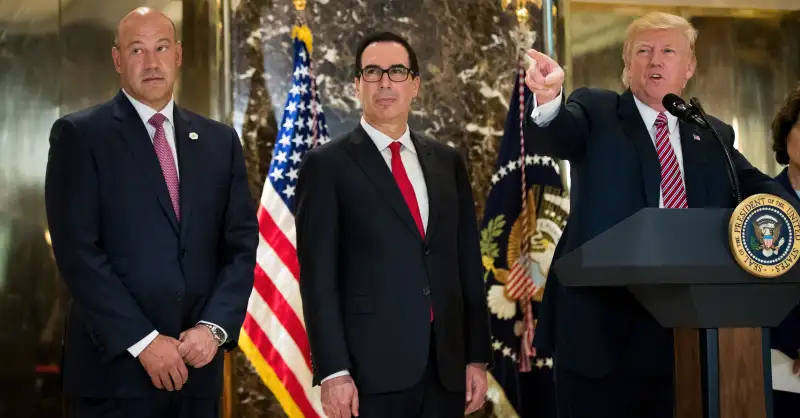 Drew Angerer—Getty Images
In response to President Trump's tepid response to violent protests by white supremacists in Charlotteville, a slew of CEOs and business leaders advising the president have resigned their seats on White House boards.
So far, the exodus—which includes the resignations of leaders from Merck, Intel, Under Armour, 3M, Johnson & Johnson, and General Electric—has had little effect on the stock market, which up until Thursday was on a roll.
That may be changing, however.
Now comes word that the one business advisor that Trump can ill afford to lose—Gary Cohn, the former chief operating officer at Goldman Sachs—was "disgusted" and "upset" by Trump's comments that "both sides" (and not just neo-Nazis and Ku Klux Klan supporters) were to blame for the violence, which led to three deaths and dozens of injuries. The Cohn quotes come via a tweet from Glenn Thrush, the New York Times' White House correspondent.
As head of the president's National Economic Council, Cohn is not only Trump's top economic advisor. He has also been mentioned as a possible future successor to Federal Reserve Chair Janet Yellen, once that job opens up. Even more signifcant, Cohn is considered one of the chief architects of the president's effort to cut taxes and reform the tax code, along with Treasury Secretary Steven Mnuchin.
"I don't want to be an alarmist, but there is a lot of faith that [Cohn] is going to help carry through the tax reform that people are looking for," Jeffrey Sonnenfeld of the Yale School of Management told CNBC on Thursday. "I think if he steps away, it would crash the markets."
White House officials tried to quell the fear.
"Gary intends to remain in his position as NEC director at the White House. Nothing's changed," a White House official said Thursday, according to Reuters.
Still, by midday trading, the Dow Jones industrial average was down more than 160 points—in part on concerns that the president's economic agenda may not be as sure a bet as investors previously assumed.
While tax cuts in general are considered the one thing that most Republicans can agree on, there has been growing concern that the GOP's recent failure in repealing Obamacare may signal difficulties passing other aspects of Trump's pro-business agenda.
A few weeks ago, Burt White, chief investment officer for LPL Financial, noted that "Republicans in Congress are more united on tax reform than healthcare, and we have more confidence in the Trump administration's ability, led by Treasury Secretary Mnuchin and Chief Economic Advisor Gary Cohn, to lead on this issue."
But if Cohn, who is widely respected on Wall Street and in Washington, departs even before the battle to cut taxes has been joined, how confident will Wall Street be?