Feds to Crack Down on Crooked Colleges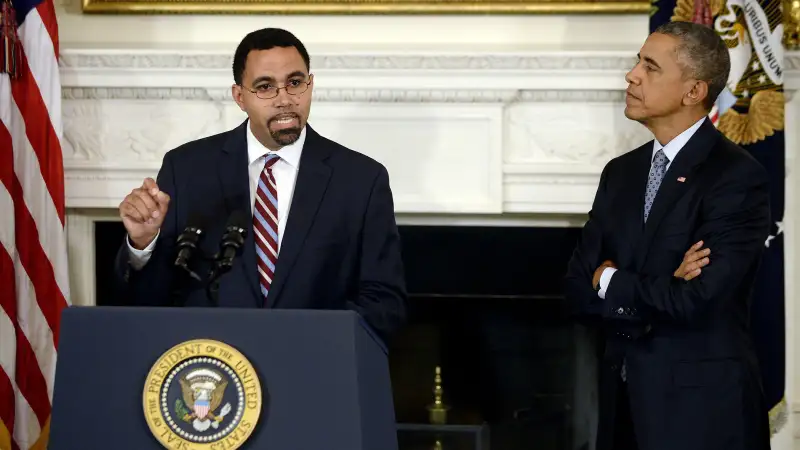 Olivier Douliery—Getty Images
The Obama Administration is launching a Student Aid Enforcement Unit intended to allow the Department of Education to respond more quickly to allegations of illegal actions by colleges.
The unit will investigate predatory enrollment tactics—including the use of inflated job placement and graduation rates and the aggressive recruitment of military service members—that often leave students with high levels of debt and worthless degrees, Acting Secretary of Education John B. King Jr. said at a press conference Monday. Colleges that engage in such tactics disproportionately serve low-income students, minority students, displaced workers trying to return to school, and single, working parents.
Education Department officials said that while the department has already been doing investigations, the new unit will allow for a more focused approach. "I think that it's right to say that we could be doing our investigations and enforcements faster and better," Under Secretary of Education Ted Mitchell said.

So far, more than 8,400 borrowers have claimed they were defrauded by their college, a figure that shot up after the collapse of Corinthian Colleges last year. As a result, the department is working on ways to better handle claims from large groups of students who all attended the same college. It is also planning to launch a publicly available system to track borrower complaints this year.
The unit will start with about 50 employees, most of whom will come from existing positions, but President Obama is requesting an additional $13.6 million in his 2017 budget to support the Office of Federal Student Aid's oversight activities.
The enforcement team will have four divisions: an investigations group to identify colleges that are breaking the rules; a borrower defense group to provide legal analysis and advice to borrowers who file claims asking to have their student loans forgiven; an administrative actions and appeals service group to revoke colleges' access to aid and handle appeals by colleges; and a Clery group, to ensure that colleges are complying with the Clery Act, which requires them to disclose campus crime statistics in order to receive federal financial aid.
The announcement of the enforcement unit follows several efforts by the Obama administration to crack down on for-profit colleges, including gainful employment rules that can be used to withhold federal aid from career colleges whose graduates don't earn enough to pay back their debt. But while much of the illegal behavior described during the press conference Monday takes place in the for-profit sector, King said the unit would not focus only on for-profit colleges.
"We will follow the evidence on who is doing the wrong thing and move forward," he said.
The unit will be headed by Robert Kaye, who recently led consumer protection efforts at the Federal Trade Commission.