250 People Were Just Charged With Scamming Seniors Out of $500 Million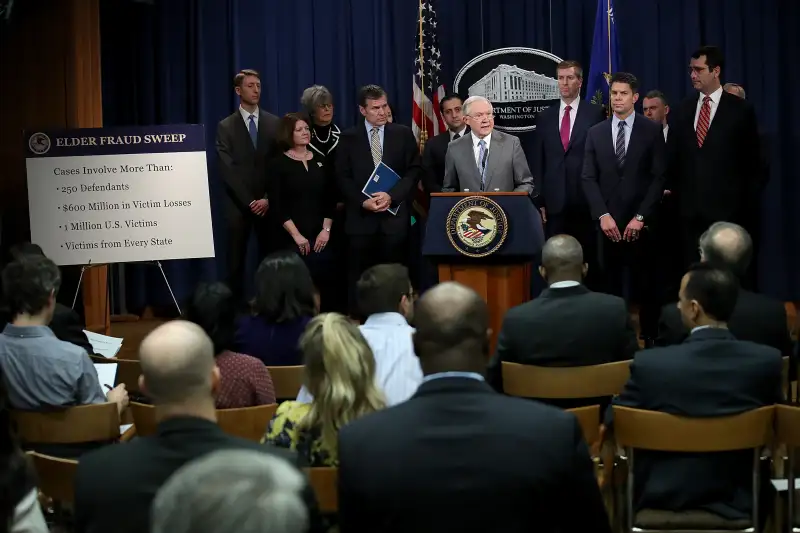 Criminals, take note. If you target older Americans, U.S. law enforcement officials are coming after you.
The Justice Department on Thursday spearheaded the largest coordinated sweep of elder fraud cases in U.S. history. The numbers in this action are astonishing: law enforcement officials in all 50 states went after over 250 people around the globe for defrauding over a million older Americans out of $500 million.
"Today's actions send a clear message: we will hold perpetrators of elder fraud schemes accountable wherever they are," Attorney General Jeff Sessions said in a statement. "When criminals steal the hard-earned life savings of older Americans, we will respond with all the tools at the Department's disposal."
Law enforcement issued criminal, civil, and forfeiture actions against the operators behind a wide range of alleged scams, including IRS fraud, mass-mailings that announce recipients won the lottery, and telephone calls that trick seniors into believing their grandchildren are in trouble and need money.
As part of the sweep against fake lottery mailings, enforcement agencies coordinated strikes against 43 mass-mailing operators—searching premises in 14 locations, including Law Vegas and Florida. They also coordinated with Canadian authorities to execute another 20 warrants. Meanwhile, postal inspectors around the country executed search warrants on 12 locations that some of these same operators used to run their alleged scams.
"The defendants targeted elderly and vulnerable consumers both in the United States and abroad," said Richard Donoghue, U.S. Attorney for the Eastern District of New York. "They sold false promises of life-changing prizes that never came true."
Millions of older Americans fall victim to fraud every year. One study published in July in the American Journal of Public Health estimated that more than 5% of the elderly experience some sort of financial fraud or scam every year. Perhaps more alarmingly, a survey in New York State found that only 1 in 44 cases of elder financial abuse is reported.
And law enforcement actions can only do so much, says Liz Loewy, the former chief of the Elder Abuse Unit in the Manhattan D.A.'s office and an expert on elder fraud. "Consider that 1 in 3 seniors now dies with dementia, usually Alzheimer's disease," she says. "Those older, vulnerable victims are often targeted for that very reason." Plus, many times, banks and other financial institutions can't communicate about suspicious activity because of privacy laws, so scammers do a great deal of damage before the fraud is discovered.
If you suspect you or an older family member has been a victim, don't wait for law enforcement to reach out, Loewy says. "Being proactive is critical," she says. It's also important to continue to monitor financial accounts, credit cards, and credit report data for irregular activity—across accounts and institutions.
Setting up credit monitoring is a good first step, but that's often not enough when it comes to elder financial fraud. Credit monitoring services generally will not send you an alert if a checking or savings account is used to pay unscrupulous telemarketers, Loewy says. It's more helpful to have alerts set up that go to both the senior as well as a trusted family member or friend. (To see which banks are best at providing this, check out Money's Best Bank for Seniors).
If you do have access to a parent's or grandparent's bank account, check for irregular transactions, including new online accounts, drastic changes in spending, and ATM withdrawals that are different from the usual locations.