How Much Election Day Costs the Country—and Voters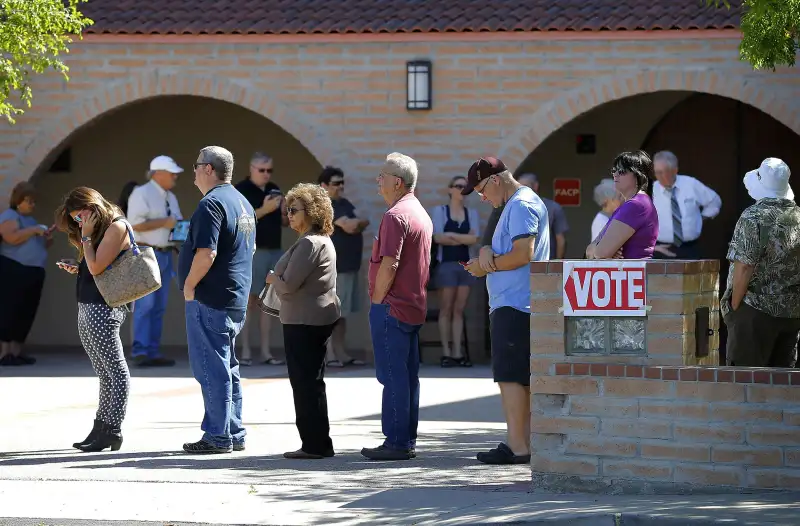 Of all the costs associated with the 2016 presidential election, perhaps none are bigger than the prices we've all paid in terms of the loss of dignity and common decency, as well as respect for our political process.
Of course, there are other, more quantifiable costs, such as the $300+ million spent by candidates who ultimately lost in the primaries, and billions spent by the campaigns for the two major party winners, Hillary Clinton and Donald Trump. But what about the expenses rung up while actually holding the elections?
Here's a look at some of the numbers that give an indication of the costs incurred by American businesses, local governments, and voters themselves every Election Day.
1-3 Number of hours that employers are required by law to give workers off in order to vote in the majority of states, according to info gathered by HRLegalist.com. The rules vary widely, though, and often only require time off if the local polls are not open before or after the worker's shift. Sometimes the employee must give advance notice too: In New York, for example, workers who give the boss a heads up are entitled to up to two hours off work, paid, if the polls aren't open for at least four hours before or after your shift. The requirement is hardly universal, mind you. There are no voter leave laws in Washington, D.C., and 19 states.
$0 Cost of public transportation on Election Day in select parts of the country, including cities like Dallas, Houston, Tampa, and Portland (ME), plus most of Minnesota. In all cases, free rides have been arranged in order to ensure that anyone who wants to vote can vote. Depending on the location, riders must show a registration card or voter ID in order for transportation costs to be waived.
$0 The cost of renting a Zipcar from 6 p.m. to 10 p.m. on November 8 in markets all over the country in order to help people vote. Car-ride services have special Election Day offers too. Uber is teaming up with Google to help riders find the nearest polling station, and new Uber users can use the code VOTETODAY to get $20 off their first ride. Lyft has 45% discounts on rides to local polling stations in 20 cities on November 8 as well.
Read Next: Craft Beer Is Just $1 on Election Day at World of Beer Locations Nationwide

$0 Cost of childcare provided by select participating YMCA locations around the country on November 8, to make it easier for parents and guardians to vote.
200 Number of miles some Native American tribes must travel round trip in order to vote on Election Day because that's how far the closest polling station is. A judge recently rejected their request for a more convenient location to vote. (It should be noted that it is also possible for tribe members to vote by mail ahead of time.)
350,000 vs. 21,000 Total number of extra miles that must be traveled by African Americans and whites, respectively, for North Carolina residents to get to their nearest voting station after the state's election boards moved their locations in 2014. Research indicates that overall, "the cost of traveling to reach a traditional voting site is associated with nonvoting."
$75 to $400 The range of per-person costs associated with voter ID laws around the country. ProPublica reports that 36 states have some form of these laws passed to combat voter fraud in effect. But critics say the laws place an undue burden on voters, and wind up suppressing votes from being cast by the estimated 11% of the voting population without photo ID. The price of a birth certificate generally required to get a photo ID ranges from $8 to $25, and one study estimates that when everything is tallied up—including transportation costs and various ID prices—affected individuals incur costs of $75 to $400.
$544 Million Estimate for how much was lost in terms of productivity strictly due to people waiting in line to vote in 2012, according to research from MIT political science professor Charles Stewart III. "Voters spent a total of 23.0 million hours waiting to vote in 2012," Stewart wrote in a 2013 paper. "Multiplying the number of hours waiting to vote by average hourly earnings yields an economic cost estimate of $544.4 million." Long lines were also responsible for 500,000 to 700,000 Americans deciding not to vote in 2012, Stewart's research indicated. Mind you, it's not like the lines in 2012 were particularly bad. They were on par with previous general election years, with average state wait times ranging from 2 minutes (Vermont) to 39 minutes (Florida).
Read Next: Clinton and Trump's Budget Plans Explained in 8 Simple Numbers
11 Number of states that give general Election Days as paid holidays for state employees. Illinois is one such state, and the governor's office reported that the state employee payroll for one day totals $13 million.
326 Number of companies closing on Election Day in order to allow employees to easily participate in the democratic process. While most of the businesses deciding to stay closed on November 8 are small tech startups, there are also bigger companies like Spotify and Patagonia, plus automakers like General Motors, Ford, and Chrysler. The latter give workers Election Day off per a union agreement.
$10 Hourly wage for Election Day workers in some parts of Texas.
$200 to $300 How much a poll worker can earn in New York City on Election Day. That compares to as little as $105 for working on Election Day in Los Angeles. In some cases, high school kids are paid $130 for working the polls on Election Day.
$2,500 to $100,000 Estimated cost for each modern computerized voting machine used on Election Day. Basic voting machines tend to run $2,500 to $3,000, and at least one special optical scanning machine is required at each precinct—running upwards of $5,000 apiece. Meanwhile, one central optical scanner is required for each central counting location, and a single machine costs $70,000 to $100,000.
$3 Billion How much it would cost to replace all of the voting machines in the U.S., according to the not-for-profit Trust the Vote Project.
Read Next: Why Wall Street Thinks Trump Can Win
$1 Billion+ Researchers involved in CalTech/MIT Voting Technology Project, which was created with the goal of improving the tech behind how we elect our leaders, regularly cite an estimate that America's counties and municipalities spent $1 billion conducting the 2000 elections. That breaks down to roughly $10 for each ballot cast. They don't have a more current estimate available, but it's guaranteed that costs have gone up. What with inflation, pricier tech, and more votes to be counted, the basic cost of holding the elections could be double that of 16 years ago.
$3 Million How much Oregon has saved each election cycle since 2000, when the state shifted to a system in which all voting is conducted by mail. Colorado and Washington also universal vote by mail, and in 2014 voter turnout among registered voters in these three states was 65.7%, compared to only 48% nationally.