'At Best Incompetent, at Worst Complicit': Senators Slam Wells Fargo CEO Tim Sloan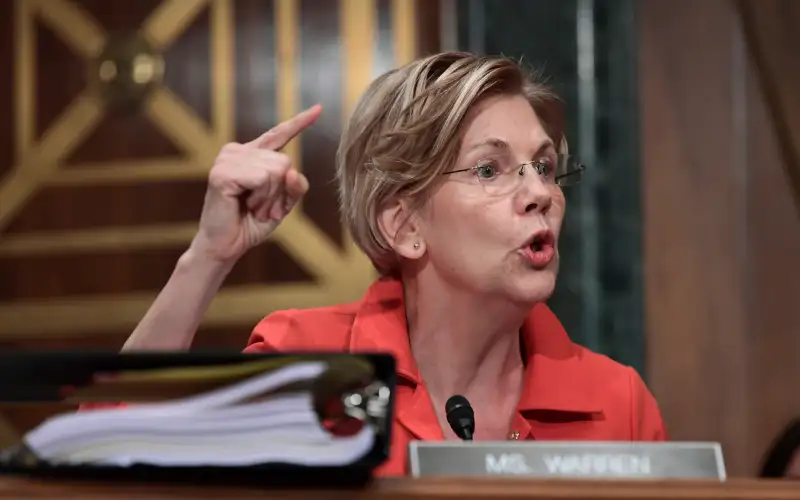 "Incompetent," "dumb," and "willing to abuse its customers": Those are a few of the damning charges U.S. lawmakers hurled at Wells Fargo CEO Tim Sloan during a Senate Banking Committee hearing on Tuesday.
Held roughly a year after the discovery that Wells Fargo staffers had created millions of fraudulent accounts to boost their own performance, the hearing gave senators on both sides of the aisle a chance to blast the bank, and its leadership, for repeatedly failing customers.
Sen. Elizabeth Warren led the charge, armed with transcripts of past earnings calls, in which the bank touted its prowess at getting customers to open multiple accounts. "At best you were incompetent, at worst you were complicit," Warren (D-Mass.) told Sloan, the former chief financial officer who replaced former chief executive John Stumpf late last year. "And either way, you should be fired."
Back in September 2016, regulators revealed that Wells Fargo employees opened an estimated 2.1 million fraudulent accounts—a number that was recently revised to 3.5 million. And over the last six months, several other problems related to the bank's sales practices, including widespread overcharges tied to its auto loans.
Lawmakers were apparently fed up, and let the Wells Fargo CEO have it. Among the juiciest attacks:
Elizabeth Warren: Sloan 'should be fired'
"Wells Fargo is not going to change with you in charge," Warren told Sloan during the hearing.
Citing the earnings call transcripts from when Sloan was Wells Fargo's CFO, Warren said Sloan repeatedly promoted the bank's "cross-selling" abilities—the ability to get customers to open multiple accounts—and credit card applications. That happened even after he knew that employees had opened up fraudulent accounts to meet the bank's stringent internal sales quotas and expectations, Warren said.
She noted that both Republicans and Democrats were critical of the "broken" culture at Wells Fargo. The faulted the bank's leadership, noting that Sloan was one of the executives "leading Wells Fargo during the time of a years-long scam."
John Kennedy: 'I'm against dumb'
The attacks weren't confined to Democrats. "What in god's name were you thinking?" Republican Sen. John Neely Kennedy asked Sloan. Giving a frank condemnation of Wells Fargo's behavior, the Louisiana senator said he's against a business practice that was putting "Wells Fargo first and the customer second."
"I'm not against large; I'm happy when businesses are successful," Kennedy said. "I'm not against big. With all due respect, I'm against dumb."
Sherrod Brown: 'Why should we believe you?'
Ohio Sen. Sherrod Brown was one of several Democrats to focus on the common bank practice of forcing customers into private arbitration to settle disputes.
"Why should we believe you're committed to changing your bank's practices and being fair to customers," he asked, "when you continue to use that behind-closed-doors arbitration system that clearly doesn't allow customers their day in court?"
Even after the fraudulent-accounts scandal broke, Wells Fargo has barred customers from taking their claims to court—citing mandatory arbitration clauses within its customer service contracts.
Brown added that the changes Wells Fargo has made since the scandal broke are "not sufficient to reform a corporate culture that is willing to abuse its customers and employees in an effort to pad its numbers and increase executive compensation."