How to Watch the Eurovision 2019 Finals Online for Free Today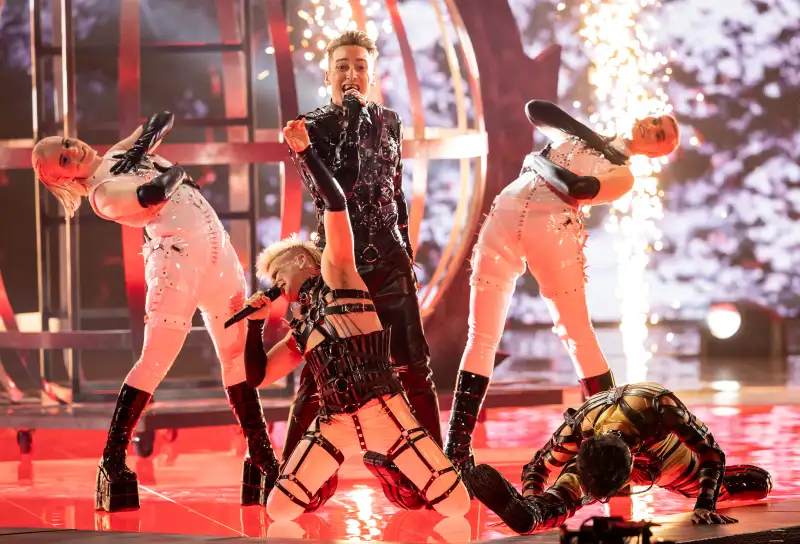 Live from Tel Aviv, it's Saturday night — and time for the 2019 Eurovision Grand Final.
Performers from 26 countries will face off tonight in the 64th Eurovision Song Contest, an annual competition where the winners are (partially) decided by viewers and the prize is a glass microphone. Known for its outlandish outfits, off-the-wall songs and opportunity for international drama, Eurovision is a colorful showdown that always makes for great TV.
Judging from the two Semi-Final rounds that decided who made it to the Grand Final, this year will be no exception.
Qualifiers include Australia's Kate Miller-Heide, an opera singer who wore a crown fit for an ice queen as she "flew" through space on a pole; Belarus' ZENA, which dropped the nonsensical earworm "Like It;" and San Marino's Serhat, which did a song The Independent described as "Pitbull on the morning after the night before." There's also controversy surrounding the contest's location in Israel and Madonna's scheduled appearance.
As of Friday morning, oddsmakers were favoring the Netherlands to win Eurovision 2019, followed by Australia and Sweden. But Eurovision is worth the watch no matter who you're rooting for.
Here's everything to know about how to live stream the 2019 Grand Final for free.
When Is Eurovision 2019, and What Time Does the Grand Final Start?
The finale starts at 21:00 CEST on Saturday, May 18. If you're in the United States, tune in at 3 p.m. EDT.
How to Live Stream Eurovision 2019 Online for Free
If you're in a country like Australia, Denmark or Portugal, you can click here to load up your national broadcaster's live stream. Eurovision will also live stream the Grand Final on YouTube.
How to Watch Eurovision 2019 in the U.S.
Watching Eurovision in America is much harder, especially because Logo TV is reportedly not showing the Grand Final like it has the previous three years. Eurovision's YouTube live stream also appears to be geographically restricted for people in the U.S., Canada and several South American countries.
Your best option may be to go to a bar showing the live broadcast, like Tonic in New York City or Wunder Garten in Washington, D.C.
As an alternative, you may be able to watch Eurovision 2019 on Icelandic channel RUV or Swedish network SVT, both of which have apps that can cast to your TV or stream on your phone or tablet. Apple also has a $9.99 app called What's Playing on TV - i.Player, which says it allows you to watch British programming.
Running Order for Eurovision 2019 Grand Final
Here's the lineup for the Grand Final. May the odds be ever in your country's favor:
Malta — Michela — "Chameleon"
Albania — Jonida Maliqi — " Ktheju tokës"
Czech Republic — Lake Malawi — "Friend of a Friend"
Germany — S!sters — "Sister"
Russia — Sergey Lazarev — "Scream"
Denmark — Leonora — "Love Is Forever"
San Marino — Serhat — "Say Na Na Na"
North Macedonia — Tamara Todevska — "Proud"
Sweden — John Lundvik — "Too Late For Love"
Slovenia — Zala Kralj & Gašper — "Sebi"
Cyprus — Tamta — "Replay"
the Netherlands — Duncan Laurence — "Arcade"
Greece — Katerine Duska — "Better Love"
Israel — Kobi Marimi — "Home"
Norway — KEiiNO — "Spirit in the Sky"
United Kingdom — Michael Rice — "Bigger Than Us"
Iceland — Hatari — "Hatrið mun sigra"
Estonia — Victor Crone — "Storm"
Belarus — ZENA — "Like It"
Azerbaijan — Chingiz — "Truth"
France — Bilal Hassani — "Roi"
Italy — Mahmood — "Soldi"
Serbia — Nevena Božović — "Kruna"
Switzerland — Luca Hänni — "She Got Me"
Australia — Kate Miller-Heidke — "Zero Gravity"
Spain — Miki — "La Venda"