This Book About Rent Won the Pulitzer—Here's Why You Have to Read It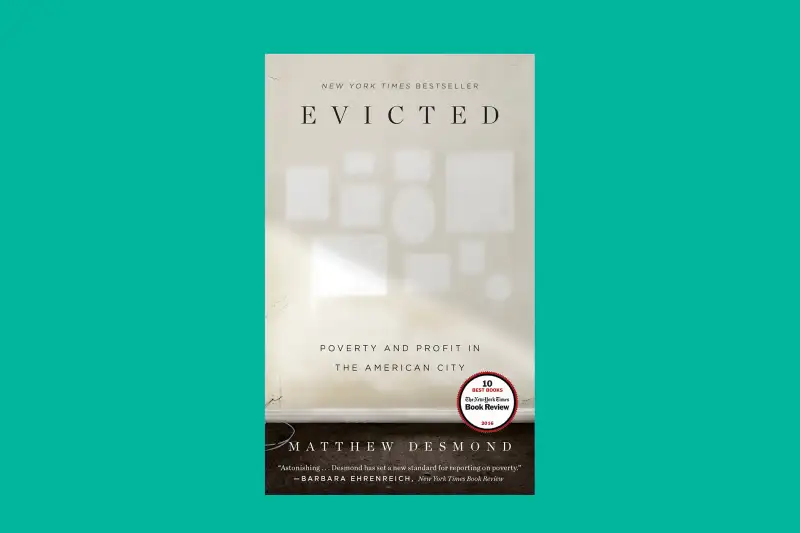 Courtesy of Penguin Random House
This year's nonfiction Pulitzer Prize winner illustrates how much Americans suffer when they can't afford a place to live — and how that hurts our recovering economy.
In his 2016 book Evicted, Harvard sociologist Matthew Desmond studied the cascading effects of the recession-era housing crisis in an up-close-and-personal way. Critics praised the book for its engrossing narrative of struggling Milwaukee families in a trailer park and a housing project during the depths of the Great Recession.
But economists who study housing say the stories and struggles in this book underscore bigger themes of how much this issue is intertwined with poverty and inequality, as evidenced by the book's subtitle: Poverty and Profit in the American City. Experts say Desmond's research helps explain why millions of Americans — the growing population of renters, in particular — just can't seem to get ahead nearly a decade after the foreclosure crisis began.
"As a housing economist, I've studied the rental housing crisis and its impact on low-income Americans, many of whom lost their homes to foreclosure during the crisis and have been forced to rent, even as rents climb higher and higher," says Svenja Gudell, chief economist at Zillow. "The line between having a stable housing situation and everything falling apart is really thin and easy to cross."
Real estate economists say the biggest achievement of Evicted is presenting a gut check for everyone who came out of the Great Recession thinking, it can't happen to me.
This isn't the case, Gudell says. "What is happening to the families in this book is not that far off for many people."
Just look at the numbers, says Jed Kolko, chief economist at jobs site Indeed.com and senior fellow at U.C. Berkeley's Terner Center for Housing Innovation. "Rental affordability is a growing problem, putting more families at risk."
"There's this divergence between what low-income families are making and what they have to pay to keep a roof over their heads and heat in their house," Desmond told Slate.com in an interview last year.
This dynamic has fueled an increase in inequality across the country, even as the economy has improved. As Harvard University's Joint Center for Housing Studies noted last year, "the lingering pressures on homeownership, the eroding affordability of rental housing, and the growing concentration of poverty" persist in spite of an ostensibly strengthened economy.
"Owning has become more affordable," Kolko says. "Renters, however, are more likely to be cost-burdened today than in 2006." Roughly half of renters fork over 30% or more of their take-home income each month just to keep a roof over their heads, and the numbers are more dire for poorer Americans.
Ralph McLaughlin, chief economist at Trulia, says the book exposes the "fragility of rentership across America" and the surprisingly fine line between comfort and chaos. The cycle of renting, eviction, and homelessness is a downward spiral that a growing number of families face. Gudell says. Evicted brings these social costs into sharp focus by telling the stories of struggling Milwaukee renters, who live in an atmosphere in which throwing people out of their homes is one of the normal costs of doing business.
But housing economists say that those cold calculations overlook the collateral damage that occurs as a result — and the ensuing social costs we all bear. "It's a lot of time and money to establish a home, and eviction erases all that," Desmond told Slate.
"Homelessness can snowball into job losses, healthcare crises, and legal problems. Stable housing is central to health, education, and child development," Gudell says. "It's important for us as a society to bring attention to its fragility."
"Desmond's book ties this fragility to the health of our country's economy," McLaughlin says.
We've included affiliate links into this article. Click here to learn what those are.