This Couple Is Raising $2,000 Per Minute to Help Reunite Immigrant Families Separated at the Border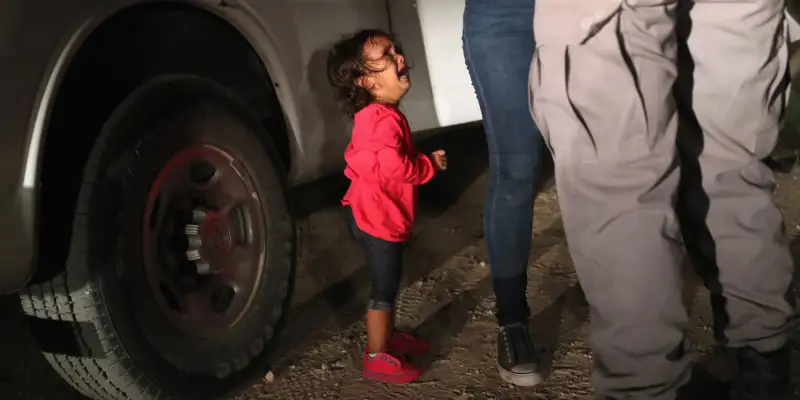 Whenever Charlotte Willner sees the now-infamous photo of a 2-year-old girl, clad in pink and crying moments before U.S. Border Patrol likely took her mom away, she can't help but think of her own toddler. So Willner is taking action.
She and her husband Dave are behind a massively successful Facebook fundraiser simply titled "Reunite an immigrant parent with their child." Started after the publication of a government policy that separates families seeking asylum at the border, the effort has gone viral: Over 100,000 people have donated more than $4.7 million in the past four days.
And they're showing no sign of stopping. As of Monday afternoon, Willner says they were raising $2,000 a minute for RAICES, a Texas-based nonprofit that provides legal services to immigrants and refugees. RAICES writes on it website that it closed more than 51,000 immigration cases in 2017 "at no cost to the client."
"Regardless of political party, so many of us are distraught over children being separated from their parents at the border," Willner tells Money. "We can't all be on the frontlines to help these families, but by supporting RAICES, we're able to do something that just takes less than a minute, and collectively have an impact."
The fundraiser started Saturday morning amid reports that nearly 2,000 kids had been taken from their parents under the Trump administration in six weeks (due to a process that Vox explains here). The goal was initially to get $1,500, enough to cover the bond fee for one jailed parent so they could get their child back from government custody while waiting for court.
But then it took off. Private donors contacted Willner, whose LinkedIn says she works at Pinterest, to offer to match the money raised. By Sunday night they'd passed the $1 million mark. On Monday, the average donation was just $47.
"When we all come together in community efforts like this, we can find an antidote to the feelings of helplessness," Willner says.
As more details about the situation emerge — like the fact that some immigrants appear to be kept in cages — the fundraiser's total climbs. As Willner notes on the Facebook page, legal assistance for families can range from $5,000 to $10,000, so "this is just the start."
Her goals are growing, too: Willner tells Money she's hoping to catch the attention of a celebrity or otherwise wealthy benefactor willing to match the amount they end up raising and give it to the Texas Civil Rights Project and the Florence Project. Both Facebook founder Mark Zuckerberg and chief operating officer Sheryl Sandberg have contributed, according to Politico.
"We are more similar than we are different. That is true for Americans, and that is true for all people," Willner writes. "In a time when division seems ever-increasing, remember that Americans can still come together to say 'this is wrong' and do something about it."
RAICES, which stands for Refugee and Immigrant Center for Education and Legal Services, has not yet been rated by Charity Navigator. If you're thinking about donating and want more information about how Facebook handles fundraisers, check out its FAQ here.
This story was updated Tuesday to include the most recent figures from the fundraiser.