This Facebook Fundraiser Has Raised More Than $20 Million for Immigrant Families. Here's What Happens to Your Money When You Donate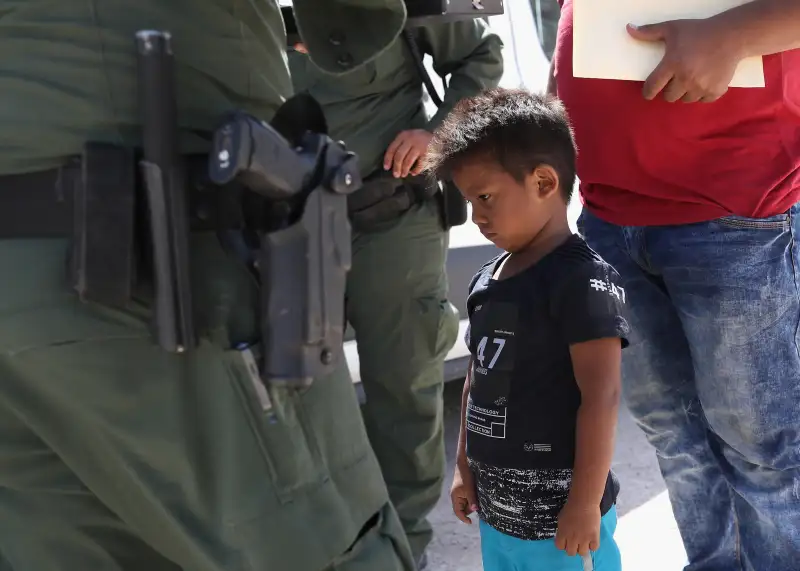 A viral fundraiser raising money for children and families being separated at the U.S.-Mexico border under the Trump Administration's new "zero-tolerance" immigration policy has raised more than $20 million in less than a week — making it the largest Facebook campaign ever.
More than 250,000 people have donated to the "Reunite an immigrant parent with their child: Fundraiser for RAICES," which is raising money for RAICES — a nonprofit in Texas that provides legal services to immigrants including paying for lawyers and the bond for parents held in detention. The couple who started the fundraiser, Charlotte and Dave Willner, initially set the goal at $1,500, but have since raised it numerous times as donations continually flow in every minute. As of Wednesday afternoon, the goal was up to $15 million.
As crowdfunded fundraisers like this keep growing in popularity, some may be wondering whether it's safe to donate to organizations through Facebook — and how that money is used. Here's what you need to know about donating to charities on Facebook.
When did Facebook start offering fundraising tools?
Over 750,000 nonprofits have used Facebook's fundraising tools since the social media network first rolled out the feature in 2015, according to a Facebook spokesperson.
Facebook expanded the donate button to posts in 2016, allowing individuals to start raising money for organization. Starting last spring, Facebook also began allowing people to ask for donations for personal causes. And last summer, Facebook launched birthday fundraisers, which makes it so people can raise money for a specific cause.
How does Facebook make sure charities and nonprofits are legitimate?
All charities are required to apply for fundraising privileges, be categorized as "nonprofit organizations" and then be approved and verified by Facebook.
After that, nonprofit groups must provide Facebook with detailed financial information including the company's bank account and government-approved charity registration documents. This process usually takes about two to three weeks, according to a Facebook spokesperson.
Facebook also includes a link to GuideStar — a website that provides unbiased information about charities to help donors and key stakeholders make educated decisions about donating — on every page it approves.
Facebook also has a proactive review process to identify and remove potentially fraudulent fundraisers, according to a Facebook spokesperson. If you come across a fundraiser you believe is not legitimate, you can report it and a Facebook team will investigate it.
Does Facebook charge fees to you or the charity you are donating to?
Facebook initially charged payment and processing fees when it began rolling out fundraising tools in 2016, but the company has waived all fees for individual fundraisers for personal causes and fundraisers for organizations since last November.
What happens once you donate money to an organization on Facebook?
There are three ways your donations are processed through Facebook: through the company's internal system called Facebook Payments, the Network For Good — which provides donor management software for nonprofits — or through the organization's own payment processor if the Facebook fundraiser is linked to a campaign on the charity's website.
If a nonprofit is using Facebook Payments, it typically takes about two weeks for contributions to get deposited in the organization's bank account from the time you hit the donation button. So if you donated to RAICES on Thursday, the Texas-based nonprofit would get the money by the end of June.
Payments aren't released until the fundraiser hits the minimum donation payout amount of $100. Once that happens, payouts happen on a bi-weekly basis and are directly deposited to the organization's bank account, according to Facebook.
"Funds donated between the 1st and 15th of a month will likely be paid out on the first day of the following month," Facebook explains in a blog post. "Funds donated between the 16th and the end of the month will likely be paid between the 16th and 19th of the following month."
If an organization is using Network For Good, it takes a little longer for the donations to be dispersed. "Donations are usually distributed a month and a half after the last date of the month in which the donations were made," the blog says. "For example, a donation made in January will be sent to the nonprofit on March 15." If the organization is registered with Network For Good, the money is sent via electronic transfer, otherwise the organization is mailed a check.
And if a charity uses its own processing company, the amount of time it takes for the money to be disbursed to the charity varies depending on that company.