Thousands of Migrant Children Are Being Separated From Their Families at the Border. Here's How to Help Them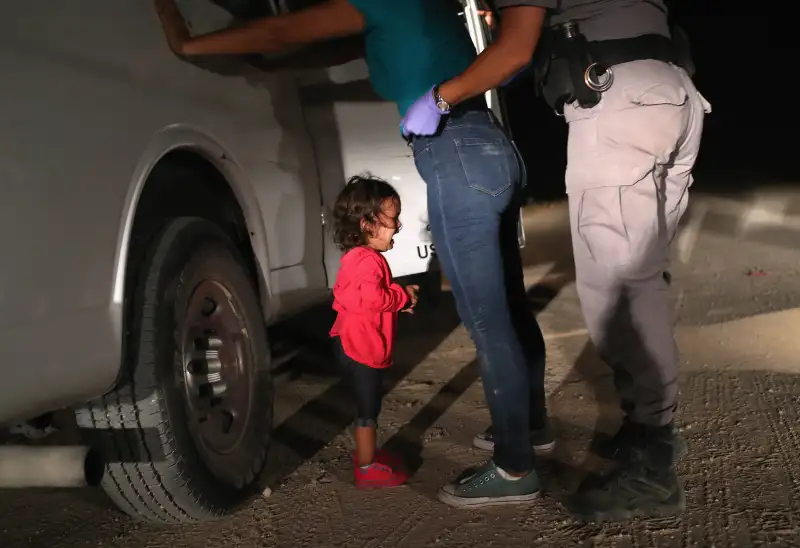 John Moore - Getty Images
Nearly 2,000 migrant children have been separated from their parents at the border as part of the Trump administration's controversial "zero-tolerance" policy on border crossings — and many people are still looking for ways to help the families, even as the White House acted to adjust that policy on Wednesday.
President Trump signed an executive order Wednesday reversing his stance on family separation in response to the growing outrage over the thousands of migrant children being split from their parents while trying to cross the border.
Although the executive order says a zero-tolerance policy will still be enforced — meaning that anyone caught crossing the border is still subject to criminal proceedings — the order says families will be kept intact.
"It is also the policy of this Administration to maintain family unity, including by detaining alien families together where appropriate and consistent with law and available resources," it reads. The only exception is if a family member is deemed a threat to a child's welfare.
Attorney General Jeff Sessions started the crackdown when he announced in May that people caught illegally crossing would face criminal prosecution, which, until Trump's executive order on Wednesday, had required that children be held separately. At least 1,995 children have been separated from 1,940 adults from April 19 through May 31, according to recent numbers released by the Department of Homeland Security.
The policy has drawn criticism from congressional Democrats, Republicans including former Florida Gov. Jeb Bush and Sen. Susan Collins, as well as civil rights groups and some celebrities.
The American Civil Liberties Union has raised more than $1 million for legal representation for the families — in part due to model Chrissy Teigen and her husband, musician John Legend, donating $288,000 to the civil rights nonprofit and encouraging others to give what they can.
In addition to donating money, there are several smaller organizations — many of which are local civil rights organizations near the border — that are working to help in other ways, assigning lawyers to work pro bono with the families and providing translators.
Here is a list of organizations that are looking for financial support for their efforts. Some are smaller operations are not rated by Charity Navigator; if you prefer to give to larger, vetted groups, that organization also offers a list of four- and three-star rated charities working more generally on immigration issues.
The ACLU is currently raising money to help "defend asylum-seeking parents forcibly separated from their children."
Note that the ACLU itself is not a charity, so your contribution will not be not tax-deductible. If you want to make a tax-deductible contribution that supports the work of the ACLU, you'll need to give to the ACLU Foundation — which gets a four-star rating from Charity Navigator.
The Refugee and Immigrant Center for Education and Legal Services (RAICES) is a Texas-based nonprofit that has raised more than $20 million through a viral Facebook fundraiser — more than 13,000 times the initial $1,500 goal and the largest crowdfunded campaign on Facebook ever, according to a Facebook spokesperson. The organizers, Charlotte and Dave Willner, have upped the goal numerous time since the fundraiser started on June 16.
On Tuesday, Facebook raised the fundraiser limit to allow the viral campaign to keep collecting more money given its popularity and social media success — more than 330,000 people have donated thus far. The latest goal set by the Willners is $25 million.
The money will be used to pay the bond — typically between $1,500 and $10,000 —for parents currently being held in detention, and to pay for legal services for immigrant children in Texas' court system.
The Texas Civil Rights projects is looking for people who speak Spanish to help translate for families and their children who have been separated, as well as volunteers to help with the legal intake process. The group, which gets a four-star rating from Charity Navigator, recently filed an emergency request with the Inter-American Commission on Human Rights to fight the family separation policy.
The Asylum Seeker Advocacy Project (ASAP),a project of the nonprofit Urban Justice Center, aims to "prevent wrongful deportations by connecting refugee families to community support and emergency legal aid." The volunteer organization is looking for donations to help support the legal services it provides asylum seekers; it's also seeking volunteer attorneys and interpreters.
Since 2015, ASAP has stopped more than 400 refugees from being deported from 30 states, according to its website.
The Florence Project provides free social and legal services to immigrants who are detained in Arizona and is currently looking for lawyers to take cases on pro bono.
Like many of the other organizations, it is also raising money.