This Nonprofit Just Got $20 Million to Help Immigrants Detained at the Border — But It's Still Not Enough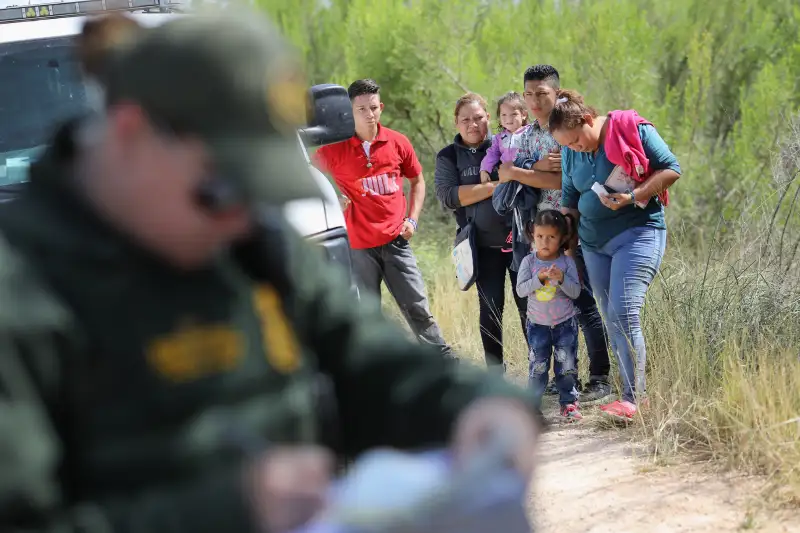 Thanks to a viral Facebook fundraiser, a Texas nonprofit that provides legal services to immigrants suddenly has $20 million in the bank. But even that windfall may not be enough to meet this moment, according to staffers and legal experts.
The Refugee and Immigrant Center for Education and Legal Services, or RAICES, typically has an annual budget of $7 million, which means that in less than a week, it has more than doubled its yearly budget due to the Reunite an immigrant parent with their child: Fundraiser for RAICES. It is now Facebook's largest fundraiser and seems to grow by the millions almost daily since it was created by Dave and Charlotte Willner on June 16. In a Facebook Live session on Wednesday, three RAICES staff members answered questions about how the organization will spend the $20 million and counting. Although the millions of dollar sounds like a lot of money, they said the reality is that it gets eaten up fast when dealing with things like attorney fees, paying bond and transportation costs.
"It's a ton of money, but we're actually up against the federal government," said Jenny Hixon, development director at RAICES. "They obviously have well more than $20 million to both detain and prosecute these folks. We really want to make sure that we're able to represent everybody who needs representation."
And while $20 million is a lot of money that RAICES will put to good use, it doesn't mean they're in the clear, Katherina Rosqueta, executive director of the Center for High Impact Philanthropy at the University of Pennsylvania, tells Money.
"People see big numbers like [$20 million]," she says. "For most individuals that is a ton of money. But when you compare it to the cost of services, like legal services for immigration, what seems huge to the individual may not be that huge compared to the need."
For an organization like RAICES, which has a full-time staff of 130 people, the millions of dollars they are receiving will help them recruit and hire more staff to provide those in-demand legal services to their clients. The organization said it has already started doing so at multiple locations in Texas.
"We definitely didn't expect this outpouring of support, so we're really making these plans as we speak and trying to figure out how to most effectively to use the support," said Manoj Govindaiah, director of family detention, during the live stream. "Last year we closed 51,000 cases of legal representation for people throughout Texas."
While numbers vary across the county depending on location and degree of complexity of the case, the average immigration case can cost anywhere from $2,500 to $15,000, Michele Lampach, founder and executive director of UnLocal, Inc. a nonprofit that serves the legal needs of New York City's immigrant communities tells Money.
But some cases can cost far higher. In cases where medical expertise is required to prove a defendant's mental, emotional or physical state has been damaged — for example, that he or she suffers from PTSD, depression or anxiety — their attorney may need to bring in a forensic expert, which can cost anywhere from $1,500 to $5,000, Lampach said.
Another expense is the bond payment detained immigrants must pay. Although the money is returned as long as the person attends all of their hearings, he or she must still come up with all of the money upfront. The legal minimum for bond is $1,500, says Trevor Houser, director of the Immigrant Family Defense Fund, a group that provides money to pay bonds for immigrants. The payments are often much higher, though. The median amount was $6,500 in 2015 and in rare cases as high as $25,000, according to TRAC Immigration, a nonpartisan source for information about U.S. federal immigration enforcement. Just this week alone, RAICES was able to bond out four separate parents thanks to the money being donated on Facebook, Hixon tells Money.
Aside from legal fees, bond and other associated costs, RAICES will use its $20 million (and counting) in donations to build out more integrated support systems for their clients, such as bumping up their partnerships with social work services to work hand-in-hand with their own legal services, Mayra Jimenez, director of RAICES children's program, said during the live stream Wednesday.
The immigration nonprofit will also dedicate some of the funds towards operational needs like centralizing their data management systems, something that can help keep track of children and families and where they end up, she said. Another logistical need it will devote resources to is hiring people who can supervise the training and managing of volunteers.
In addition to donations, RAICES has been overwhelmed with people wanting to volunteer, but it does not have the capacity to train them at the moment. The Facebook fundraiser will allow them to take advantage of the flood of volunteers, too, Jimenez said.
This story has been corrected to reflect the cost of a forensic expert in an immigration case. It is $1,500 to $5,000, not $13,000 to $25,000, according to Lampach.