Why Betting on Fantasy Sports Is Legal But Betting on Regular Sports Is Not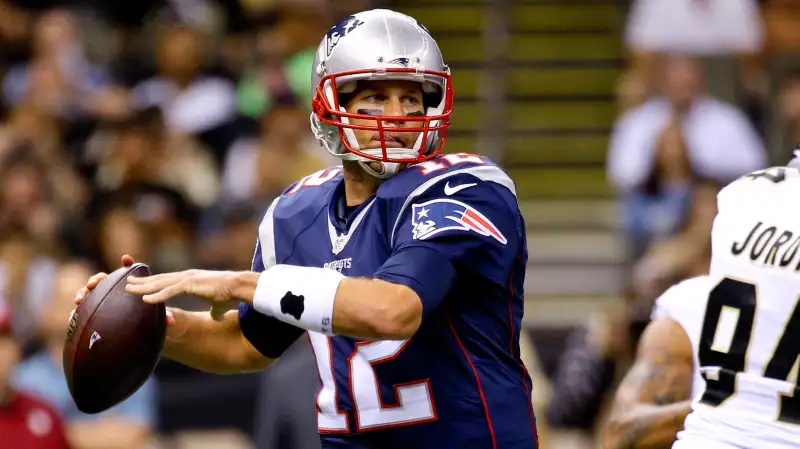 Derick E. Hingle—USA Today Sports/Reuters
With very few exceptions, betting on sports is illegal in the U.S. It's happily allowed in sports books in Nevada, but recent efforts to expand legal sports betting to New Jersey have been shot down by the courts.
Mind you, people across the country are gambling on sports on a daily basis; they're just doing it illegally. The latest estimate from the American Gaming Association is that a whopping $93 billion in illegal bets will be placed on college and pro football games this season. Compared to that, the $2 billion or so expected to be bet on games at Nevada sports books seems paltry.
At the same time, another kind of sports betting is catching fire across the country, with fans from nearly every state placing wagers on a daily basis—and the operations work completely out in the open and have been deemed perfectly legal. The category of sports betting we speak of is daily fantasy sports, an industry overwhelmingly dominated by the sites FanDuel and DraftKings, which were recently valued at $1.3 billion and $1.2 billion, respectively, according to the Wall Street Journal.
Like casinos, these sites promise big financial rewards to players—DraftKings said it would dish out more than $1 billion in winnings this year, while FanDuel expects to give away $2 billion in prizes. While there are countless variations of ways to play, the basic idea is that fans draft players onto their virtual teams, and the fan whose team performs the best comes away with the cash. For decades, sports nerds have been operating in this same capacity as coldhearted amateur general managers in season-long fantasy sports leagues, but the advent of daily fantasy sports brings with it the opportunity to place far more bets and have far more winners.
And far more losers too, of course. While entering some daily sports contests is free, most require a wager, ranging anywhere from 25¢ to hundreds and even thousands of dollars. Generally speaking, the higher the bet, the bigger the possible payout.
As a Washington Post story published earlier this summer noted, daily fantasy sports wagers are available in most major sports; entering one high-stakes baseball contest cost $5,300, with the idea that it was limited to 60 virtual teams and the winner would snag $292,500. Another game, which cost just 25¢ to enter, welcomed up to 2,500 players and awarded $1,000 to the best team. "The fantasy contests — in which a player's made-up team is scored on how well its athletes played in actual matches — are easy to play, hard to master and heavily dependent on luck," the Washington Post summed up.
Some might say that poker and blackjack—and plain old sports betting—are also "easy to play, hard to master and heavily dependent on luck." So why is betting on fantasy sports legal and betting on regular sports is not?
Fortune explains that, after much lobbying on the behalf of sports leagues like the NFL and NBA, Congress passed the Professional and Amateur Sports Protection Act of 1992 (PASPA), which made sports betting illegal in all but a handful of states (including Nevada and Delaware) that allowed sports betting at the time. Fantasy sports aren't covered in the law—which was created when traditional fantasy sports leagues were still a niche interest, and long before anyone would even conceive of daily fantasy sports contests.
What's more, fantasy sports companies highlight the idea that players aren't gambling in the sense of placing bets on completely random events, such as the flip of a card or the spin of a roulette wheel. Instead, they're engaged in contests that (theoretically) incorporate skill, knowledge, and close attention to detail. "We are a US-based skill games company, and all of our contests are operated 100% legally under United States and Canadian law," the DraftKings site explains. "The US Government and 45 of the 50 states consider fantasy sports a game of skill."
Some industry insiders think it's nonsense to declare fantasy sports betting legal while the "real world" counterpart remains mostly a black market phenomenon. "Let's not pretend one is OK and the other is not. Drawing some artificial line between the two makes no sense as a matter of law or policy," Joe Asher, CEO of the William Hill sports book, told Reuters.
Likewise, some say the argument that fantasy sports isn't truly gambling because it involves skill is just silliness. "Are daily fantasy sports sites gambling? Yes; it isn't even a debate," Dr. Timothy Fong of the UCLA Gambling Studies Program said in a ThinkProgress story featuring sad stories of gambling addicts losing thousands of dollars per day on fantasy sports sites. "You're putting money up on an event of uncertain outcome in expectation or hope of winning a larger reward. That's the definition of gambling."
Then again, that description essentially also applies to day trading—which may be foolish but is not illegal.