Skipping Medicine, Burning Through Savings, Late Payments: As Another Shutdown Looms, Government Workers Are Still Struggling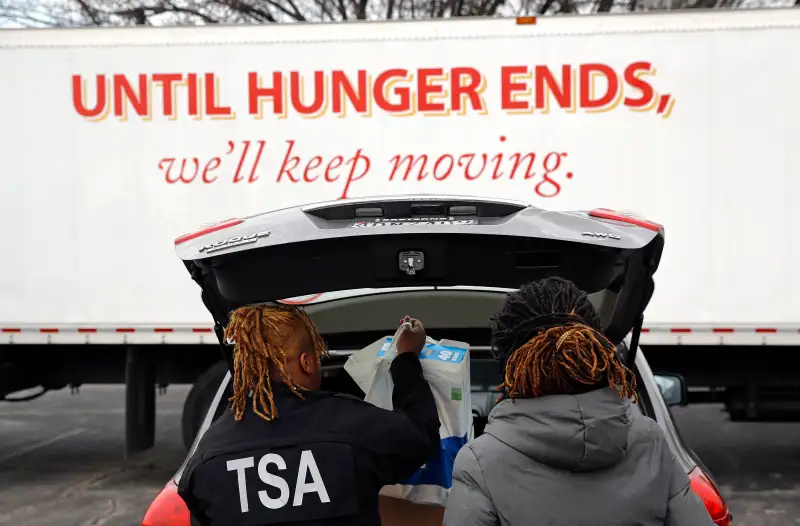 Patrick Semansky—AP/REX/Shutterstock
Tamela Worthen can't stand living like this anymore.
The 55-year-old security guard at the National Museum of African-American History and Culture in Washington, D.C., missed several of her regular $600 weekly paychecks during the longest government shutdown in U.S. history — and, weeks later, still can't afford her diabetes medication or her mortgage.
She says she was rushed to the hospital more than a week ago because she could hardly breathe as a result of missing her medication. She's worried about keeping her home while behind on mortgage payments. She says she's also behind on car notes, car insurance, and electricity bills — and those are even harder to catch up on for federal contractors like Worthen, who didn't receive back pay like their federally employed peers.
Worthen feels so overwhelmed by the impacts of the shutdown and the potential for future funding lapses that she's applying to new security jobs that wouldn't be impacted by another shutdown.
"You can't really live your day to day life because now you have to think about what if this happens again," Worthen says. "You can't prepare for it — especially if you don't have any money already."
The threat of another shutdown has become the new normal for more than 800,000 federal employees and countless federal contractors who are still recovering from the financial and emotional impacts of the 35-day partial government shutdown that left them without paychecks.
Now, federal employees and contractors are put in an odd position: saving as much as they can while simultaneously catching up on bills, debt payments, paying back unemployment benefits, and taking care of other financial costs inflicted by the shutdown that ended not too long ago. Some are cutting spending at all costs — avoiding regular trips to Walmart and dining out. Others are lining up other gigs to help make ends meet if they find themselves out of their jobs, again. Federal workers are adding on extra hours if they can, too, to get more cash. And some are using their retroactive pay to chip away at the debt they incurred from the shutdown last month.
Negotiators in Congress announced late Monday night they had reached an agreement in principle to avert another shutdown. While President Donald Trump said that he was "not happy" with the tentative proposal, he suggested a shutdown can still be avoided.
The House of Representatives is expected to vote on a bill Thursday night with the hopes of skirting another shutdown as they head into a holiday weekend.
Still, impacted employees in Washington, D.C., and around the country are preparing for the worst. "Until this administration changes, this is our new world now," says Shakema Cowans, a Food and Drug Administration employee who has worked for the federal government for 16 years.
Cowans has a substitute teaching gig at her county school district in Maryland lined up just in case. She has altered her entire approach to budgeting and her finances, too. She won't reopen the subscriptions to the gym, Apple Music, and cable she cut back during the shutdown, and she's paying off her credit card debt to put herself in a better financial position moving forward, too.
"You have to live below your means now," says Cowans, who visited food banks with her colleagues during the shutdown. "You have to prepare yourself to have six months to a year of emergency savings if this should ever happen again."
Darshea Brown, a Smithsonian security guard who did not receive back pay, is applying to part-time, overnight work to earn extra cash to help recover from the previous shutdown — and stay on top of her bills if another one occurs. "I'm OK for now," Brown says. "But if we have another shutdown, that will mess up everything."
Rhonda Cella, a General Service Administration employee based in Missouri who took out a short-term loan during the shutdown to help make ends meet, has been telling her colleagues — and herself — to avoid superfluous spending these past few weeks.
"We can't afford to spend our money because we got paid this last Friday. We didn't know if that's our last paycheck for a while," Cella says.
Cella also manages livestock on her farm about 70 miles south of Kansas City. If another shutdown occurs, she says, at least she has her chicken's eggs to feed her. Or her husband can butcher a chicken, too.
A new Prudential survey of more than 350 federal employees and contractors impacted by the shutdown found that the majority of them "burned through most or all of their emergency savings" to stay afloat. More than a quarter didn't pay their rent or mortgage, and the same amount "cut back or eliminated spending" on medical expenses for themselves or their families.
That includes Worthen, the security guard who couldn't afford to pay for her diabetes medicine. She can't risk the possibility of another shutdown — whether that happens this weekend or in months from now. She needs financial stability, she says. And a looming threat of another government shutdown now or in the future doesn't provide her with that.
"I really want to be in a better situation than to have to be worrying about how everyday life is going to be," Worthen says. "I want to be financially set, where I don't get affected by this. When you're trying to get back on your feet, that's very hard."
"That's the problem with the world today," Worthen adds. "One man's decision is another man's pain."