Here's Where to Find the New Fingerlings Toy, an Adorable Sloth Named Kingsley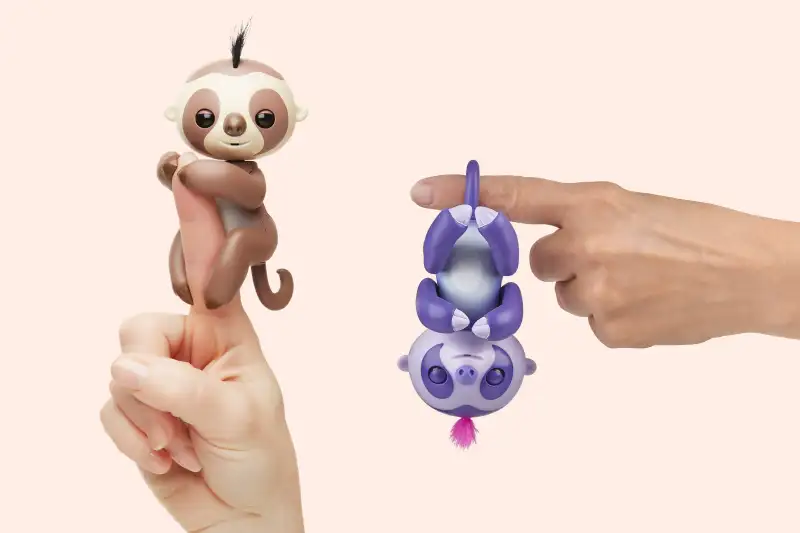 The newest member of the Fingerlings toys family is here, and the scramble to snag this robotic pet is already heating up — more than a week before its official release date. Much like the Fingerlings unicorn Gigi, which was sold exclusively by Toys "R" Us, the latest Fingerlings toy is exclusive to a single official retailer, which can make this already elusive toy even harder to find for people who don't live in close proximity to the store.
The new Fingerlings toy, Kingsley, is "slowly" making its way onto store shelves, according to the brand's Facebook page. Some of that is a play on words, because he isn't a Fingerlings monkey like most of the others, or the unicorn Gigi: Kingsley is a brown sloth, and he's the newest addition to the hit collection of Fingerlings. Walmart exclusively carries the Fingerlings sloth Kingsley.
According to Fingerlings manufacturer WowWee, he does all of the stuff the other robotic toys do — laugh, chatter, blow kisses — but he does it 20% more slowly.
For Wowwee, Fingerlings have been an undisputed hit. But like the Hatchimals craze last year, Fingerlings are proving to be a headache for would-be gift givers. Everybody wants to know where to find Fingerlings, and parents are scrambling — and fuming on social media about people who resell them at marked-up prices.
WowWee says Kingsley is scheduled to be officially released and available online Nov. 17. But a number of Facebook users report finding Kingsley the Sloth on shelves in California Walmarts, and Wowwee advises people to check their local Walmart locations to see if it has the new Fingerlings sloth in stock. A representative says on the Fingerlings Facebook page, "Kingsley the Sloth is slowly crawling his way into select Walmart Stores."
"We are working hard to make sure that everyone who wants a Fingerling will be able to have one. We don't want anyone to be disappointed this holiday season," the company says on the Fingerlings brand page.
With many Fingerlings sold out at both in-store and online at "official" retailers, desperate parents may feel like they have no other choice but to turn to third-party resellers and other channels, where huge markups are typical. Gigi the Fingerlings unicorn is listed "out of stock" at Toys "R" Us, for example, while sellers on eBay are asking $50 and up for the toy, which is supposedly sell for $14.99 at normal retail price.
Right now on Amazon, Fingerlings are being sold at well over double their usual $15 price. If you want Kingsley, that will set you back more than $80, including shipping.
WowWee says on the brand Facebook page that it doesn't support sales made through third-party sellers. But as long as people are willing to pay top dollar in order to secure hard-to-find toys, sellers looking to profit will be making money this holiday season, one giggling Fingerling at a time.
We've included affiliate links into this article. Click here to learn what those are.