Here's Where You Can Buy 'Gigi,' the New Fingerlings Unicorn Creature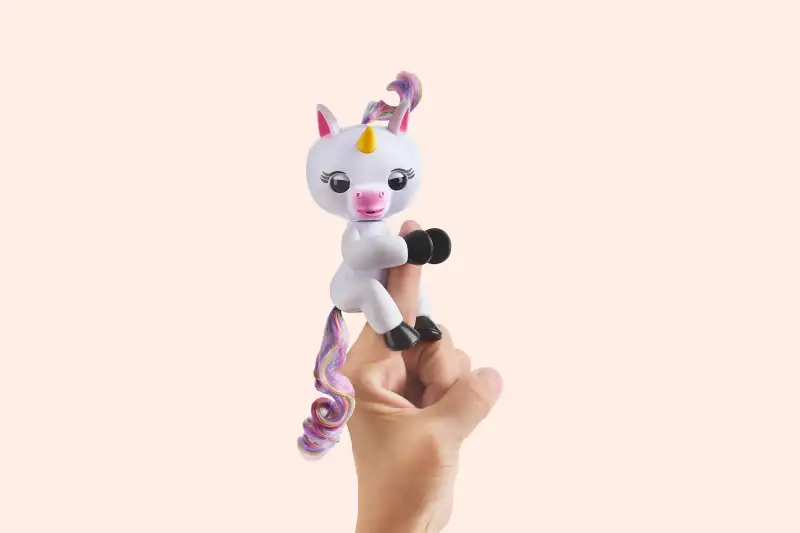 Adorable robotic monkeys called Fingerlings have already established themselves as the hot holiday toy of 2017, with sellouts in stores and websites more than three months before Christmas. Now buyers may have a reason to be even more frustrated: There's a brand-new Fingerlings creature on the scene, and it's even more elusive than the original set of finger-hugging monkeys.
The newest member of the Fingerlings family is a unicorn — and yes, she's nearly as hard to find as the mythical creature. "Gigi" the Fingerlings unicorn had a quiet limited release in the U.S. last week as an exclusive at Toys "R" Us stores, and early reports indicate that it's basically been impossible for parents and collectors to track any down to buy.
The chatter on the Facebook page of WowWee, the company that makes Fingerlings, is full of snapshots of empty shelves, tales of frustration, and even pleas to purchase from other frustrated shoppers when someone reports that they managed to snag one of the little rainbow-haired robots.
Like the animatronic monkey Fingerlings, Gigi the unicorn curls around your finger and responds to touch, motion, and voice. Gigi might blink her eyes, turn her head, talk, whinny like a horse, or even burp and fart depending on how you interact with your new robotic pet.
The listing for Gigi on the Toys "R" Us website shows the toy as being sold out. Online sales through the retailer are simply not available, at least for now. A pop-up on the site says, "This item is sold in our stores only," but a company spokeswoman indicated Gigi could be available for online sales later in the holiday season. "We'll continue to receive shipments online and in-store throughout the holiday season," she said in an email.
The Toys "R" Us site also specifies that, as of now, at least, there's a one-per-customer limit on purchases.
WowWee said on its Facebook page last week that it had initially intended to roll out Gigi later in the holiday season, but Toys "R" Us has had an early limited release. "Toys R Us controls their releases and started with some early limited releases. Toys R Us controls the flow of their stock in their individual retailers, so please keep checking in with your local Toys R Us store and on toysrus.com for availability," a WowWee representative wrote.
"We also encourage customers to check with their local store early and often, in addition to following their local stores' Instagram account for real-time updates," Toys "R" Us says.
Which means, as is typical with these kinds of things, that Gigi is getting snapped up and resold by third parties for a hefty markup. As annoying as that may seem, in this case there's a justification for paying more than the $14.99 retail price for this crazy-popular toy. If you don't live near a Toys "R" Us, or if you don't have the time to visit one multiple times a week to see if they've made it onto shelves, you'd otherwise be out of luck.
Third-party sellers on Amazon had a couple of Gigis available as of Tuesday morning for $69 (yes, ugh — but at least that includes shipping). Ebay has a bunch in the $45-$50 range, although some Facebook users on WowWee's page warn about apparent knockoffs popping up on the site. And, if you're still on the hunt for Gigi's monkey siblings, third-party sellers on Sears.com offer several of the characters.
In the months ahead, it could very well continue to be difficult (and expensive) for shoppers hoping to get their hands on Fingerlings. And it's not just the monkeys and the unicorn that could be hard to find: WowWee says that it will be making a big announcement about a new Fingerlings Sloth creature very soon.
We've included affiliate links into this article. Click here to learn what those are.