A Brand New Set of Fingerlings Toys Have Arrived. Here's Where to Buy Them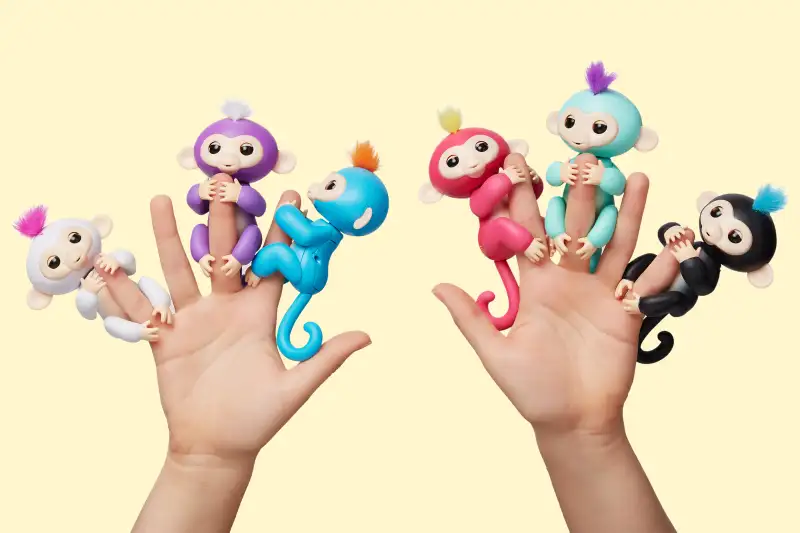 Hey, parents: If you thought you'd finished your holiday shopping, think again. Just before Christmas, a whole new group of Fingerlings critters have made their debut.
These little robotic pets — monkeys, sloths and unicorns — are one of the hottest toys this holiday season, selling out pretty much immediately after their releases in-store as well as online.
The new Fingerlings toys include not one but two new unicorns, a pink one named Gemma and the purple Fingerlings unicorn Alika, which join their sibling, Gigi. There's also a new version of Gigi, with pink hooves rather than black.
They're exclusive to Toys "R" Us, but don't bother going to the website: These mythical beasts are only being sold in-store.
There are also eight new monkeys with special coloring — the hands, feet and tails fade to a coordinating hue. WowWee says on the Fingerlings brand page that the new toys "will be slowly popping in at exclusive retailers and super rare to find this holiday season." This essentially means that if you want to shop online for these Fingerlings, Amazon or another third-party site is going to be your only source.
The new two-tone monkey Fingerlings include Melon, who is pink with turquoise touches; Eddie, who goes from turquoise to bright blue; Ava, who goes from blue to purple; Summer, who is pink with orange appendages; Candi, who goes from pink to turquoise, Charlie, who is turquoise with green; Sydney, who is purple with pink, and Emma, a two-tone pink monkey.
Finally, hold onto your wallets, er, hats — there's also a new purple sloth named Marge, sold by (and currently out of stock at) Walmart, which joins the brown sloth, Kingsley, that debuted earlier this season.
Of course, this overall scarcity plus the lack of online availability means that third-party sellers on sites like Amazon are making a killing with these new Fingerlings toys, which are being listed much higher than the retail price of $17.99.
When Amazon debuted its exclusive glitter Fingerlings monkeys on Black Friday, every color sold out in minutes, and resellers have been doing a brisk business with all the little critters.
Right now on Amazon, if you want to buy Fingerlings monkeys, prices range from roughly $25 to $50, depending on the color. The glitter varieties seem to be the most popular — and the hardest to find. Kingsley the sloth is available for $33 (and up), and purple sloth Marge is a few bucks less — although take note that the seller says she'll arrive after Christmas. (It's probably fine; just tell the kid sloths are slow-moving!)
The unicorns also command a high premium, apparently: Pink Fingerlings unicorn Gemma is being sold for just under $33, and purple Alika is hardly a bargain at a dollar less. You can buy white unicorn Gigi with pink hooves for $34 (plus $7.50 shipping) — but don't believe the inflated strikethrough original price of $99. That's as fanciful as pastel-colored monkeys, or unicorns of any color.
We've included affiliate links into this article. Click here to learn what those are.