What America Spends on Fireworks for July 4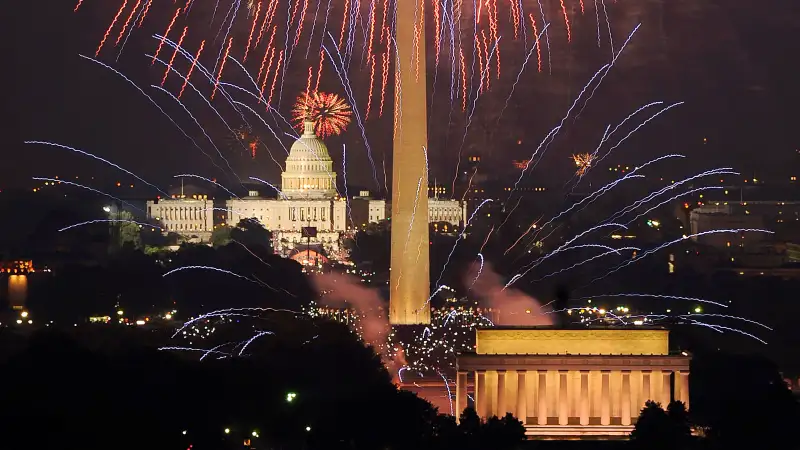 Matt McClain—The Washington Post via Getty Im
American consumers are on pace to spend $13 million more on fireworks than we did last year to celebrate Independence Day. That's partly because the Fourth of July falls on a Friday in 2014, partly because the costs of pretty much everything rises year after year, and partly because, well, we just really love fireworks.
How much do we love them? The staggering number of pyrotechnic shells (more than 40,000!) used in the Macy's Fourth of July fireworks show in New York City, the country's biggest and most famous display, is one indication. The typical bill rung up by average Joes buying fireworks in stores ($100 and up) constitutes another. And who is doing the bulk of the buying in these situations? Well, the core demographic for fireworks sale, according to one store manager, is a "middle-aged" guy for whom blowing stuff up and shooting rockets into the air just never gets old.
Here's a look our Fourth of July fireworks fascination, by the numbers:
More than a Dozen Kinds of different pyrotechnics used in the biggest public fireworks displays, like the one at the National Mall in Washington, D.C., which incorporates aerials with names like the Diadem, Peony, Crosette, Horsetail, and one you may have actually heard of, the Roman Candle.
45% Portion of Americans who say they'll enjoy July 4 with "fireworks/community celebration," per a National Retail Federation survey.
Less Than $100 What the average customer spends on fireworks according to one store owner in Biloxi, Miss. And who is the average customer? "Middle-aged males," one South Carolina fireworks store manager explained. "That's your regulars that buy them just for the heck of it."
$100 to $300 What the comparatively big spender drops, on average, on fireworks in one store in North Augusta, Ga. "You do have those people that come in and spend $500 to $1,000," as well, the store manager said.
$1,500+ Cost of a Platinum package for ten friends to enjoy the fireworks show in St. Louis from the vantage point of a swanky rooftop bar.
$5,000 to $30,000 The range in price for putting on fireworks display for the public, according to Ace Pyro, a Michigan-based company.
11,400 Estimated number of injuries caused by fireworks that were treated in U.S. hospitals in 2013.
More Than 40,000 Ballpark number of pyrotechnic shells used in the Macy's Fourth of July fireworks extravaganza in New York City, which is 55 times more fireworks than the average show in the U.S. The total cost of the show is not made public, but Boston's display, which is smaller, runs about $2.5 million.
$60,000 Amount that one fireworks stand in South Carolina expects to ring up in sales while open for a month just across the border from North Carolina—where at least 80% of the customers come from.
$675 Million Expected total for consumer sales of fireworks in the U.S. in celebration of July 4 this year, according to the American Pyrotechnics Association. That figure would represent a $13 million increase over last year, and $75 million more than the sales total of 2006. The fact that July falls at the start of a three-day weekend this year is expected to boost sales.