For $90, You and a Friend Can Take a 5-Hour Walking Tour of Melania Trump's Hometown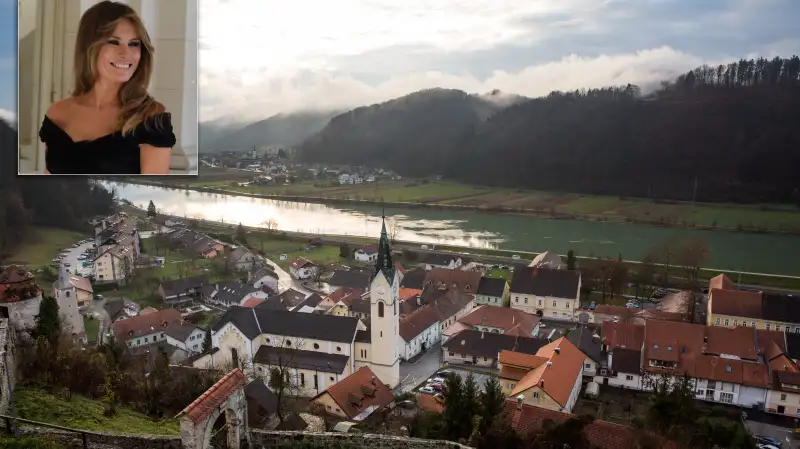 Jack Taylor—Getty Images; (inset) Bert Van Den Broucke/Photonews—Getty Images
Melania Trump's new status as First Lady has put the small nation of Slovenia —and the even smaller town of Sevinca — on the map.
NPR reports that demands for tours of the First Lady's 5,000-person hometown have increased 30% since the beginning of the year, around the same time Donald Trump was inaugurated.
And it's not cheap: A five-hour-long walking tour of of the town cost $90 for two people, and includes all the must-see stops of Melania's childhood like her elementary school and the Communist-era apartment building she once lived in and the home of her parents. It also includes the old factory where her mother designed children's clothes — now known as a "cultural monument."
"A lot of people are coming from Europe, Japan, China and the U.S.," Mayor Srecko Ocvirk told NPR. "From an anonymous little town, we are now on the world tourist map."
//platform.instagram.com/en_US/embeds.js
//platform.instagram.com/en_US/embeds.js
Melania is the second foreign-born First Lady behind Louisa Adams, the sixth First Lady of the U.S. who was born in London and married President John Quincy Adams.
Born as Melanija Knavs and raised in Sevinca, the First Lady discovered an interest in fashion and glamor through her mother before she started modeling in Slovenian capital's Ljubljana, and eventually Europe.
"Melania was raised here, she used to be our neighbor," Ocvirk said. "Yes, she's President Trump's wife, and that's what she's known for. But we want to focus only on her."
The walking tour isn't the only way the town is celebrating (or capitalizing) on the First Lady. A local bakery now makes the "Melanija Torte" and the "First Lady Apple Pie." They include American flags with "Prva dama" — translated as "First Lady" — on top of them.