Workers Are Being Fired for Refusing to Get Flu Shots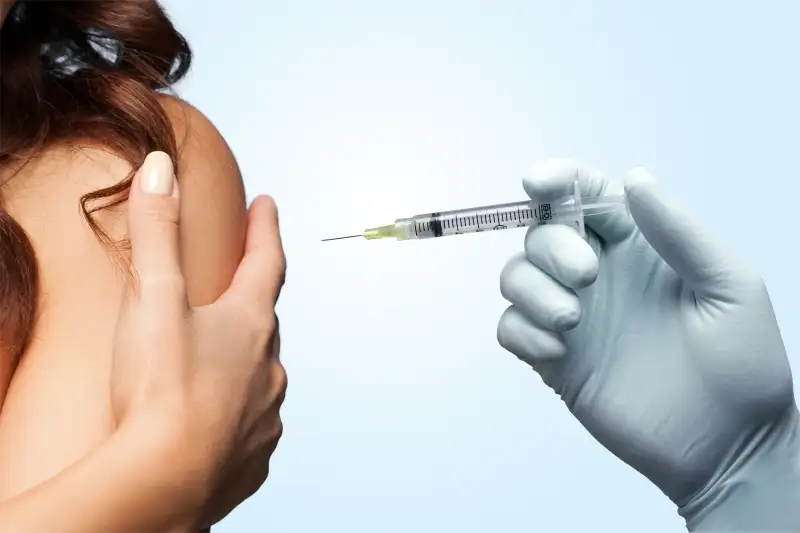 Sarina Finkelstein (photo illustration)—Getty Images (1); Shutterstock (1)
The CDC's stance on flu vaccinations is quite clear: "All persons aged 6 months and older are recommended for annual vaccination, with rare exception."
For some people, however, receiving an annual flu shot is not merely a recommendation, but a requirement in order to keep one's job. A few years ago, many hospitals made flu vaccinations mandatory for all employees. At the time, fewer than three-quarters of health care workers got a regular flu shot. Now, faced with the threat of losing one's job, flu vaccination rates are up above 99% at hospitals that require them.
And yes, there have been instances in which employees have left hospitals or been fired outright for refusal. For instance, in early 2012 a hospital in Indiana fired eight workers, including three popular veteran nurses, because they declined to be vaccinated. Over a two-month span at the start of the following winter, at least 15 more hospital workers in four states were let go for the same reason.
Now, a showdown in New Jersey makes clear that the mandatory flu shot trend is spreading beyond hospitals and health care workers. NJ.com reports that three employees of Lutheran Social Ministries of New Jersey expect to be fired on Friday because they're refusing flu vaccinations.
Lutheran Social Ministries first began as an orphanage in Jersey City, and today focuses on providing aid for the elderly and needy throughout the state. It is not a hospital or health care provider. What's more, the three workers at the heart of the flu shot controversy do not work with the public. Instead, they are office workers who mostly deal with billing issues in the corporate headquarters in the suburbs of Burlington County.
Nonetheless, the vaccination is being required of all Lutheran Social Ministries employees. Anyone who refuses could be fired, or be required to wear a surgical mask during all work hours. The three women who declined to get vaccinated have also said no to the masks—which led them to being officially reprimanded this week.
"It doesn't make sense because they're requiring the staff to wear a mask if we don't get the vaccine, but we have vendors coming in all the time, and they're not required to wear a mask or show proof of vaccination," Alanda Watson, one of the employees, a 36-year-old mother of four, said. "If families come to visit, they're not required to wear a mask or show proof of vaccination. This is wrong."
Obviously, the push to make flu vaccinations mandatory is intended for the health and wellbeing of employees, clients, and, in the case, of hospitals, patients. The reasons people refuse to be vaccinated vary, but include religious beliefs, skepticism about their efficacy, and even the belief that vaccinations are linked to illnesses and diseases. Some surveys indicate that younger workers and African Americans decline vaccinations to a much larger degree than other groups.
Above all, those refusing to be vaccinated insist that the requirement violates their rights for privacy and personal freedom. "If you want a vaccination, that should be a personal decision," Denise Mercurius, another of the Lutheran Social Ministries employees threatened with losing her job, told NJ.com. "It should not be forced on anyone."
All three women said they are going into work on Friday fully expecting to be terminated. They're in the process of trying to find legal representation to take their case.