This $68,000 Ford Expedition Is an SUV Re-Done Right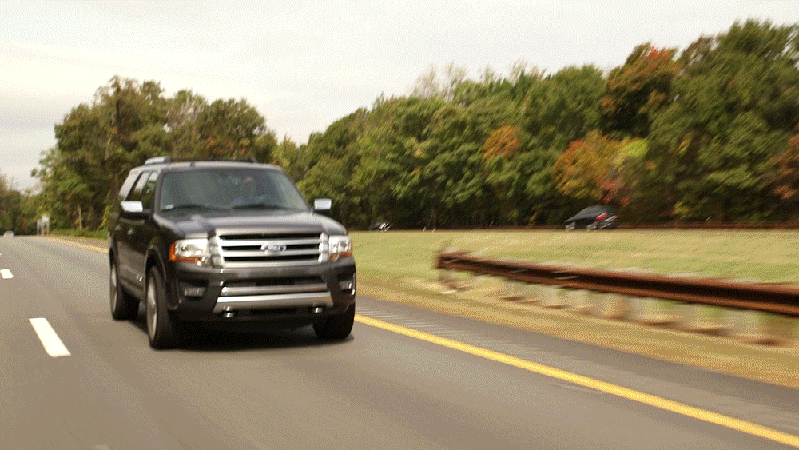 In the 1990s, when gasoline was under two bucks a gallon, Detroit was coining money selling relatively inexpensive SUVs. It was easy: Snap a passenger-car-like body over a truck frame and don't worry much about the interior or finish—or the lousy gas mileage.
But the industry was driving pedal-to-the metal toward oblivion with this strategy. By 2006, with gasoline more than $3 a gallon, consumers started to ditch SUVs for more efficient sedans and the Detroit 3, then losing money on every passenger car sold, didn't have an answer. It all ended badly—and with a bailout—when the economy crashed.
So is this déjà vu all over again? Gas is under $2, and Detroit (not to mention Stuttgart and Toyota City) is coining money on SUVs. The difference is that the domestic industry is leaner, meaner, and has much better vehicles. It is coining money on everything it makes, even those nasty old SUVs.
Which aren't nasty any more. Ford's Expedition is a case in point. Yes, this is still a big-ass 'Murican body-on-frame beastie. You are going to be sitting at what seems like 18-wheeler height, gazing down on those gas-sipping Fiestas, Fiats, Beetles, and Corollas. Make no apologies. You aren't buying a fully tricked out Expedition because gasoline is cheap. You are buying it because you want everything. You want to haul the kids, their friends and your assorted stuff; you want to haul a boat or a trailer. Maybe you have a small business and a large family and you don't want to have to surrender comfort or cargo room. Because you don't have to.
You do have to pony up $68,000, at least for the Platinum model that Money tested. (Entry level price: $45,130.) Yes, that's a pile of change, but you do get a V6, 365 horsepower EcoBoost engine that looks and sounds like it could pull a yacht behind it. Ford has even downsized the power plant from a V-8, but turbocharging means you get more oomph with less displacement. You also plushness that begs to be called a sedan.
Admit it: You full-size SUV-driving people have all gone soft. The carpeting, the heated/air conditioned seating with power controls, moon roof, and the step that automatically glides out toward your foot when you open the door to get in. You call that rugged?
Inside the Expedition, the ride is sedan quiet, thanks to dampening technology. It would be a stretch to call this thing nimble, but there's plenty of confidence in the steering, and the Platinum model comes with available all-wheel drive in addition to two-wheel and four-wheel drive modes. Which means that if you get stuck somewhere in this thing, it's definitely your fault.
Read next: This SUV Is Faster Than a Porsche