You Can Get a Free Einstein Bros. Bagel Today Thanks to One of the Weirdest Promotions Ever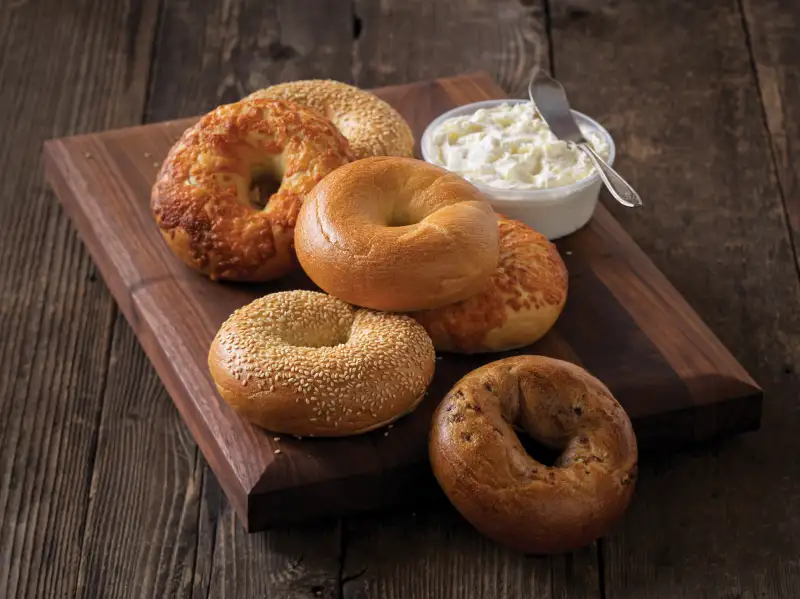 Jeff Padrick—Klug Studio Inc.
It's super easy to get a free bagel today at Einstein Bros. Bagels. But how you get your freebie might seem a little strange.
All you have to do to snag the bagel — with a free shmear of cream cheese or another topping to boot — is go into an Einstein Bros. location and show that you have a restaurant app downloaded on your smartphone when you make a purchase. It could be any restaurant app: Dunkin' Donuts, Starbucks, McDonald's, Chipotle, TGI Fridays, whatever.
Show that you have any restaurant app on your phone on Wednesday, August 15, and you'll get a free bagel and a shmear at Einstein Bros., a bagel chain with over 700 locations in 40 states. Note that you must make some other purchase, like a coffee or other beverage, to take advantage of the free bagel deal today.
Normally, restaurant chains offer special deals and free food as an incentive for customers to download their own personal app. When you have a company's app in your phone, after all, you'll see the logo regularly, and you're more likely to think about its products and place orders more often.
So why is Einstein Bros. giving away bagels in such odd fashion and basically rewarding people for having an app run by one of its competitors?
Well, the weird "competitors eat free" promotion is Einstein Bros. Bagels' way of gathering attention for the launch of its own new app and rewards program, the Shmear Society. Like other rewards programs, Einstein Bros.' Shmear Society offers customers the opportunity to build up points by making purchases, and then use those points for free food and other perks. And, like other rewards programs, this one allows the business to track your smartphone habits and use those insights to improve its marketing and outreach strategies to boost sales.
Again, you don't need to join the Shmear Society rewards program or download the app to get a free bagel at Einstein Bros. on Wednesday. But Einstein Bros. would certainly like you to consider signing up when you're swinging by to pick up a free bagel and a shmear.