Free Chicken Wings, Lasagna, and Cheesecake Are on the Menu This Weekend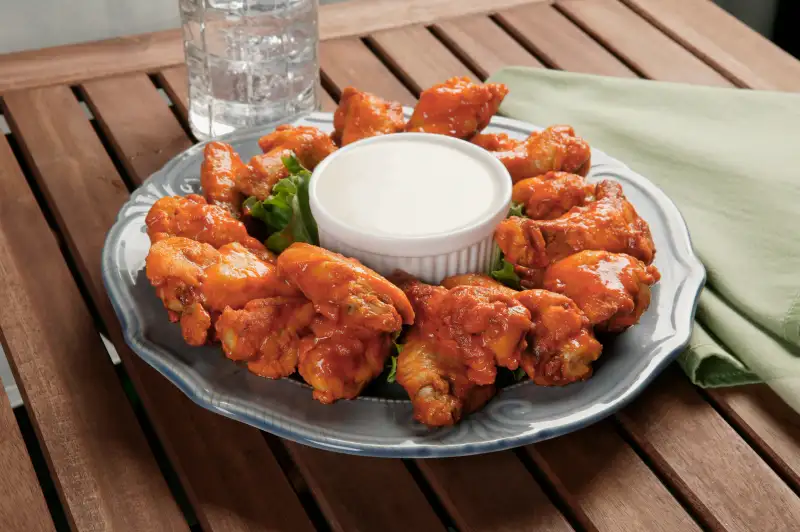 Paul Visconti—Getty Images/StockFood
Loosen your belt and make space in the fridge for some doggie bags. While the entire calendar is overstuffed with made-up marketing holidays featuring deals on different foods, the end of July is a particularly hot period for delicious -- if gimmicky -- food giveaways and promotions.
Check out the special days saluting chicken wings, lasagna, and cheesecake, as well as the deals that come with them. Why somebody thought spicy chicken wings and steaming hot lasagna are best suited to the hottest time of the year—on the very same day, no less—is anybody's guess. But a deal is a deal. In several cases, the special offers are on the table even before the "official" holiday is here.
National Chicken Wing Day: Friday, July 29
Buffalo Wild Wings: All dine-in wing orders are 50% on Friday, July 29.
East Coast Wings: With any wings purchase on July 29, customers receive a voucher good for five free wings during a visit from July 31 to August 4.
Hooters: All-you-can-eat wings deals are available all day on July 28 and from 11 a.m. to 4 p.m. on Friday, July 29. Prices vary based on location, but the typical all-you-can-eat offer for traditional wings (with the bone) is $13.
Ker's Winghouse: Buy 10 wings and you'll get an extra five for free all day on July 29.
Wingstop: From 11 a.m. to 2 p.m. on July 29, customers get an extra five wings free with any normal wings order.
National Lasagna Day: Friday, July 29
BRIO Tuscan Grille: On July 28 and 29, various lasagna dishes are discounted by $3 to $8 off the normal menu price.
Buca di Peppo: Use this coupon for 50% off lasagna orders, anytime through July 31.
Carrabba's: Buy one order of lasagna and a second is free at Carrabba's now through July 31, no coupon required.
Read Next: All the Days During the Year When You Can Get Free Stuff
Fazoli's: Visit Fazoli's Facebook page or sign up for the company's e-mails and you'll get a coupon for a free order of Twice-Baked Lasagna when you buy one at regular price, valid anytime through Friday, July 29.
National Cheesecake Day: Saturday, July 30
Cheesecake Factory: All slices of cheesecake are 50% off on both Friday, July 29, and Saturday, July 30.