Stock Up on Free COVID-19 Tests Now — Insurance Coverage Is Ending This Week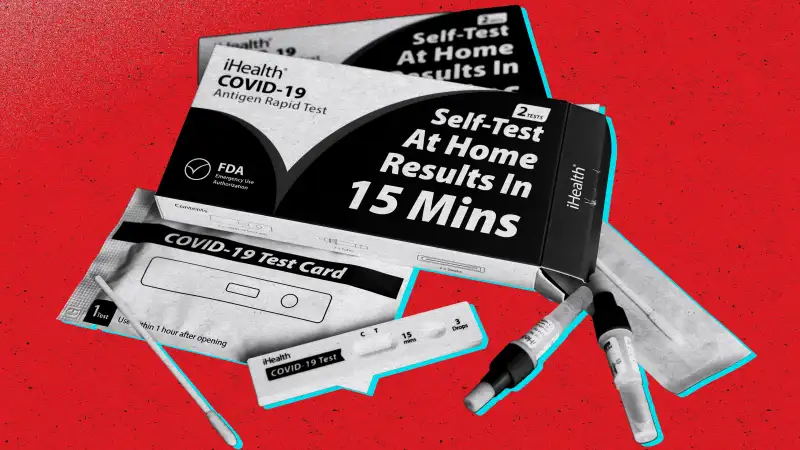 It will soon become much harder to get at-home COVID-19 tests for free, but you still have time to snag a batch before coverage ends.
Since January 2022, the federal government has required private health insurers to cover the cost of up to eight at-home COVID-19 tests per month for members. Medicare began offering the same benefit later that year. But when the public health emergency — a legal declaration — officially ends on Thursday, that requirement will sunset.
At-home testing kits purchased Friday or later will no longer be free (in most cases).
Medicare won't pick up the tab for these over-the-counter COVID-19 tests. Private insurers will no longer be required to do so, according to the U.S. Department of Health and Human Services (HHS), though they can choose to keep offering the benefit if they want to.
The HHS is encouraging private insurers to continue covering the tests, but none of the large insurers analyzed by Money have announced they're extending coverage. The benefit will be ending for folks with health insurance through Aetna, Cigna, Kaiser Permanente and UnitedHealthcare, according to statements on their respective websites.
An alert on Humana's website suggests that benefits will be changing after the public health emergency ends, but it did not specify what will happen with over-the-counter COVID-19 tests. The company did not respond to Money's request for clarification.
Blue Cross Blue Shield (BCBS), a federation of 34 state and local health insurance companies, appears to be largely dropping the benefit as well. For example, BCBS providers in Florida, Massachusetts and Washington say the at-home test coverage will end after Thursday. Spokesperson Kelly Parsons tells Money the decision is on a case-by-case basis but did not provide an example of any BCBS insurer that is extending the benefit.
Where to still get free at-home COVID-19 tests
Before the public health emergency ends on Thursday, you can still get up to eight at-home COVID-19 tests covered through your health insurance provider at partner pharmacies and retailers. (And if you purchase a test at a retailer that isn't partnering with your insurer, you can get up to $12 reimbursed per test.)
Even after that date, there are a few options available for free at-home tests.
COVID.gov: The federal government is still providing free at-home COVID-19 tests through the mail, orderable on COVID.gov regardless of your health insurance status. The government has provided four rounds of free at-home tests through this program, totaling 20 tests per household. If you haven't yet ordered your fourth round of tests, which became available in December 2022, you may be eligible for four more free tests.
Medicaid: Nearly 86 million Americans are enrolled in Medicaid, a government-run health insurance program for low-income households, and the program will continue to cover the cost of at-home COVID-19 tests through September 2024.
California: California legislators have extended coverage of up to eight monthly at-home tests for an additional six months — or until November. This rule applies to employer-sponsored private health plans as well as California's state-run plans.
Community health care organizations: According to HHS, the federal government may keep distributing free at-home COVID-19 tests from its national stockpile to states and community health partners as supplies last. Locations that may be giving out free tests include local pharmacies, libraries or community health care centers.
In addition to at-home tests, people with private health insurance will likely need to begin paying for doctor-ordered COVID-19 tests. However, Medicare Part B will continue to cover those costs if ordered by a provider.
More from Money:
18 Million Americans Could Soon Lose Medicaid Coverage. Here's What to Do if You're One of Them
Medicare Won't Have Enough Money to Pay Full Benefits After 2031: Report