National Donut Day 2014: Where to Go to Get Your Free Donuts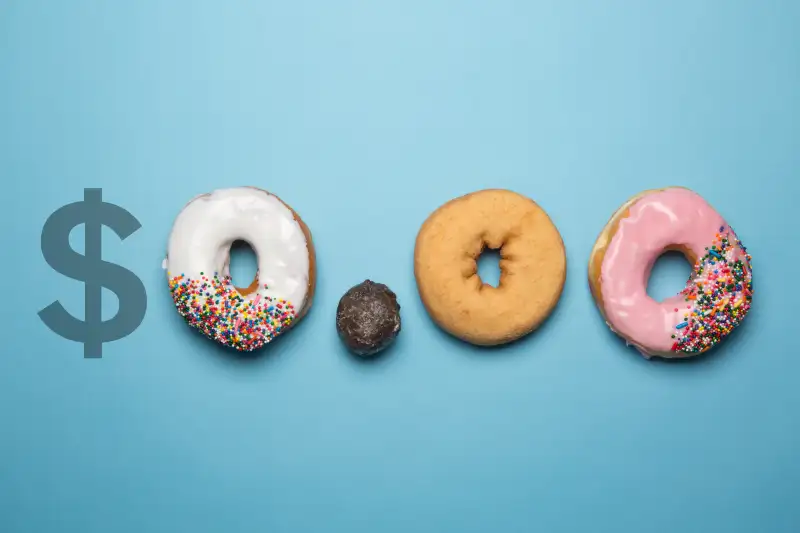 Not that we're advising you to do any such artery-clogging, time-consuming thing, of course. But you could, technically. And oh, what an epic, Homer Simpson-esque escapade that would be!
The first Friday of June has come to be celebrated as National Donut Day, when purveyors around the country hand out freebies to all customers. The rules at each donut establishment are different, with some (but not all) requiring some purchase before any free pastries trade hands.
Krispy Kreme is the best-known national brand handing out donuts, no strings attached. Guests take their pick of any variety totally for free, no purchase necessary. If you seek only one free handout on National Doughnut Day—the preferred spelling at KK is Doughnut, not Donut—Krispy Kreme is probably the easiest, most convenient, and most rewarding option. (And what's the deal with indulging in only one free donut? You're making the rest of us gluttons look bad!)
(MORE: Epic Donut Fails: The Flavors You Won't See on National Donut Day -- Or Probably Ever)
Shipley Do-Nuts (yes, hyphen included), which has more than 300 locations, clustered mainly in the corridor between Texas and Tennessee, is doing Krispy Kreme one better by giving each customer one free donut (sorry, do-nut) as well as one free small coffee. There are a couple caveats, though: The only variety handed out free is glazed, and the offer is valid only at participating locations from 5 a.m. to 12 p.m.
Lamar's Donuts, a Kansas City-based chain with a couple dozen locations in six states, is also offering straightup freebies on Friday, with a complimentary policy on "any donut with a hole, no purchase necessary." The company is, however, encouraging to people to make donations to the Salvation Army, which actually started the Donut Day tradition, which dates back to World War I.
Dunkin' Donuts promises each customer a free donut on Friday with the purchase of any beverage, while also noting the freebies are available "while supplies last." It would be pretty embarrassing if a national chain with "Donuts" in the name ran out of donuts, but crazier things have happened.
Tim Hortons, the Canadian favorite with 870 locations in the U.S., is celebrating National Donut Day on Friday by handing out one free donut per guest, with any purchase made—and with the official rule that customers must also say, "Happy National Donut Day."
Cumberland Farms, a minimart chain with more than 500 locations, mainly along the East Coast, is handing out one free donut per customer buying a coffee (hot or iced) or a "Chill Zone" beverage, such as a Slushie, all day on Friday.
Come to think of it, that's probably how Homer Simpson would put the exclamation point on a half-dozen-donut bender—with a Slushie to wash it all down. Assuming, that is, there was no Duff Beer handy.