Here's the One School Where You Can Get a Free MBA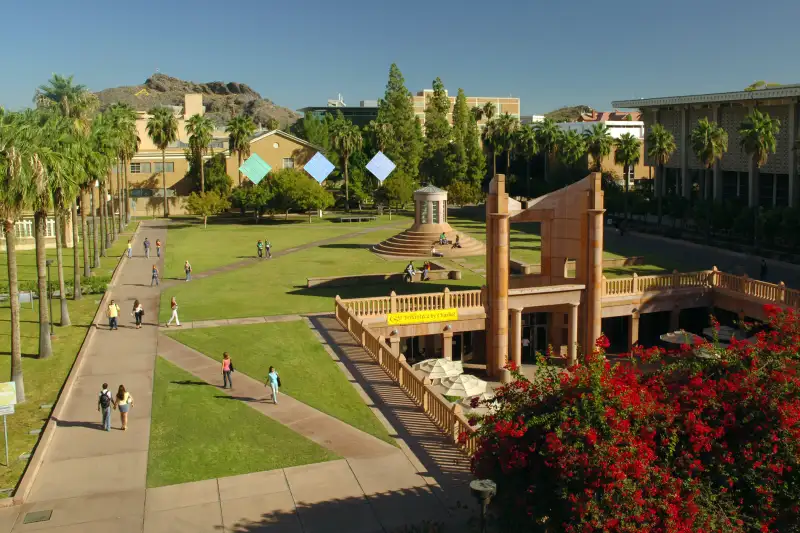 Scott Troyanos—Arizona State University
Arizona State University now has a recruiting tactic that's tough to top: a free MBA.
Starting next year, the university will offer up to 120 scholarships for its master's of business administration degrees. Tuition and fees for the two-year, full-time MBA program currently are $54,000 for Arizona residents and $87,000 for out-of-staters. (The scholarship doesn't cover any living expenses while participants are enrolled.)
Arizona State wants an edge in attracting top applicants, but the main goal, according to school officials, is to open up the business program to applicants beyond the traditional candidates with their eyes on jobs in finance and other lucrative fields. For individuals interested in lower-paying nonprofit work or risky startup businesses, the high cost of an MBA degree can be a lot to justify.

NEWSLETTER: COLLEGE_PLANNERSign up for COLLEGE_PLANNER and more View Sample
"If someone has a great startup idea, and they know they would be more successful in their venture if they had the skills and networking that an MBA would give them, they might be concerned about spending the money because it takes away from the capital needed for the startup venture," said Amy Hillman, dean of the business school, announcing the free degrees.
The money for the program, called the Forward Focus MBA, comes from the endowment of William Polk Carey, a real estate investor whose foundation donated $50 million in 2003 to the business school that now bears his name.
There are 86 first-year students currently in Arizona State's full-time MBA, though the school enrolls thousands more through its part-time and online MBA programs. About 90% of full-time MBA graduates in 2015 had a job within three months after graduation, and the average starting salary was $99,000, the Wall Street Journal reports.
Check out Money's 2015-16 Best Colleges rankings
Arizona State's new program may be the boldest and most unique in that tuition will be free for its traditional, in-person MBA program. But other colleges also have launched programs this year that cut down on the cost of their well-regarded graduate degrees with the help of online courses.
Last week, Massachusetts Institute of Technology launched a half online, half on-campus version of its popular supply-chain management program. Through what MIT is calling a MicroMasters certificate program, anyone can sign up to take the first half of courses in the year-long program online for free. If they pass an exam and pay a $1,500 fee, then those courses could count toward the full master's degree (if they're accepted to the residential program, that is). The on-campus second half costs about $30,000.
And the University of Illinois at Urbana-Champaign has its iMBA program, in which students complete several courses with online provider Coursera before deciding whether to apply to the university's online MBA degree program. The individual courses are free, but should you want them to count toward your Illinois degree, they'll cost $1,000, for an MBA that totals $20,000.
For more college-related coverage from Money, check out our College Planner website and its Find Your Fit tool, which lets users search for schools based on what's important to them.