Gas Prices Are Plummeting, $1.50 Per Gallon Coming Soon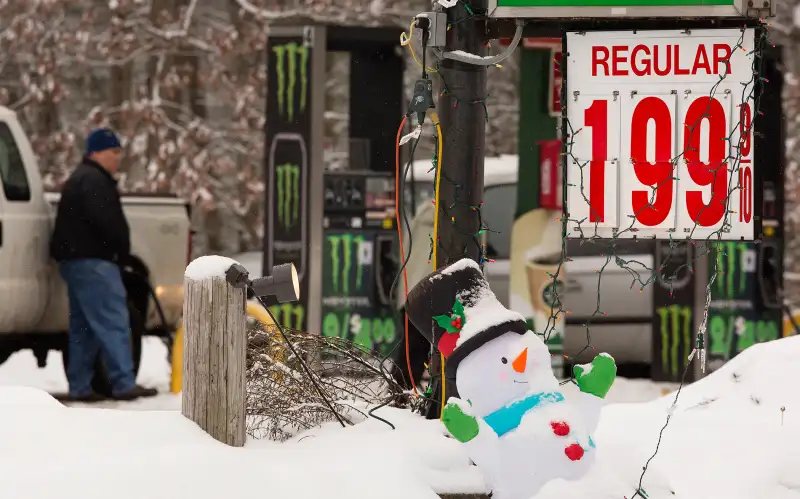 Carl D. Walsh—Portland Press Herald/Getty Images
For the first time since 2009, the national average for a gallon of regular gasoline will drop below the $2 mark. That's the prediction being made this week by AAA, which states that due to factors including a "bearish sentiment" on global petroleum prices and normal early winter declines in demand for gas, "pump prices are expected to move lower to close out the year, barring any unanticipated outages or supply disruptions."
In all likelihood, this means that the national average for gas--$2.16 as of Monday, down 7¢ in the past week—will fall below $2 per gallon, most likely by Christmas. The national average hasn't been this low since the onset of the Great Recession.
The observers at the gas price-tracking site GasBuddy seem to think that AAA is actually playing it conservative in terms of forecasting how quickly—and how deeply—prices will decrease in the coming weeks. Not long ago, GasBuddy had predicted the national average would maybe hit $1.98 by Christmas. Instead, the site's analysts now foresee even steeper drops by December 25:
Some of the cheapest stations in the nation could drop to $1.49/gallon by then, with the national average dropping into the $1.80s. It's even possible that by Thanksgiving we could see a sub $2/gal national average.
It's worth noting that gas prices right now are exceptionally cheap compared to last year, with a national average of nearly 75¢ less per gallon. What's more, all signs indicate that prices will remain cheap next year. "Global supply continues to outpace demand, while a strengthening U.S. dollar, which makes crude oil more expensive for buyers holding foreign currencies, is expected to keep a ceiling on prices into 2016," this week's AAA report states.