Gold Medal Gigs: The First Jobs of U.S. Olympians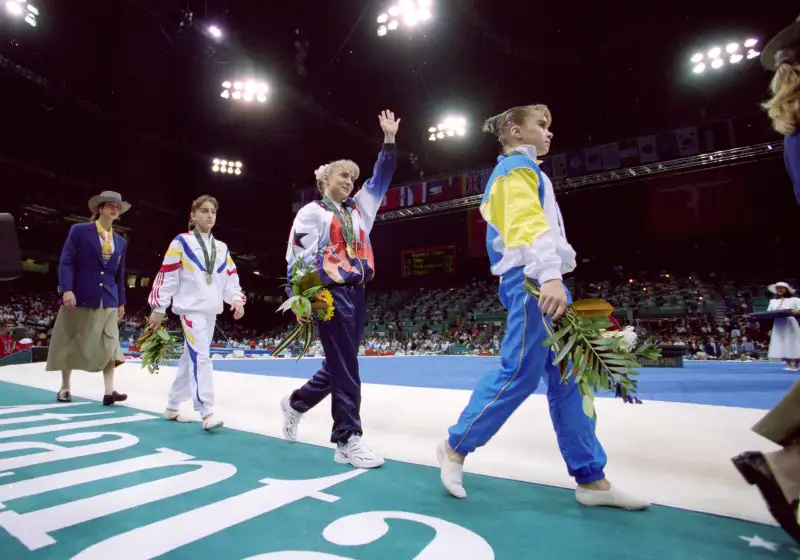 There are some pretty exclusive clubs in the world, but perhaps none more so than Olympic gold medalists.
Only the world's best athletes reach that pinnacle, and only once every four years. But contrary to what you might expect, they do not spend their entire lives running, jumping or swimming.
Just like the rest of us, they also work at regular gigs. For the latest in Reuters' First Jobs series, we talked to a few elite American athletes about their humble jobs, before - or sometimes after - they reached the top of the medal podium.
Shannon Miller
Two golds in balance beam and team gymnastics, 1996
First job: Commercial actress
"My first job was a commercial with a gymnastics sponsor. I was only 13 years old, so it was a huge decision for me and my parents. As a gymnast, I could not accept payment without giving up an opportunity for an NCAA scholarship.
"At the time, I was only a year out from making my first World Championship team and hoping to try for the Olympic team in 1992. With the expenses of training, it made the most sense to go professional to help offset some of those bills.
Read: We Just Tried to Book Last-Minute Travel to the Olympics. Here's What Happened
"The payment was minimal, but we were thankful for the opportunity. I bought a pair of grips (the hand guards we wear on uneven bars) for $100 with the payment. Those were the grips I wore at my first Olympic Games!
"The actual commercial was probably the easiest thing I did that year. It was the 6-7 hours of daily training that helped make it possible. It was gymnastics that taught me the most important life lessons: Learning to set long-term and short-term goals, the importance of teamwork, why a positive attitude is crucial, and making every moment count, especially the moments when the cameras aren't on you."
Carmelita Jeter
Gold in 4x100m relay, 2012
First job: Chuck E. Cheese
"I was 16 years old, and I remember it because it was the best job ever. It was at the Redondo Beach, California, location, and our uniform was navy blue shorts, white shoes, a gray Chuck E. Cheese polo shirt and a red visor. I was a runner, which meant I was the one running food to the tables. I was also a birthday host.
"The part I loved the most was that during the birthday song, all the hosts had to get up there with Chuck E. Cheese and sing and do dance moves. I swear I still know the routine.
"It was so much fun, because we were all from around ages 16-21, and it was like going to Disneyland every day. At closing time we would put on music and just dance.
Read: 5 Ways Parents Can Raise World-Class Athletes
"I made $6 an hour, but as a birthday host you would get tipped, so on a good weekend I could come out of there with $300-$400 ... I could put gas in my '88 Volkswagen Jetta and get my hair done.
"At that time I wasn't thinking about becoming one of the fastest women in the world. I was only thinking about things like prom and homecoming.
"The only thing I didn't like about that job? Cleaning the bathroom. That was tragedy."
Dominique Moceanu
Gold in team gymnastics, 1996
First job: Jewelry designer
"My first non-gymnastics job was designing jewelry. I always admired my mom's jewelry growing up - she had some really beautiful pieces, even though she was very thrifty and didn't have a lot of money. Eventually I developed my own style.
"I wanted to put my business degree to use, so I partnered with another 'gym mother' who had experience in jewelry, and within six months, we had a company up and running (www.creationsbycandc.com). We use computerized designs to make things like pendants of poses from my greatest routines.
"I still get on the mat on weekends, or whenever I have time, but it is definitely nice to have a life outside of gymnastics. It has allowed me to expand my creativity and to discover my passions outside of the sport.
"I did learn a lot from gymnastics that I apply in my business every single day. Things like determination, and goal-setting, and perseverance. As a business owner you have some really challenging days - and you just have to find a way to get things done."