'Great British Baking Show' Stars Reveal the One Thing Every Amateur Baker Should Splurge On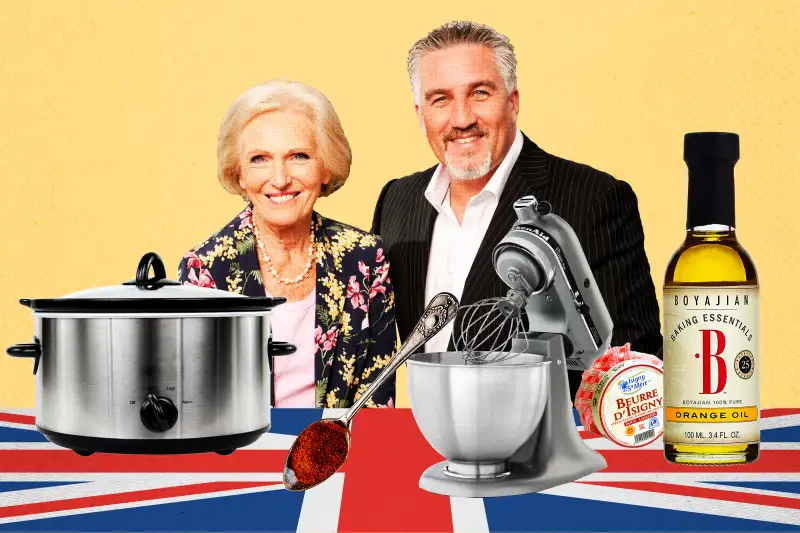 Photo illustration by Money; Getty Images (4); (Hollywood and Berry) Courtesy of PBS
The secret ingredient isn't always love. Sometimes, it's money.
It's not hard to be frugal in the kitchen, but the occasional splurge on a special ingredient or high-tech gadget can take your meals to the next level. Every chef has a guilty pleasure he or she believes is worth the cash: Alton Brown loves his immersion circulator, Wolfgang Puck is obsessed with his custom stove, and Jamie Oliver prizes good olive oil.
The competitors on The Great British Bake-Off are no exception. As they prove, knead and frost their way through 10 weeks of challenges, the cooks often bring in homegrown herbs, imported ingredients and custom tools to boost their bakes. They're hoping to score a Paul Hollywood handshake, of course, but they're also focusing on flavor and convenience along the way.
Money asked stars from the series, known as The Great British Baking Show on American Netflix, which kitchen items they think are worth paying a little extra for. Here's what they said.
Butter
"As a rule, I will always try and obtain the best quality ingredient if and only if that item is the predominant flavor. An example of this is butter. If I'm using butter for a brownie recipe, I use the generic cheap one because the flavor of the butter is not the primary factor. But for, say, croissants, shortbread or pastry, where you want to taste the butter, I get the best one — in my opinion, French Normandy. [It's] not that expensive, but [it's] worth the extra cost." — Yan Tsou
Spices
"I am a flavor man and love mixing flavors for some interesting outputs, so I do spend money on flavors like Saffron essence, Cardamom essence, coconut essence, etc." — Antony Amourdoux
Food processor
"The one thing I recommend every cook [have] is a decent multi-purpose processor. And not just in the cupboard but on your counter all the time. I use mine every day for blitzing, kneading bread, chopping [and] liquidizing to make nut creams, milks, and soups." — Stu Henshall
Citrus oils
"Citrus oils made by Boyajian — everything tastes so good with them. I credit lemon oil as saving me in the semi-final of GBBS, and the orange oil I used in the carrot cake I made in the final. I cannot recommend them highly enough!" — Ian Cumming
Stand mixer
"As a baker, I think a stand [Kitchen Aid] mixer is worth the splurge as it speeds up a lot of processes, and there are certain baking techniques that require it (e.g. Italian meringue)." — Kim-Joy Hewlett
Zester
"A zester that [I] bought in Crate and Barrel changed my life. I can zest citrus fruits so easily; also, nutmegs and cheese. I have three, and I've bought most of the GBBO bakers one, as they saw mine and loved it." — Val Stones
Slow-cooker
"I've had so many gadgets over the years and not enough cupboards to put them when I'm bored, but I have to say I would recommend everyone to have a slow cooker, as large as you can manage. Portions of curry, Bolognese, soup or rice pudding can be frozen for mid-week meals to come. I think it's [an] essential piece of equipment to give to anyone setting up home or going away to college. I don't constantly use it, but I do put a whole chicken in and cook it overnight. (Granted, it's not a bird that you put on the table to be carved, but the meat is succulent and ready to be encased in pastry for a gorgeous chicken pie.)" — Sandy Docherty
We've included affiliate links into this article. Click here to learn what those are.