How to Score Great Deals on Returned Merchandise in January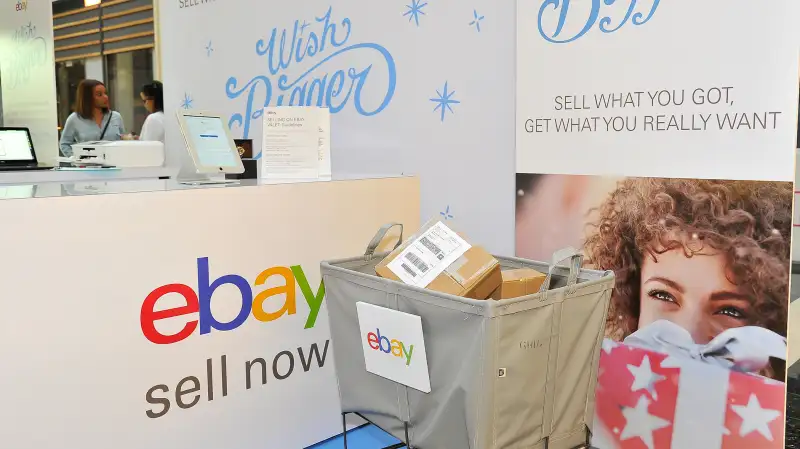 Steve Jennings—Getty Images for eBay
Retailers are choking on huge numbers of returns this month. Bad news for them is great news for you. You can snap up returned products for up to 80% off. It's a smart way to save—if you know the tricks and the risks.
By the end of this week, UPS said it expects to deliver more than 5 million return packages, or 500,000 more than last year. Holiday shoppers flocked to the Internet in 2015, sending online sales up 20% over 2014, according to a MasterCard survey. Return rates are soaring thanks to conveniences like free shipping (offered by nearly one third of web retailers, according to UPS) and easy-to-use return mailing labels.
Many of those returned products don't end up back on store shelves, even if the packaging was never opened. Instead, companies turn to resellers to help them unload excess merchandise—and truckloads of holiday returns are starting to hit their warehouses. "It will be a banner year for us," says Jim Rallo, president of Retail Supply Chain Group for Liquidity Services, a reseller of returned merchandise.
January is the best time to hunt for deals on returns, especially if you're looking to snap up a TV in time for Super Bowl Sunday, Rallo says. Refurbished electronics are typically inspected, tested, and repaired if necessary, and some even come with warranties.
One of the best spots to shop for returns is eBay, where you can find refurbished electronics, appliances, tools, and even blow dryers and massage chairs. The site is loaded with refurbs from Best Buy and other major retailers; many of them are sold via third parties like Liquidity Services. Major retailers like Walmart, Target, and Sears also sell refurbs on their own sites. Amazon has a section for Warehouse Deals, which includes open box and used items; you can also find plenty of refurbs through the site's third-party sellers. Liquidity Services sells direct to consumers through its retail website, Secondipity, and a newer player in the business, Blinq.com, sells an amazing array of merch, including bed headboards, big-screen TVs, Ugg boots, toys, jewelry, and child car seats.
But not all returned goods are a great bargain. I spotted a pair of Monster headphones for nearly 80% off the listed MSRP, and nearly 70% less than the lowest price I could find online. But I also saw some very slim discounts that might not be worth it, especially on items that are not in new or like-new condition. And there's a lot of fine print that can trip you up. Here are five tips to help you score the best deals on returned goods without getting burned.
Stick with reputable resellers. Big-name retailers like Amazon and Walmart are your safest bet, of course. And if you're shopping on eBay, you can check out the seller's reputation. But if you see a great deal on an unfamiliar site, do some extra research. Try searching online for complaints about the seller; also check BBB.org. You want to deal with a company that stands behind its products, especially when you're buying other shoppers' rejects.
Read product descriptions carefully. Some sites have a rating system with descriptions such as "very good" and "like new" and other info that can help you make a decision. A camera I spotted on Amazon Warehouse Deals listed the following details: "Small scratches on front of item (less than 1/4" x 1/4"). Small scratches on sides of item (less than 1/4 in. x 1/4 in.). Item has been tested and is fully functional. Missing USB cable. Item will come in original packaging. Packaging will be damaged." (Not sure I would go with that one, but good to know!) For additional peace of mind, look for terms like "manufacturer refurbished," which means that the manufacturer—Apple, say, or Sony—reconditioned the item and stands behind it. Best Buy says items carrying the "Geek Squad Certified Refurbished" label have been "thoroughly tested and inspected on a number of inspection points to make sure they work correctly." They also come with a 90-day limited warranty.
Check the return policy. If you decide that you can't live with that dent or scratch, you might be out of luck. Some sellers don't offer returns or refunds. Secondipity, for example, gives you 30 days to mail back an unwanted item, but in most cases you'll get credit for your purchase, not your money back.
Read the other fine print, too. Blinq advertises a "best-price guarantee," which means that if you find a cheaper price after you buy an item on the site, it will refund you the difference. But you must report a higher price within 24 hours of your purchase, and the retailer with the lower price must be on Blinq's list. Also be sure to read warranties, if the product comes with one, and check shipping fees.
Read product reviews. Refurbed electronics may be older models, or models that may have been returned for a good reason (maybe they simply don't work very well or are difficult to use). So always check product reviews before you're lured in by a deep discount.
Do a price check. There are times when you might be better off buying new instead of refurbished if the price difference is negligible. To make comparing prices easy, use tools like google.com/shopping and pricegrabber.com or the Shopsavvy app. Also be sure to check prices on eBay and Amazon. Just remember that when you're comparing prices among refurbs, you might not be comparing apples to apples. Again, remember to read those product descriptions so you know whether it's a deal or a dud.
Lisa Lee Freeman is a shopping and consumer-savings expert who loves to help shoppers score the best deals. She is a frequent TV commentator on consumer issues and was the founder and editor in chief of Consumer Reports' ShopSmart magazine